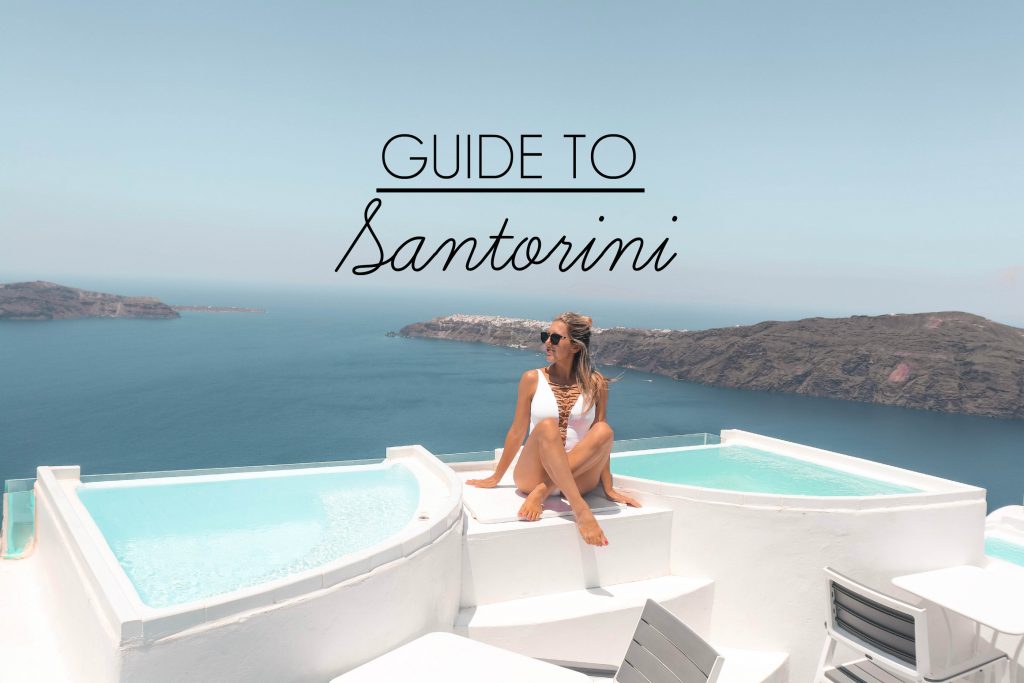 Santorini is one of the most breathtaking places I've ever visited. The island itself is a caldera (volcanic crater), and the half moon shape of the island makes for some amazing photos! I couldn't get enough of the traditional white cave houses perched over the crystal clear blue water, and the incredible sunsets which draw out both locals and tourists each night. Not to mention the island's local tavernas which serve fresh, delicious greek food literally inches from the ocean. The famous town of Oia really is picture perfect — it's like stepping into a postcard. You won't want to leave!
HOW TO GET THERE:
There is many ways to get to Santorini! We flew into Athens and spent a night there and then took a quick 45 minute flight to Santorini. If you are coming from Mykonos, Naxos or Ios- the easiest way would be by ferry. We used Directferries.com to go from Santorini to Mykonos and bought our tickets ahead of time ( recommended!)
AMOUNT OF DAYS NEEDED THERE:
Due to our flights in and out of Athens, we only had 8 days in Greece so we had to split up our time accordingly. We decided to spend 3 nights on Santorini , 3 nights in Mykonos and 1 night in Athens! If I could do it again, I would spend 4-5 days in Santorini to REALLY see the island. We got to see all the main towns and really fit a lot in but didn't have enough time to do extra activities like a sailing trip or a short ride to Black Sand beach!
Another idea is to tackle a Greece trip on with another European country. If you are coming from North America, it makes sense to visit a country like France or Italy as well if you can swing it! 
GETTING AROUND:
-If you are a real go-getter, you can walk from town to town but with the inclines and distance, I would not recommend relying solely on this. We walked everyday from Imperogli to Fira and it took us about 45 minutes each way. Walking/Hiking from Imergoli to Oia though is another story. It takes about 3 hours and I would only recommend it during the off season when it is not scorching out!
-ATV: The next best (and most fun) way to get around the island is by renting an ATV. Rental prices go down the longer you rent for. The average price for them is about 50 Euros for 2 days. A lot of people share them two. We didn't end up doing this because a: I am pregnant and b: my mom is a scaredy cat.
-Taxis: We used a taxi to go from our hotel in 
-Buses: Good news! Because Santorini is such a touristy island, you can get to Santorini's most touristy destinations by public bus. Tickets cost €1.60 each, and I never had to wait more than 20 minutes to catch a bus. Kamari, Oia, Fira, Perissa… there is a bus that stops at them all.
The only thing I found to be slightly inconvenient was that the main bus hub is in Fira. As I was staying in Kamari, it was somewhat annoying having to bus to Fira first, then where I was actually going to. If you plan on taking busses your whole trip, perhaps consider staying in Fira to avoid all of the transferring!
WHERE TO EAT
As expensive as Santorini can be, you can definitely go there and budget with food. Hello! Gyro! If you are staying in Fira or Oia, there are plenty of budget friendly options to eat on the cheap.
La Maison – This place is not a place to go if you are on a budget but it is worth every single penny if you are looking for a beautiful dinner with the most insane food. Do not expect your typical gros here! Everything is unique and made with fresh ingredients. Even the mocktail was something to write home about!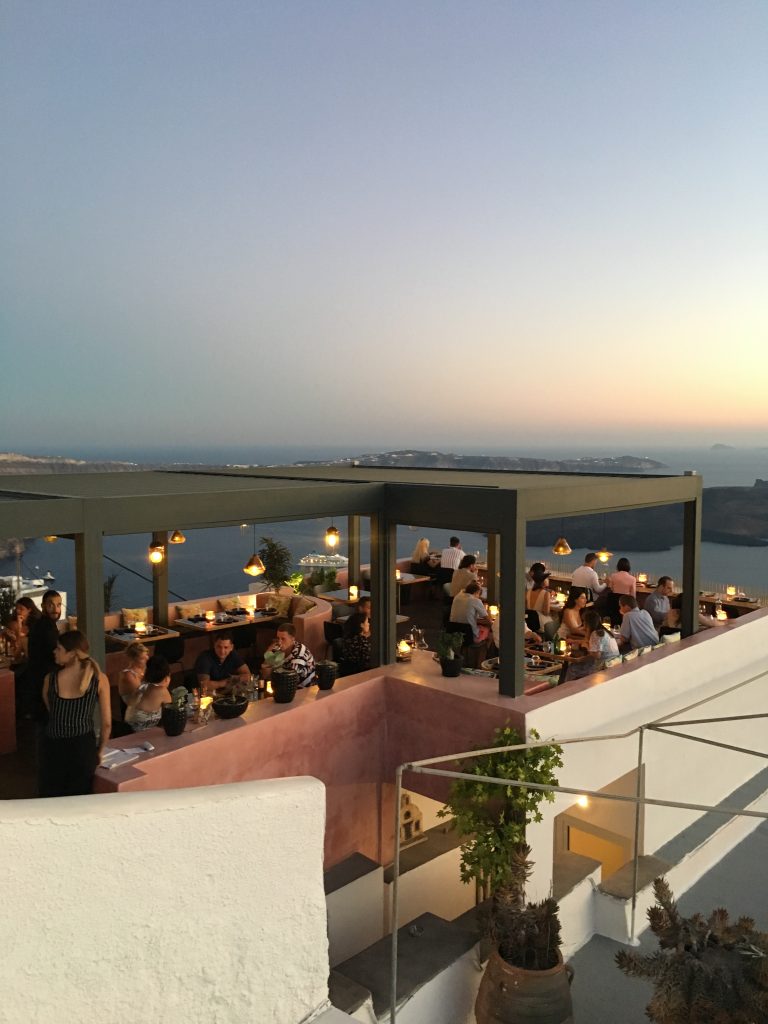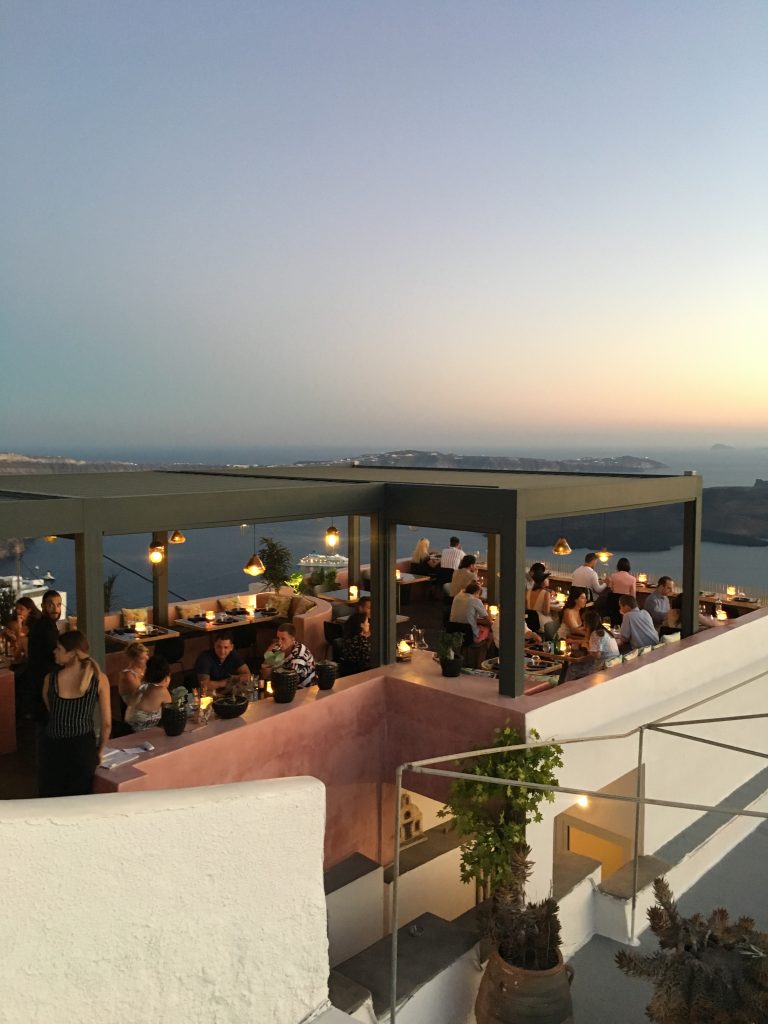 Sunset Ammoudi Taverna – easily one of my favorite meals on the island. The fresh octopus and fish are pulled directly from the bay the restaurant is sitting on. The best part — you can dive right in the water after lunch! Although we loved the fish, the pesto pasta was just INSANE ( We are Italian- you can't blame us ok)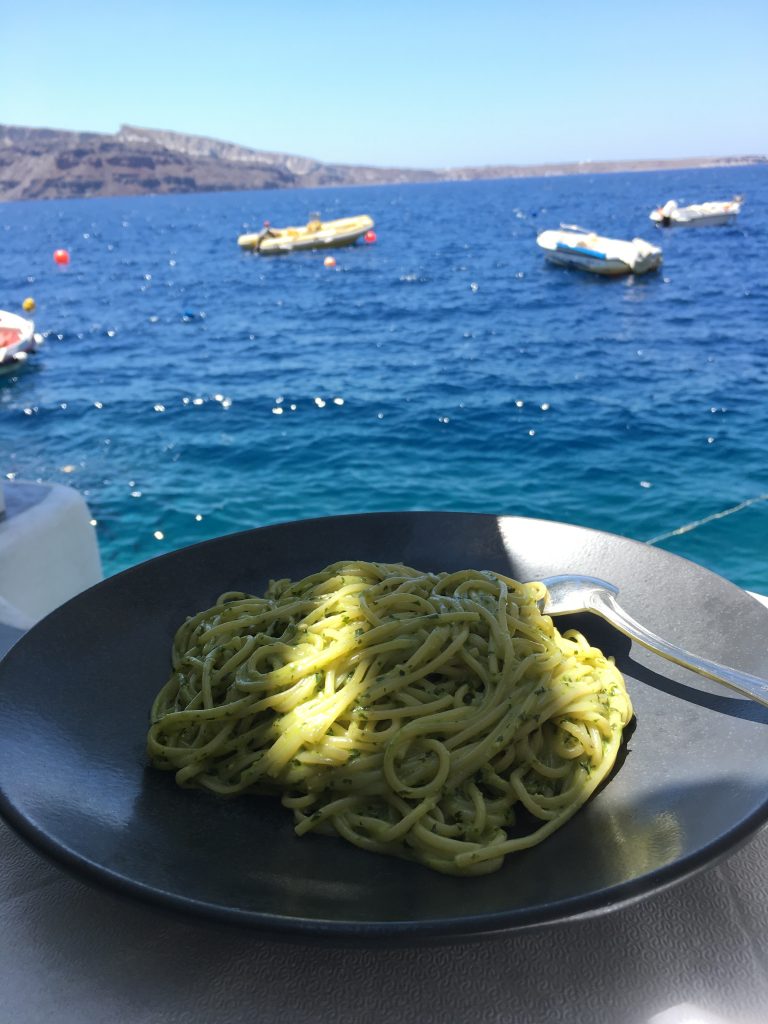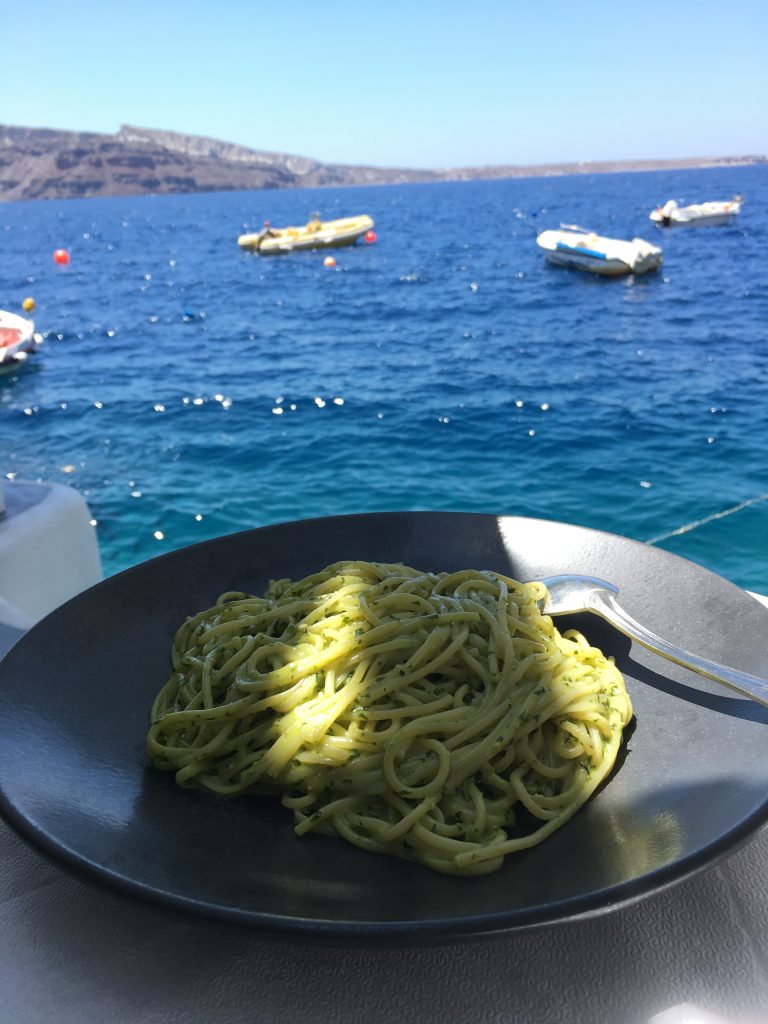 Lolita's Gelato – you can't miss this popular spot for the tastiest gelato and ice cream on the island. I couldn't get enough of their pistachio ice cream.
Pito Gyros – the perfect spot for a casual lunch of tasty Gyros and fries.
Onar Restaurant– This place is between Fira and Imerovgli and offers a mix of classic Greek Foods ( think fried tomatoes) but with a little fancier twist. It also offers epic views and a great atmosphere. Bonus: if its cold out- they give you blankets!

WHERE TO STAY
There is basically three areas you can stay in Santorini and they are: Fira, Oia and Imerovigli. You can stay in one of the beach towns on the other side of the island (Kamari or Perissa), which are less xpensive and right on the beach, but missing those epic views that Santorini is very well known for and you are very far removed from everything so I would stick to the main three places.
In Fira you can find some more budget friendly options and are surrounded by lots of restaurants and the downtown core ( ie: bars and pharmacies, a McDonald's etc). If you are looking for a place to stay, you can check out these posts HERE and HERE.
Imerovgli is in the center between Fira and Oia and is the most quiet and in my opinion- the most beautiful. There aren't heavy crowds there!

We stayed at this boutique place and we could not have loved it more! It has about 8 rooms in total, an infinity pool and amazing customer service. Breakfast is included each day and it was delicious! The location is also perfect- smack in the middle of Imerovigli with the most epic sunset views
There is a TON of Air bnb options in Santorini. If you want to save, you can certainly find a cute little apartment on here in one of the main towns!
If you want to splurge: 
This is an easy choice if pool time is essential for you. The terrace at the Caldera Villas also has stunning ocean views, and they often run deals on their rooms and suites.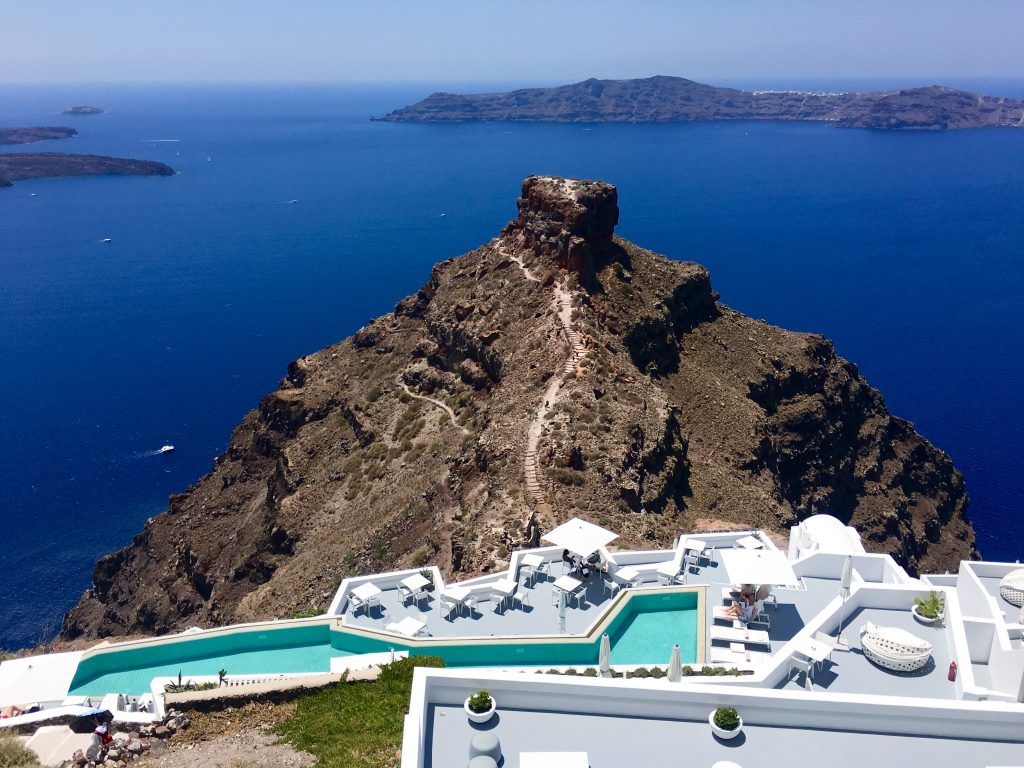 For a direct view of the sunset each night, book your stay here and prepare to be pampered. If it looks familiar, it's probably because you've seen it on Instagra
WHAT TO DO
FIND ALL THE BLUE DOMES
There is so many beautiful domes in Santorini but the main one that everyone searches for can be found at the entrance of Blue Blanco Cave House! Now there is a gate that looks like it will stop you from walking down the path but we just unlocked it on the other side and went down. We of course tried to be respectful and not gallivant there for too long!!! This is the one popular dome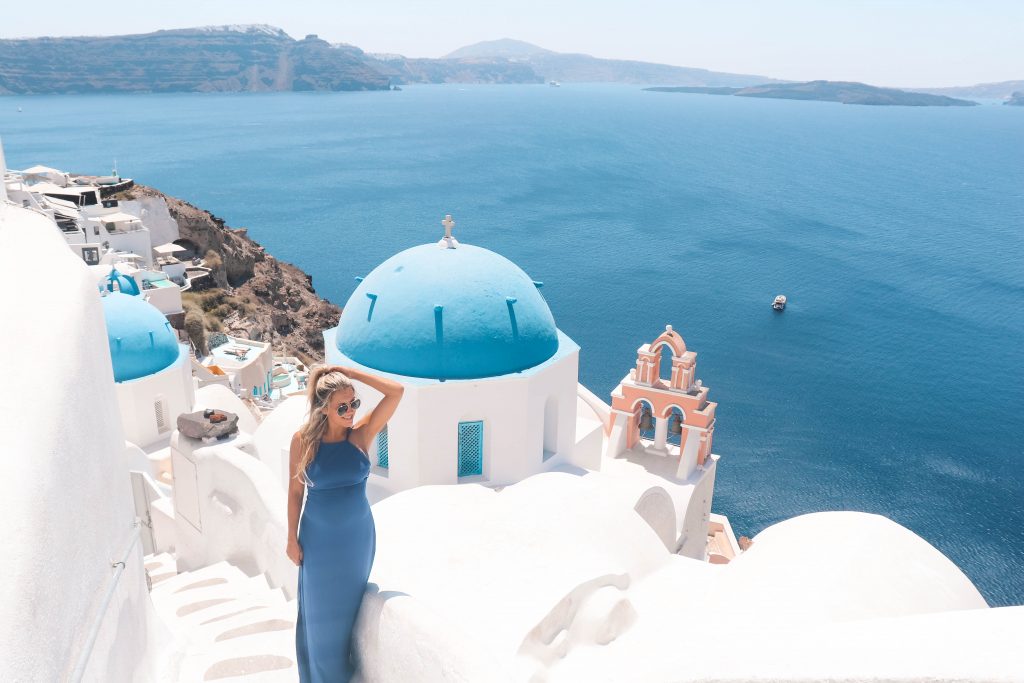 The other popular dome is the Three Bells of Fira which is located in…..FIRA! To get here, head to a tavern called Mama Thira. Once you reach there, walk up the stairs beside the building and through a parking lot and you will hit it right on!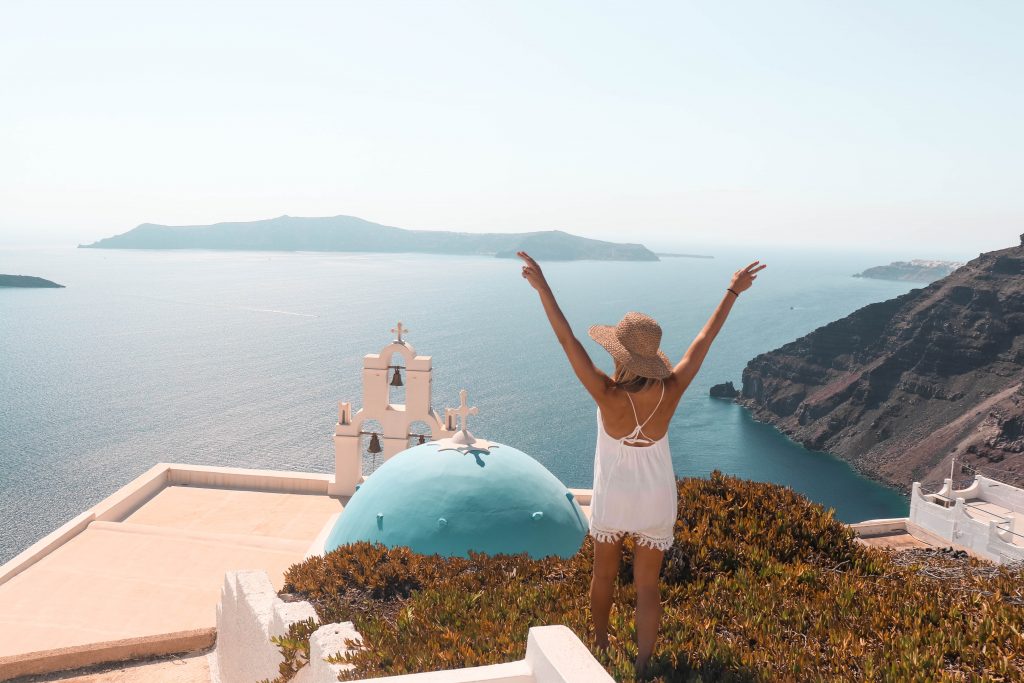 AMOUDI BAY
To get to Amoudi Bay, you can either drive down and park or walk down the steps from Oia village. There are a few restaurants by the bay and a quick little hike. Since we stayed just upstairs (Oia), we visited Amoudi Bay quite often to eat and walk around the area.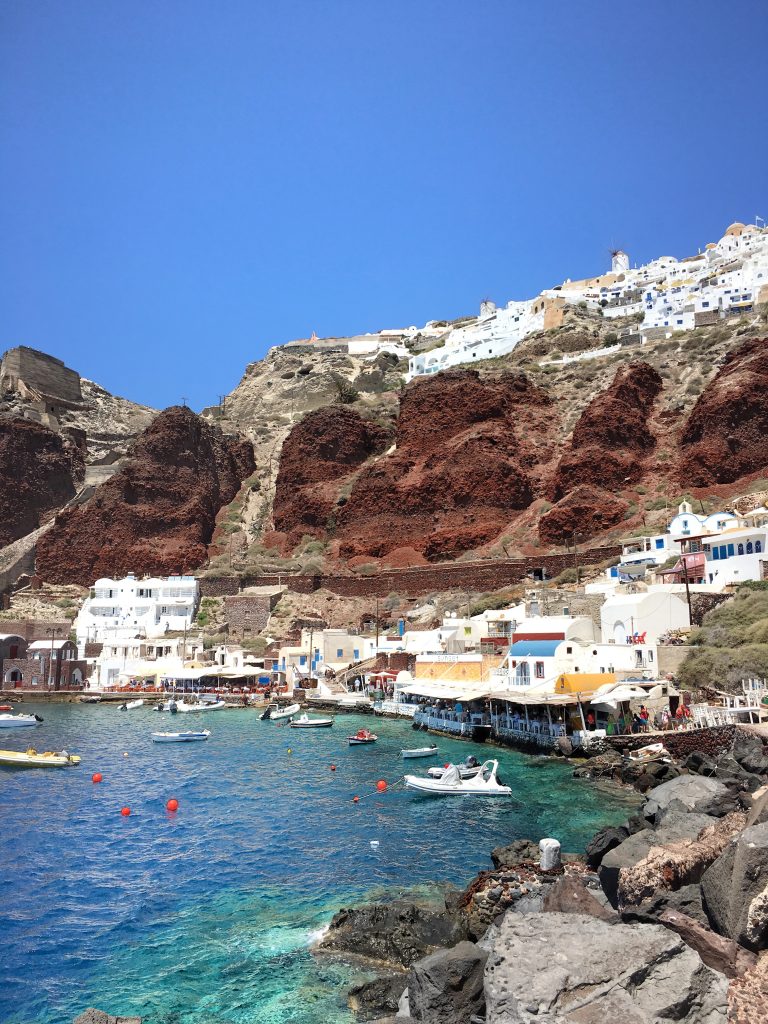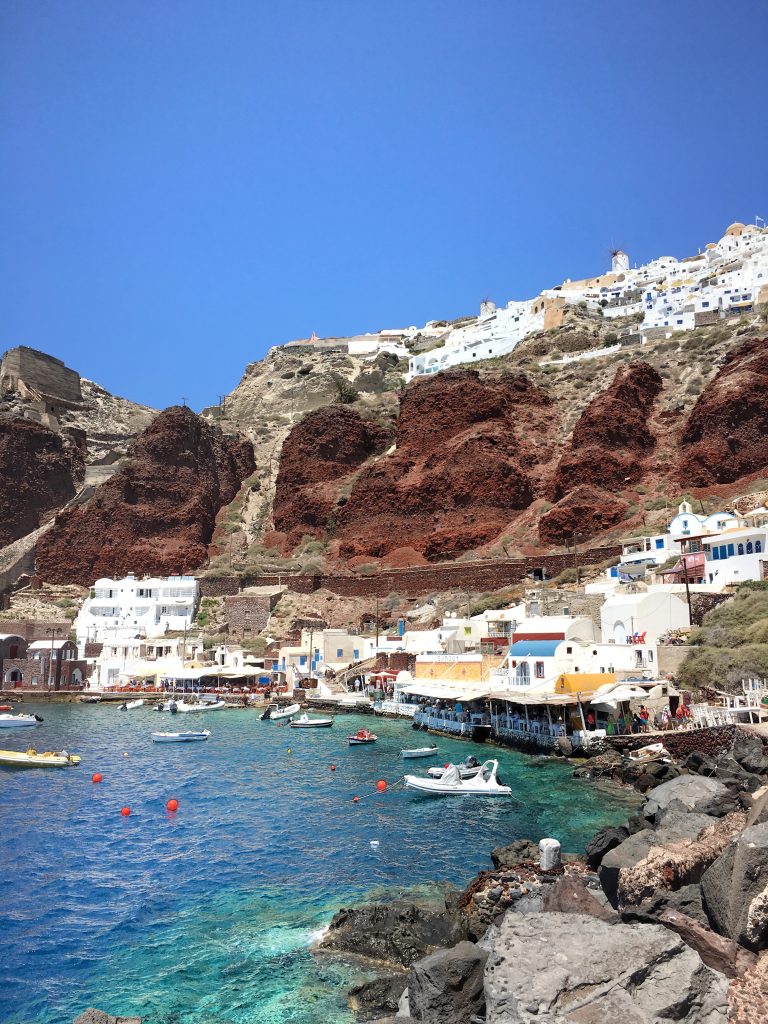 RED BEACH + BLACK BEACH
Red Beach is one of the most famous and scenic beaches in Santorini. But it's dangerous to visit due to the danger of rockfalls and landslides. Black Beach is a little more remote and apparently the water is much more clear and safer to swim! The best beaches in Santorini are not in Oia or Fira!
TRAVEL TIPS
Weather: We visited during July, and the weather was HOT. We are good with the heat but I can see how it can be unbearable for some people. Most popular time to visit is June and September when it sits at about 75 degrees C.
Money: Almost every major business accepts credit card services. If you happen to have no cash Euro on hand, it's safe to use a credit card. Be sure to call your bank and let them know you'll be using it internationally and be aware of any foreign transaction fees you can avoid.
Hotels: There is no big chain hotels on the island. The best spots are small, privately owned boutique hotels. If you're visiting other places on your Greek honeymoon or throughout Europe, Santorini is the place to splurge on accommodation. Once you see the views, you'll quickly understand why.