Buffalo, New York is only an hour from where we live and yet we never have truly visited. Sure we have done plenty of shopping trips to Buffalo or flew from the Buffalo Airport but staying over and exploring the city? Embarrassed to say, never!
I am so happy to say that I can now put together a Buffalo, NY Travel Guide after finally experiencing a weekend trip to Buffalo properly. 
A weekend trip where we not only enjoyed ourselves but may have fallen a bit in love with the second biggest city in New York State. It was our first time spending a full weekend in Buffalo but it certainly won't be the last.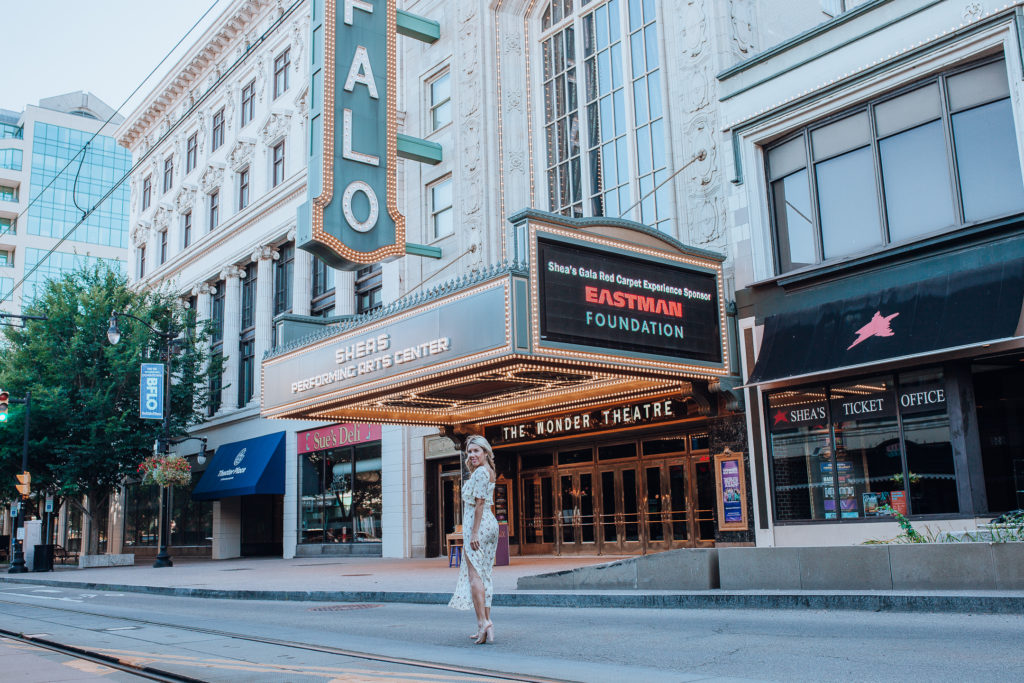 We felt like it was a mini "Brooklyn, New York" offering top notch restaurant and cocktail bars, amazing architecture and cool attractions that we would drive over to visit just for the day!
The best part is that it is located along Lake Erie so you have river views as well.
LOOKING TO DO A TRIP TO ONTARIO TOO? CHECK OUT THESE POSTS FOR MORE INSPO
Now, let's get to the best things to do in Buffalo, where to stay and what you should know before travelling to Buffalo for the weekend!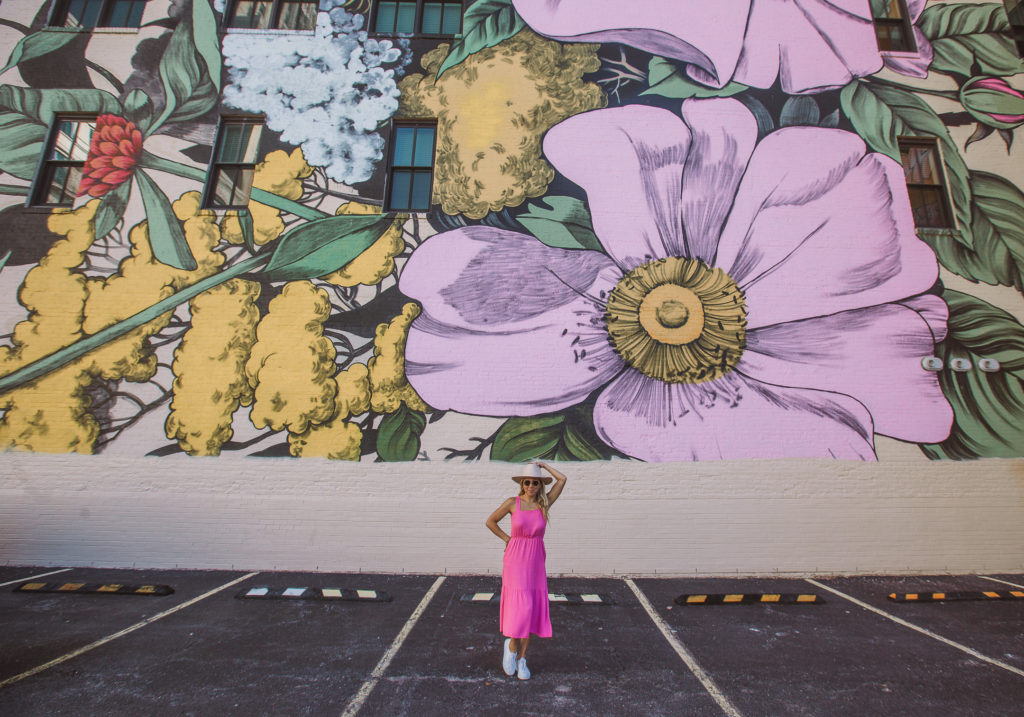 When is the Best Time To Visit Buffalo, NY?
Buffalo gets to enjoy all four seasons. Each season brings something special to do and explore.
We went during the last week of August and absolutely loved it! We could easily walk around, enjoyed the waterfront and felt those "Summer in the City" vibes.
Buffalo Winters can be cold and snowy but if you are Canadian, you know all about that kind of thing. We hope to visit again in the winter and explore some winter themed attractions.
How To Get to Buffalo, NY?
Travelling to Buffalo from Canada is easy peasy. We drove just over the border from Hamilton, Ontario and crossed over at the Peace Bridge. It took us 1 hour and 15 minutes.
As of August 2022, we did not require a COVID-19 Test entering the USA or for returning to Canada. We also did not need to fill out the Arrive Can app when crossing the border.
DRIVING TO BUFFALO FROM OTHER PLACES:
NEW YORK CITY- 6 Hours, TORONTO– 2 Hours
ARRIVING FROM THE AIRPORT: Buffalo has an international airport which is located at 4200 Genesee St, Buffalo, 14225. It's about 20 minutes to the downtown core from the Buffalo Airport.
Where to Stay in Buffalo, NY?
Buffalo has a range of hotels depending on what you are looking for. Right off the highway you can find hotels like the Courtyard Marriott or the Hilton which are conveniently located and have lots of great amenities.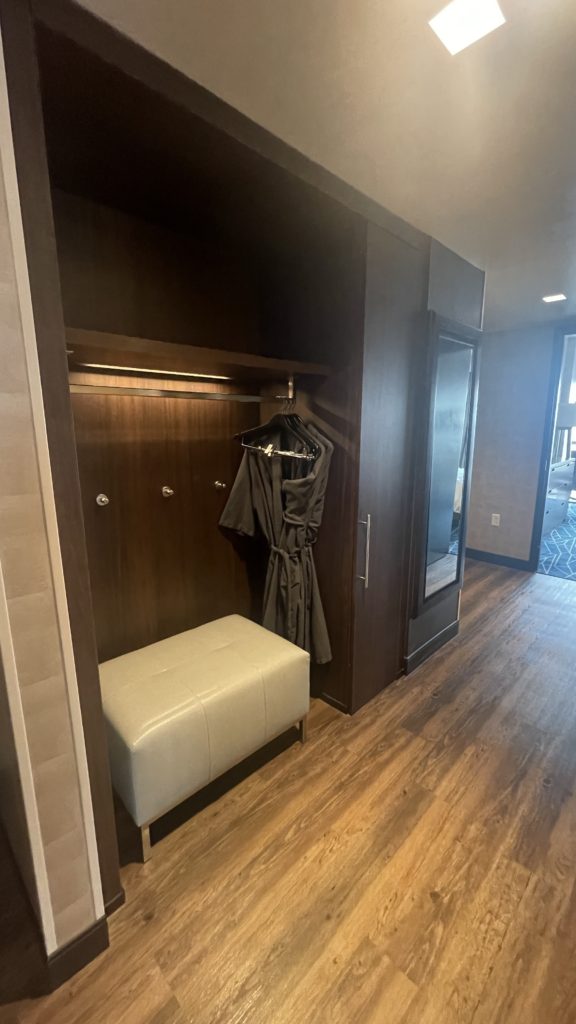 We stayed at the Marriott Lecom Harbourfront Center which was PERFECT! Not only was it beautiful (new and modern) but it was great for our family.
We upgraded to a family suite which had a one bedroom with King Bed and a complete lounge area. The lounge area had two couches ( one which turned into a Queen bed),a kitchenette and even a little kitchen table! The bathrooms legitimately made me feel like I was at the spa.
Other Hotels or Places To Stay In Buffalo
The Curtis Hotel- Swanky Hotel In Buffalo
The Curtis Hotel is a 5 star boutique hotel located in a stunning landmark building. It features a rooftop lounge, spa and has great food and beverage options on site. When I go back to Buffalo, I am going to try to stay here!!
Hotel at the Lafayette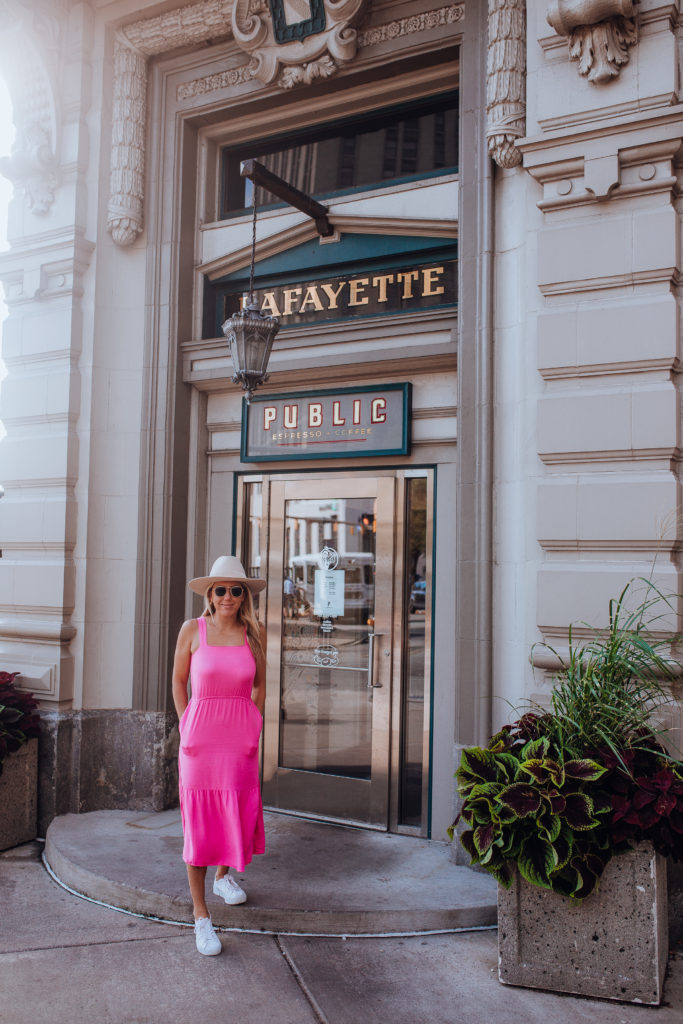 This is a boutique hotel located in the core of the downtown. You are pretty much central to everything when you stay here. My favourite thing about this hotel was that is a historical landmark built by America's first professional female architect, Louise Blanchard Bethune. Pretty cool and iconic!
They also are attached to an amazing coffee shop called Public Espresso.
What Are The Best Restaurants in Buffalo, NY?
One of my favourite things that we did in Buffalo was eat our way through it. And I am not talking about Buffalo wings ( though we did have those too!)
The food and dining scene in Buffalo is on FIRE! There are new, cool and unique restaurants and bars popping up left, right and center and I am here for it.
We were only here for the weekend so our stomachs could only handle so much but these were the best restaurants in Buffalo worth checking out!
Graylynn- Amazing Gin Bar and Restaurant in downtown Buffalo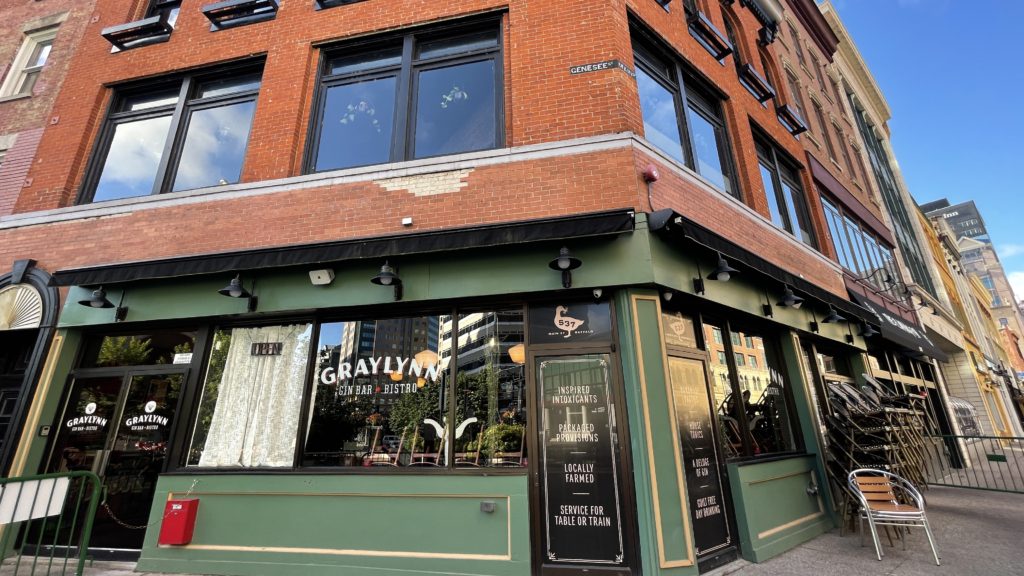 Oooo this place had a vibe. It reminded me of the West Village in New York City. It's located on a prime corner in Downtown and features a wrap around patio that offers views of the Buffalo City Bank.
It is a casual yet refined spot and the type of place you can go to once a week if you lived close by!
It has over 100 types of Gin on hand and their cocktail menu has beautiful hand crafted cocktails that reflect their Gin offerings. I went with one that had Empress Gin in it and my hubby got a Lemon Honey Basil drink. Both were equally amazing.
The food menu features smaller sharing plates, fish, pub fare and pasties. My favourite dish was the Oysters and Mussels!!!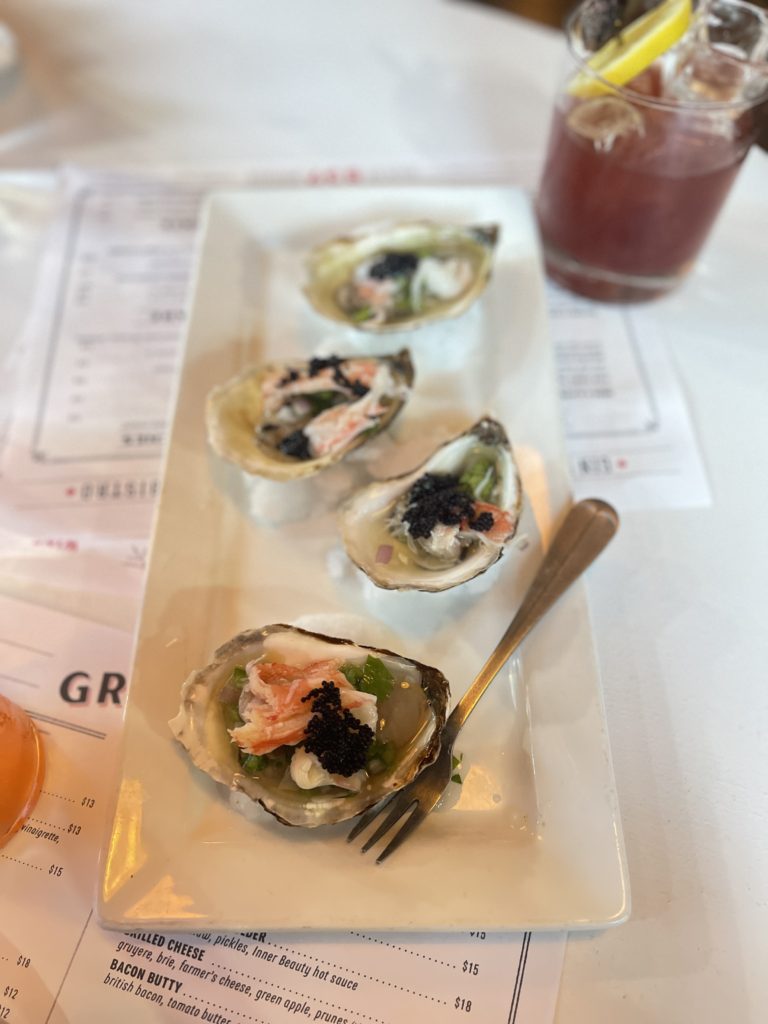 Wonder Coffeehouse
This breakfast joint was located in the industrial area of town which made it even more cool. You wouldn't expect there to be much there in terms of restaurants and then BAM- the cutest restaurant ever appears.
The outside patio and part of the exterior is made up of piled shipping containers. They are tastefully painted with some signage on a few that fit together perfectly. We recommend sitting on the patio but if you can't- the inside is cozy and romantic.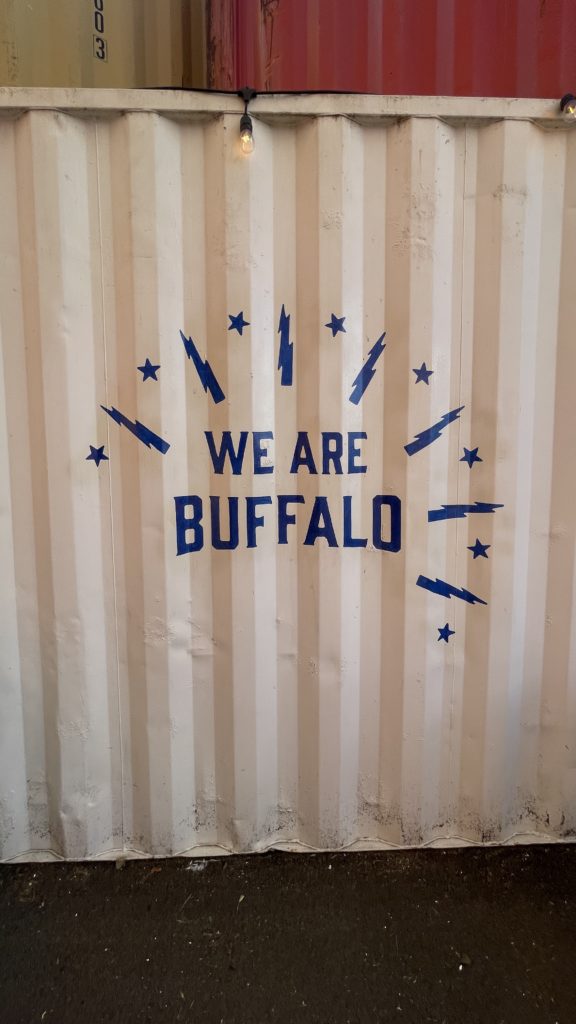 They serve up over 15 kind of homemade Liege waffles so whether your taste buds are craving something savoury or sweet, you will be able to find something here that suits it.
Strong Hearts- Vegan Lunch Place In Buffalo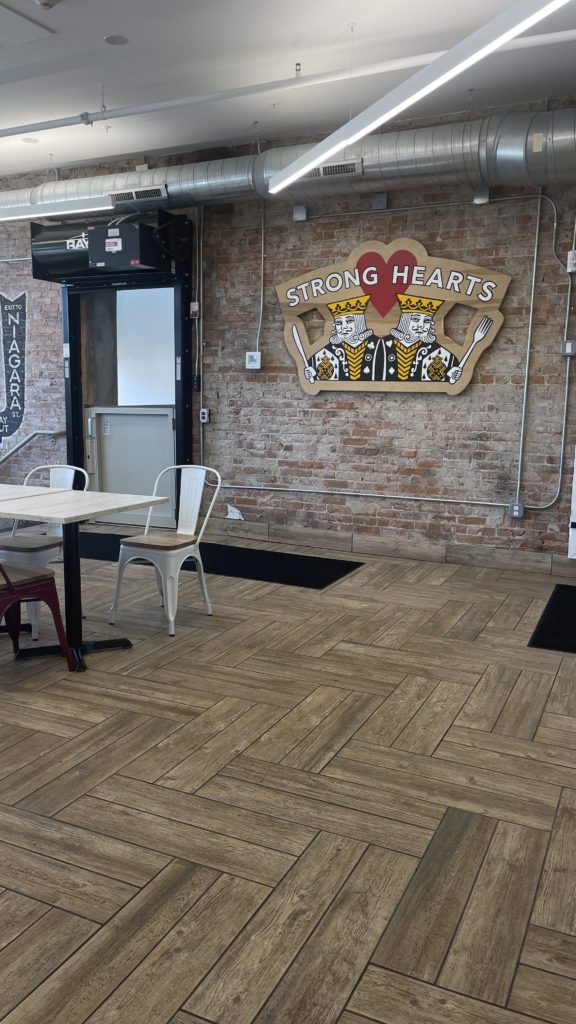 My husband loves meat. He normally snarls a bit at me when I make him something Vegetarian or Vegan. I read such crazy good reviews of Strong Hearts, one of Buffalo's newer Vegetarian restaurants, so I did a little test.
I got him a "Chicken Parm" sandwich and didn't tell him it was meat free. I got myself their Chickpea Wrap. My daughter got a Smoothie. We all finished our food within 10 minutes. It was SOOOO good! My husband thought it was one of the best "Chicken Parm" sandwiches he has had.
I finally told him it was vegetarian and he was floored! Vegetarian or not- this place is a must eat at for a casual, guilt free lunch!
The interior is also bright, colorful and perfect.
Liberty Hound- Waterfront Lunch and Dining Spot in Buffalo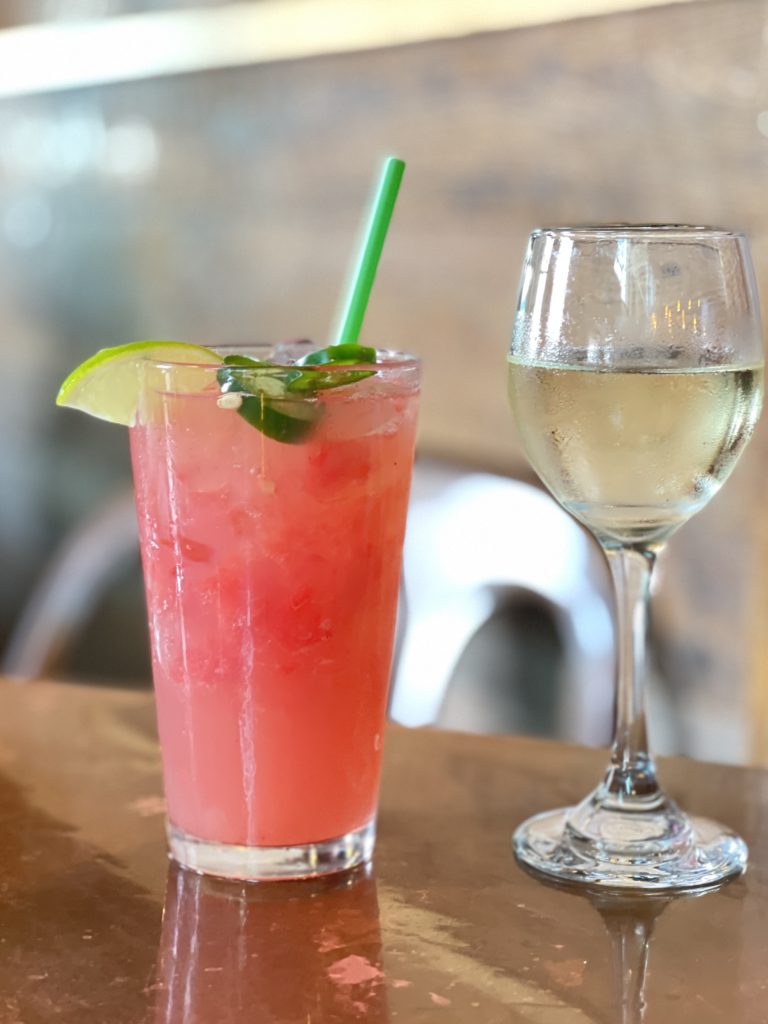 Liberty Hound, located right on Buffalo's Harbourfront, is a perfect place for the family for lunch or dinner. Not only do you get prime views of the Buffalo river, you get views of the Buffalo and Erie County Naval and Military Park which features two large war ships.
Liberty Hound's menu is fish-centric featuring mouth watering Lobster Rolls, Clam Dishes, Jumbulya and more. Do not sit on the Lobster Roll. It was so delicious that we didn't even have time to snap a photo of it.
If you don't make it for the food, at least grab a brew on the patio! They have a big list of craft beers.
Butter Block- Pastry and Cafe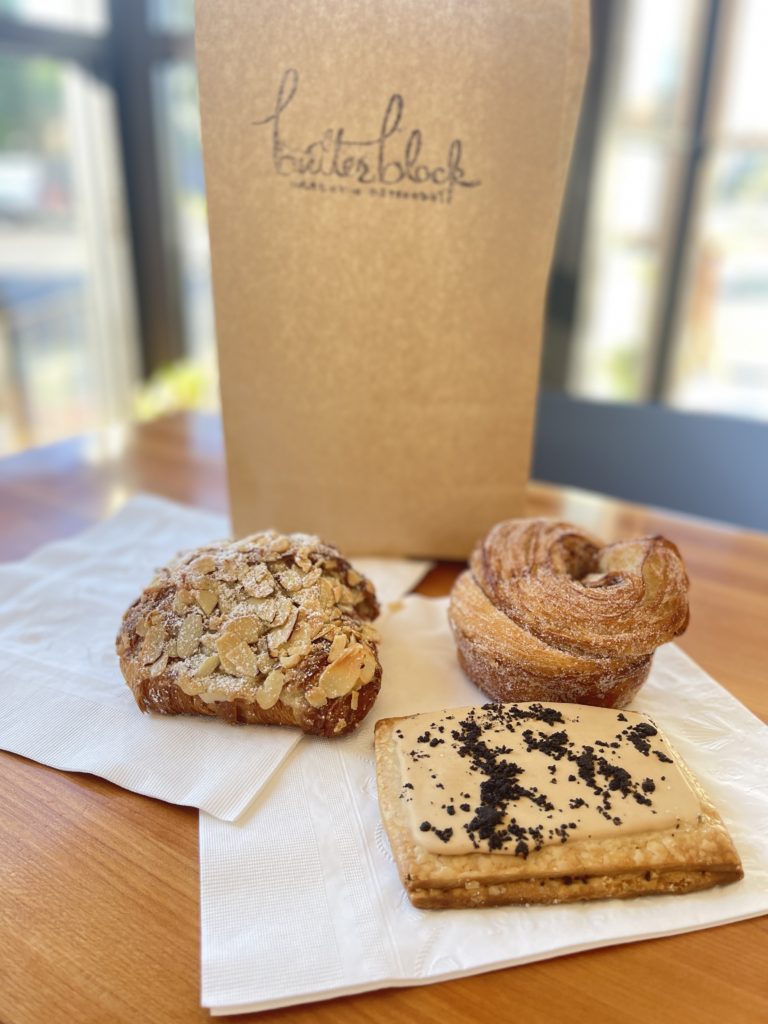 Located in Buffalos' Five Point neighbourhood, this pastry shop made us feel like we actually lived in Buffalo! We learned very quickly that Butter Block had a cult following and for good reason.
There were locals lining up as early as 8:30AM to get their hands on what may be some of the best pastries and baked good we have ever eaten. Truth.
We got the Morning Bun, Chocolate Pop Tart and Almond Croissant. I could not for the life of me pick which one was best. DON'T MAKE ME PICK! All equally and insanely delicious.
Lucky Day- A Must Stop for a Cocktail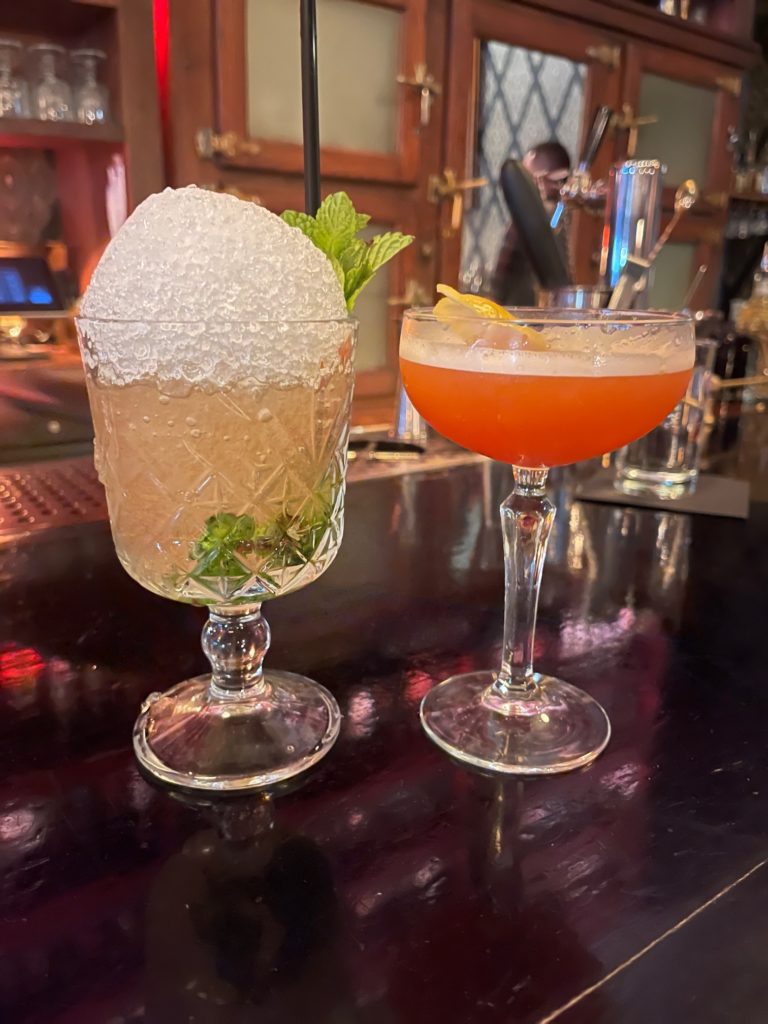 Lucky Day is a cocktail bar located in downtown Buffalo that houses over 100 types of Bourbons.
Make no mistake though- they have a lot of other amazing cocktails if you aren't into Bourbon. I decided to have a bourbon cocktail though ( When in Rome!) and ordered a Mint Julep. Aaron got a Paper Plane.
We could have just visited and watched the bartenders in action though. The bar itself is over 20 feet high ( I mean 100 bottles of Bourbons need to be shelved somewhere) and all the bartenders are in classic vests. It gives off that old school and classic bar vibe but the space itself has a seriously edgy punch.
Amazing for a pre or post dinner drink!
Remedy House- Another stunning and delicious breakfast spot in Buffalo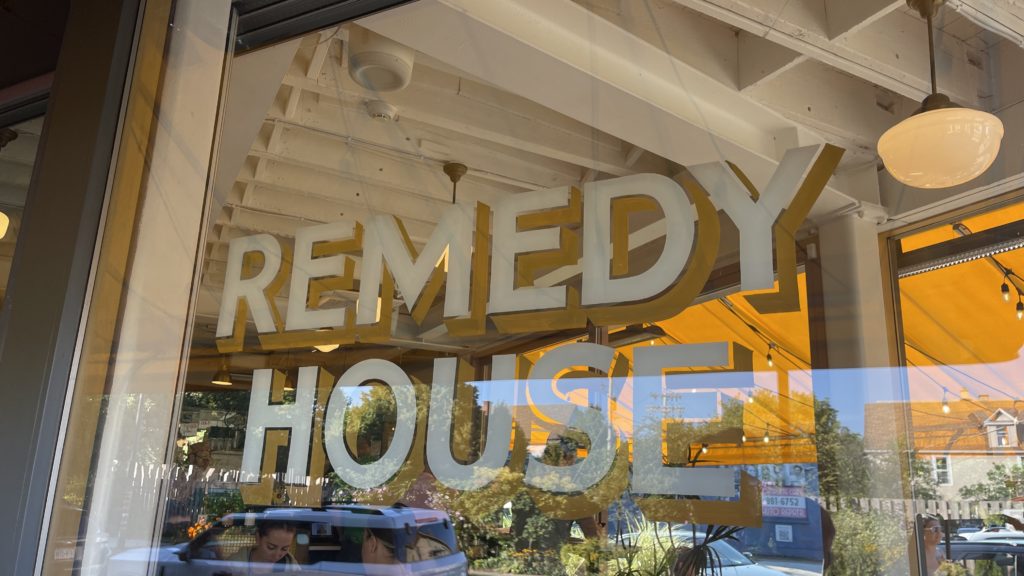 Remedy House is a breakfast spot that you can really spend some time at. They have not only an extensive coffee menu and delicious handheld egg sandwiches but they are located on a prime corner in the Five Points neighbourhood. Their patio area wraps around the building and the building itself has sliding doors to give it an indoor/outdoor feel.
You can kick your breakfast up a notch too as they have a pretty amazing morning cocktail list.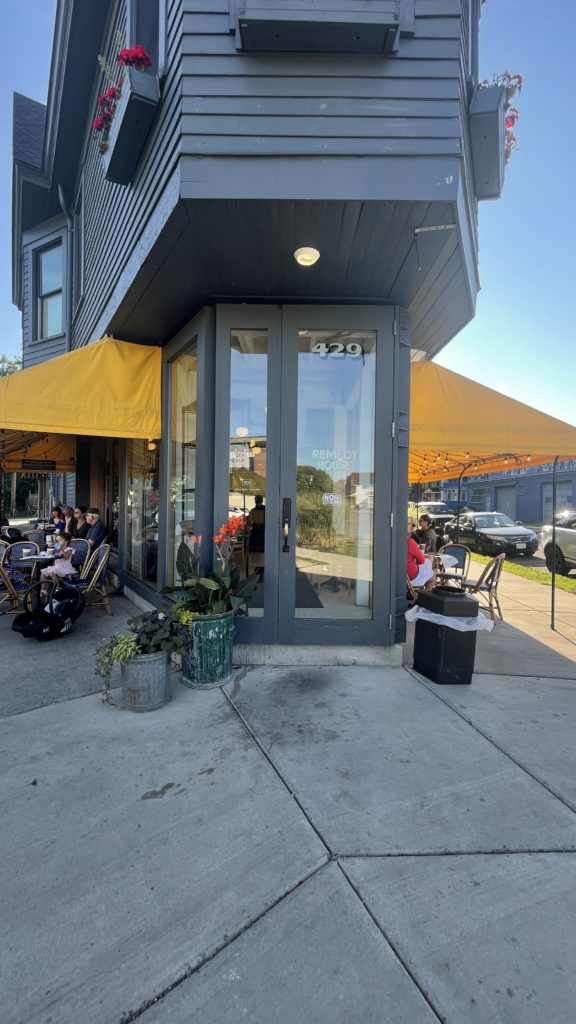 The Coolest And Most Unique Things To Do in Buffalo, NY
There are plenty of things to do in Buffalo, NY. If you are travelling with friends, a partner, or your family, there are so many unique activities to discover and get up to.
We did a mix of family friendly activities in Buffalo as we were travelling with the little ones and then also got up to some more attractions that we wanted to explore for us! We loved seeing both sides of the city.
We hope to go back in the winter months so we can see Buffalo during this season.
Here are some of the cool and fun things we did during our Buffalo visit this time around ( end of August):
Frank Llyod Wright Tour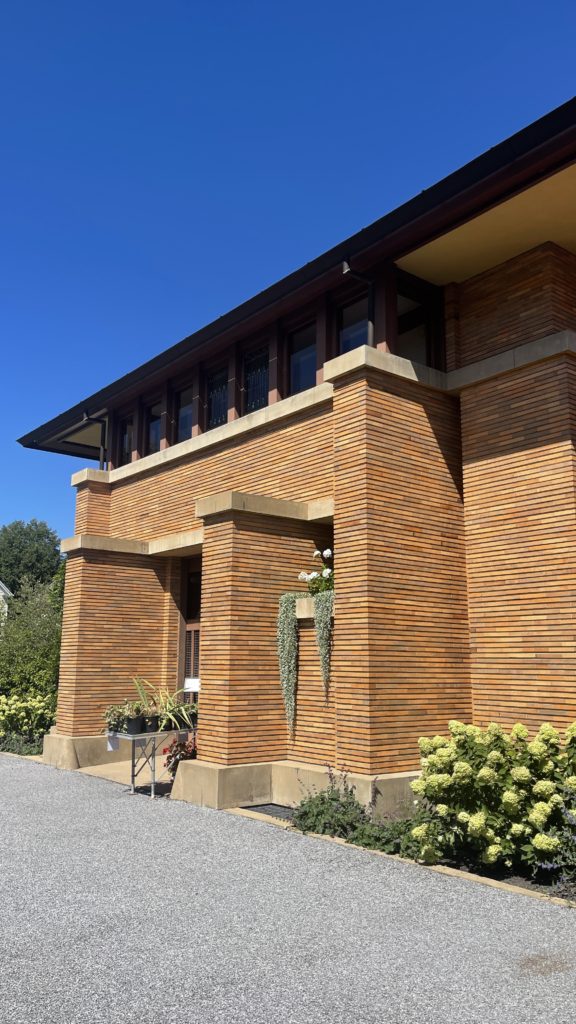 This was hands down our favourite thing that we did in Buffalo! If you are a design lover, you cannot miss the tour of Architect Frank Llyod Wright's house that he created for Darwin Martin.
This masterpiece was built starting in 1903 and not only has a crazy history that went through lots of highs and lows but it is also considered one of Frank Llyod Wright's masterpieces.
We opted for the 75 minute tour of Martin's house and it flew by. It was so informative and kept us captivated. We got to ask questions as we walked through the place and we left really understanding how Frank Llyod Wright was as a person and how thoughtful his design process was here.
We brought along the kids too so the 75 minute tour was the right amount of time ( for their short attention span haha). This is a fun activity for adults in Buffalo though overall!
THINGS TO KNOW BEFORE VISITING THE FRANK LLYOD WRIGHT HOUSE: Strollers are not permitted inside and you cannot take photos of the interior.
Buffalo Heritage Carousel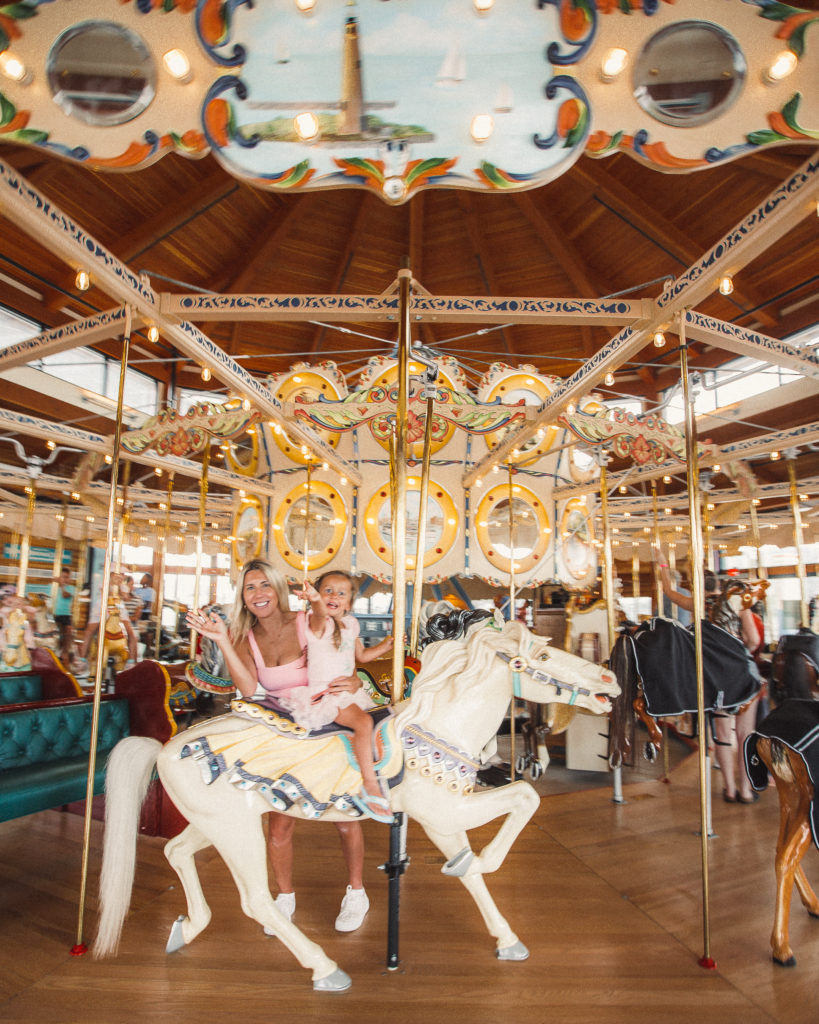 HOURS: Open Monday, Wednesday to Saturday, 11 – 7 pm Sunday, from 11 – 5 pm & Closed Tuesday
For the price of $1, you can ride on one of Buffalo's newer Canalside attraction- The Buffalo Heritage Carousel.
While we initially headed here for the kids, we equally enjoyed ourselves! It is a fun and affordable activity in Buffalo and the restoration of it was done so beautifully. If you don't like marigold rounds, it is worth checking out just for the design of it all. The hand carved wooden animals and charming music make you feel all sorts of ways.
Explore the Street Art in Buffalo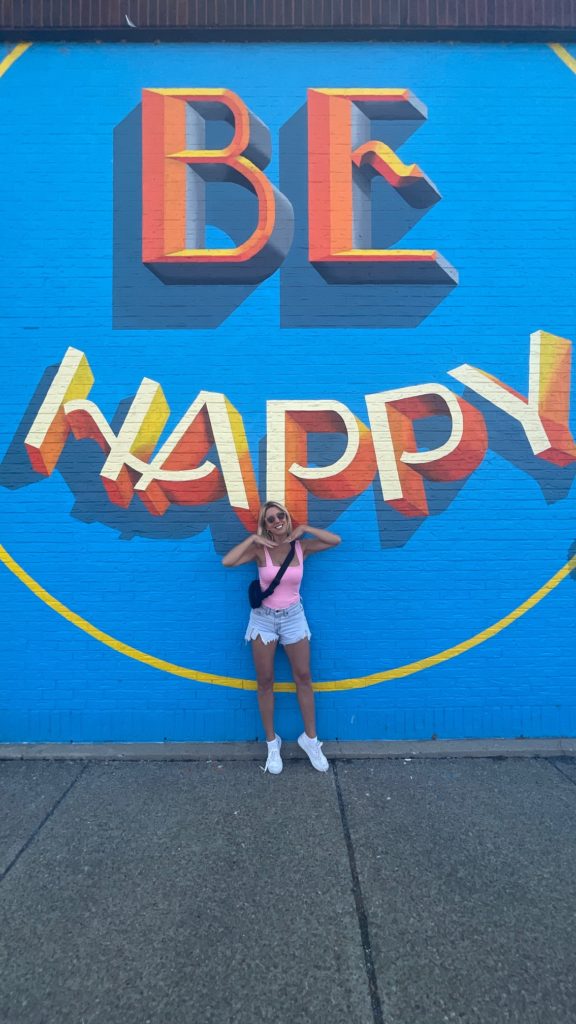 Buffalo, Ny is home to some beautiful Murals and Street Art. There are over 50 Murals by some incredible artists in the city. You can spend a day scoping them out.
We purposely went to a few with the Mural addresses in tow and then other ones we simply saw just from walking around town. Between the neighbourhoods of Elmwood Village, Allen town, downtown and
Here is a list of a few Buffalo Art Murals that were my favourite:
–GREETINGS FROM BUFFALO-461 Ellicott St.
–NOODLE IN THE NORTHERN LIGHTS-710 Main St
–WILDFLOWERS FOR BUFFALO-465 Washington St.
–KEEP BUFFALO A SECRET-812 Main St.
Visit the Explore and More Museum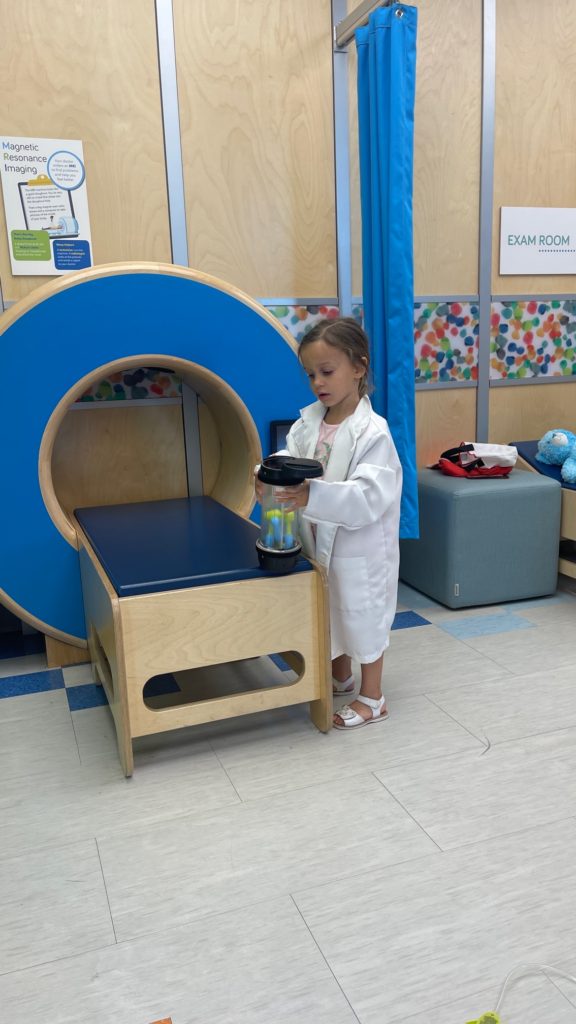 The Explore and More Museum in Buffalo is MUCH more than a Museum. It is the perfect kid friendly activity in Buffalo that is interactive, educational and FUN! There are four floors of things to do- each floor having a theme and unique element.
You can find Carwashes, a Mini Hospital, a Grocery Store, Farm Set ups, a Tree house, Climbing sets, Science elements, and a Rooftop with even more fun ( and fresh air).
We spent an hour here but could have spent (and would recommend) about 2 hours total here to really see it all.
CLOSED ON SUNDAYS AND TUESDAYS, HOURS MONDAY, WEDNESDAY-SATURDAY: 10AM-4PM
Some Other Fun Things To Do In Buffalo: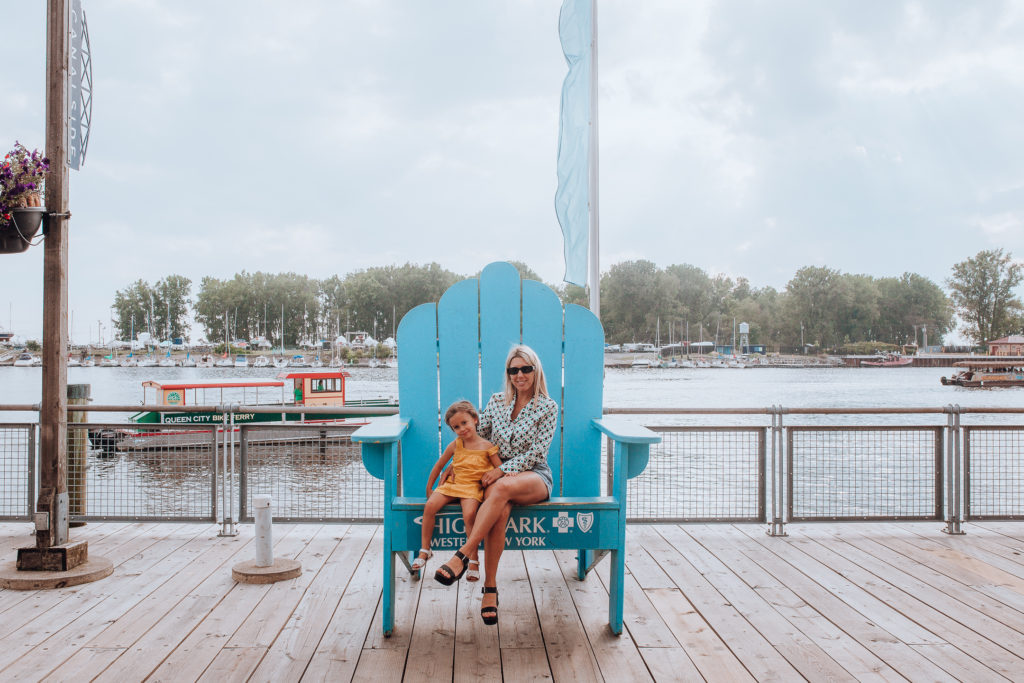 We only had so much time in Buffalo so could only do the activities above but next time we come back we are looking to check out some of the following attractions:
Check Out the Theodore Roosevelt Inaugural National Historic Site and Buffalo City Hall ( a little more history and architecture!)
Buffalo Botanical gardens
We have done many Niagara wine trail tours but there are also some wineries in Buffalo too which would be cool to see
Niagara Falls State Park ( to see the falls from the US side!)
We visited the outside of the Shea's Performing arts center but I would love to see a show and go inside of the building!
Buffalo AKG Art Museum (formerly the Albright-Knox Art Gallery)
Forest Lawn Cemetery
Buffalo Zoo
An official Architecture Tour
As you can see there is a ton to do in Buffalo and I hope after reading this Buffalo Travel Guide you were able to see how much this city is blossoming.
With it's beautiful architecture, trendy and happening food scene, and array of attractions for any kind of visitor, it is a spot you must add to your list sooner rather than later!
---
PIN THIS POST