One of the best free things to do in Buffalo ( and really just one of the best things to do overall) is to check out all of the local mural art in the city.
Buffalo, New York might just be the mural capital of the US. I actually just made that fact up but after travelling to many US cities I wouldn't be surprised if that was the case.
Not only does Buffalo have an abundance of cool art murals sprinkled all over the city but the murals themselves are SO good! Each of them are done by insanely talented artists.
Planning a trip to Buffalo? You might want to check out these other posts too!
#1. Wildflorals for Buffalo Art Mural by Louise Jones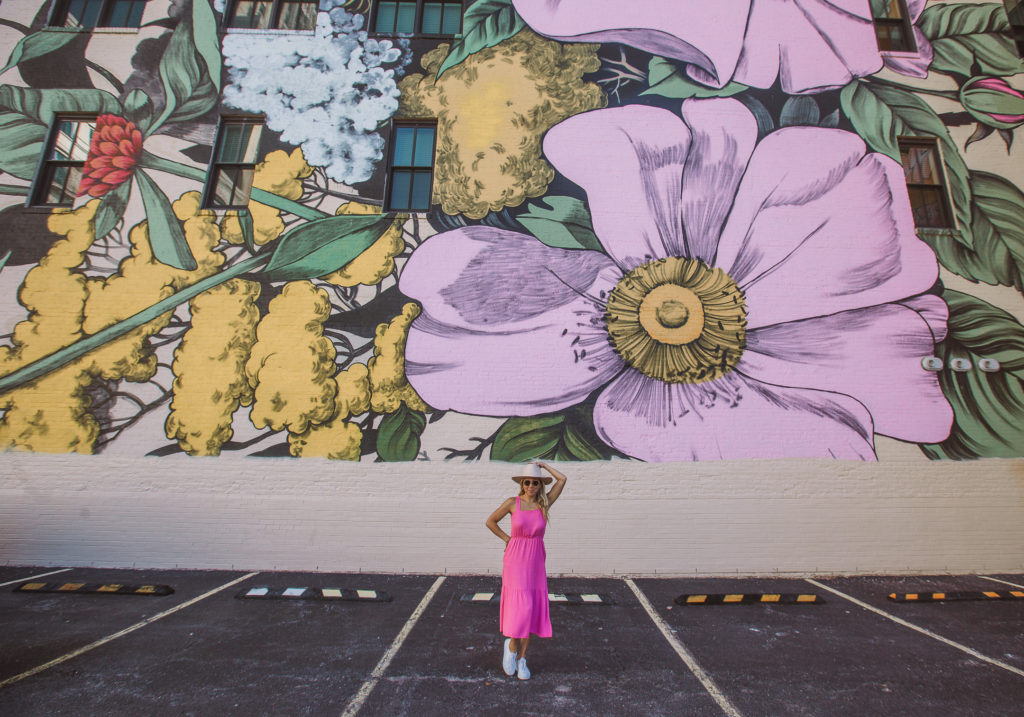 Louise Jones, who originally hails from Detroit, is the largest mural in Western New York ( and of the artists career!). Not only has she done this art mural in Buffalo but she has her work in other major cities like Los Angeles, Shanghai and New York!
This is a Buffalo art mural MUST SEE! It is probably my favourite out of all of them and right downtown
ADDRESS: 465 Washington Street, Buffalo, NY 14203
#2. Cobblestone Commons – A Street of Murals in Buffalo!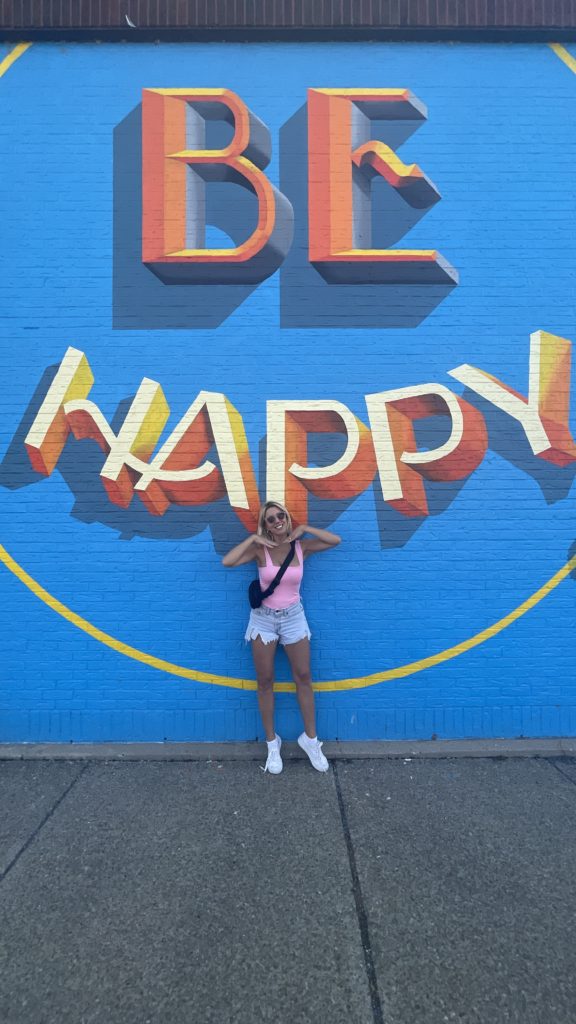 Me in front of one of the Murals at the Cobblestone Commons
This street in Buffalo, NY features 12 individual murals done by various artists. It was commissioned by the Albright-Knox Art Gallery Public Art Initiative in 2020 and was completed in 2022.
I absolutely love the variety of the murals here all done by artists in the Western New York community.
If you are short on time, this is the one street you should check out as you can see some of the best murals in Buffalo in one short street.
My favourite one of the bunch was the "Be Happy" mural ( pictured above) done by James Moffitt.
ADDRESS: 164 Ohio St, Buffalo, NY 14203
#3. Greetings from Buffalo, NY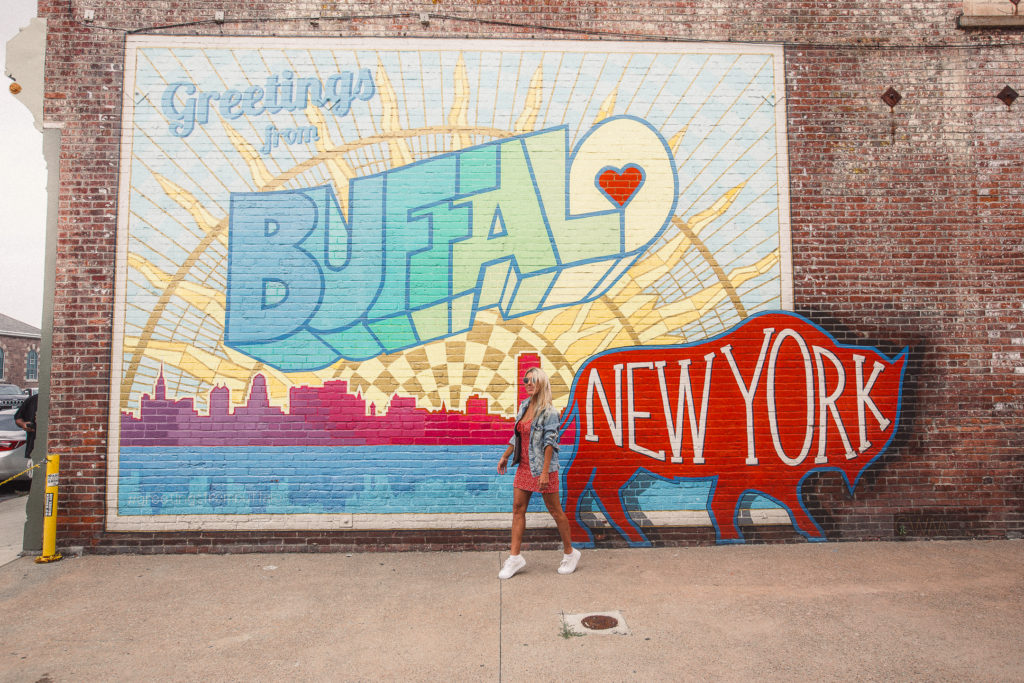 The "Greetings from Buffalo" Mural by Casey Milbrand has become a fan favourite! If you are proud of being from Buffalo or want to get that perfect Instagram worthy shot when you are visiting, it does the job! I love that it mimics a postcard and includes a Buffalo itself. Artist Casey Milbrand described the Buffalo on it's way to explore the city…
This is Buffalo mural must visit for sure!
ADDRESS: 461 Ellicott Street, Buffalo, NY
#4. Metamorphosis – the Largest Mural in Buffalo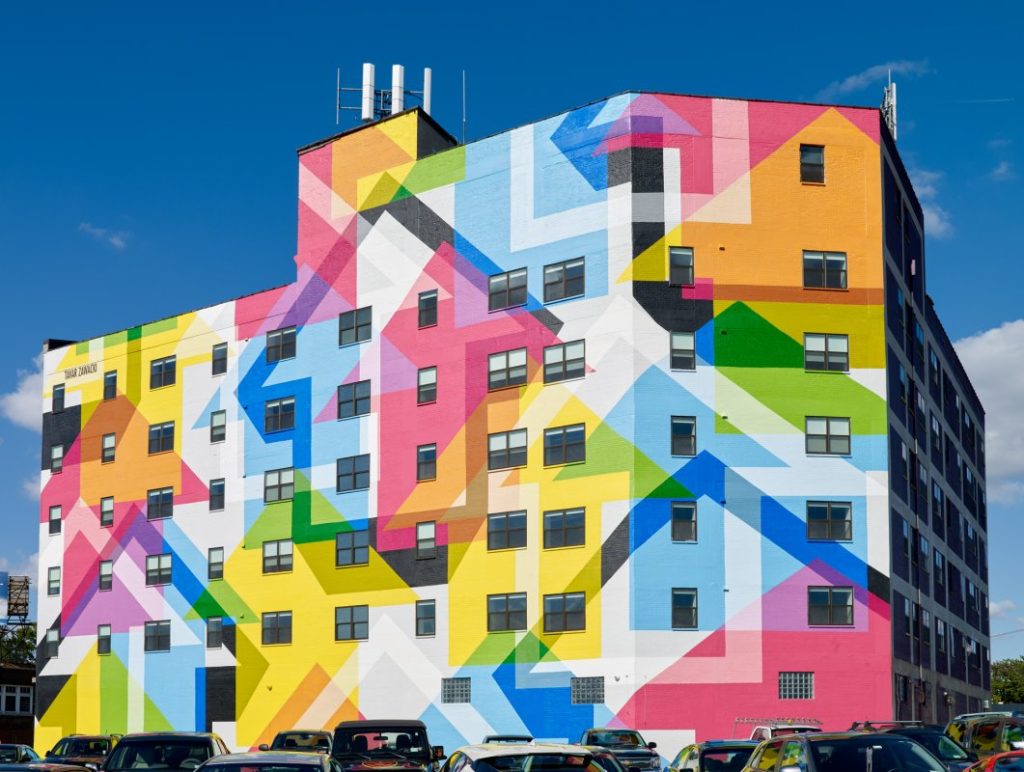 Done by artist Tavar Zawacki, this vibrant/color blocking mural is an absolute must visit! Zawacki has murals througout the nation and before seeing his work in Buffalo, I saw it in the Wynwood area of Miami. I was obsessed with the artwork created there and made sure to visit his work in Buffalo!
It does not disappoint!
ADDRESS: 1665 Main Street
#5. Noodle in the Northern Light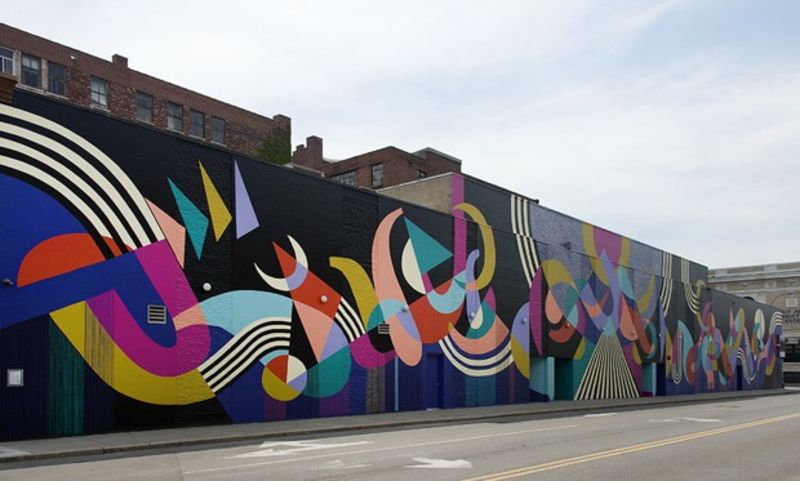 Located in Buffalo's iconic Theatre district, the Noodle in the Northern Light Mural is truly a work of art.
Created by two Baltimore based artists- Jessie and Katey- the mural is a block long and really makes your jaw drop.
The project started in June of 2016 and is still in view which shows that it took a second to complete this massive and beautiful project.
ADDRESS: 710 Main St, Buffalo, NY 14202
#6. Keep Buffalo A Secret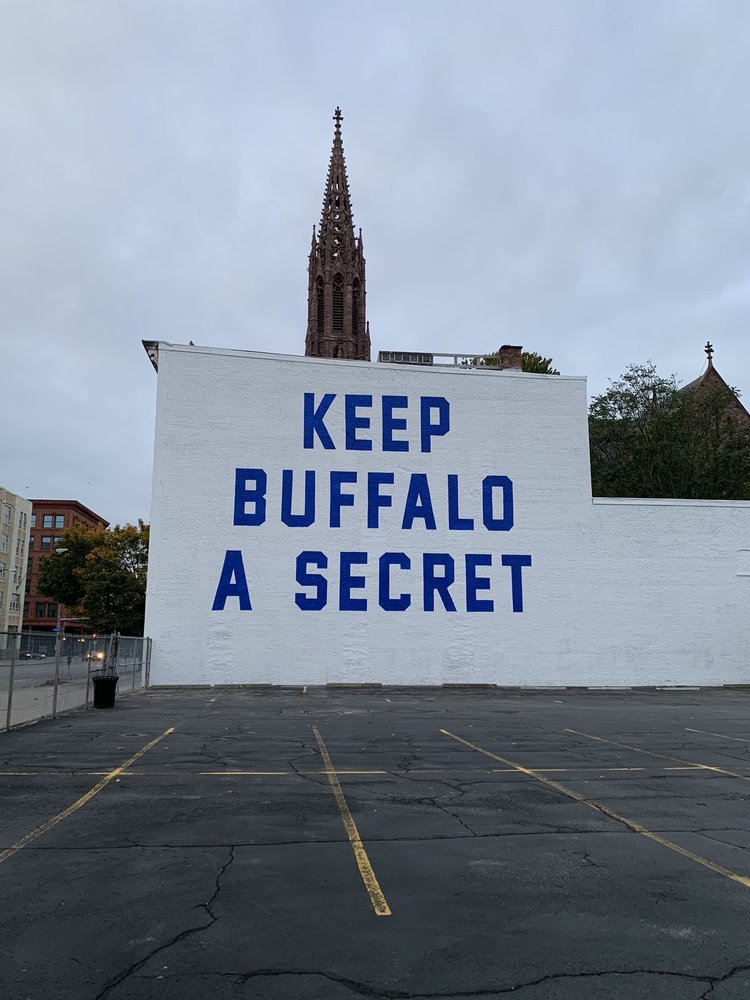 Created in 2019 by artist Ian de Beer, the "Keep Buffalo a Secret" mural is hard to miss! And one that comes with a bit of controversy.
de Beer created the mural with the intention of aligning it with other popular murals in cities like Austin or Portland ie: "Keep Portland weird". Some locals however felt that Buffalo shouldn't be kept a secret and the slogan encourages people to not boost about their charming city!
The simplicity of the mural makes it neat and I think it falls under the "all press is good press" category if anyone was a bit bent out of shape over it. The mural is no secret and has actually been visited by many locals and tourists alike!
ADDRESS: 810 Main St, Buffalo, NY 14202
#7. The Magic Buffalo Mural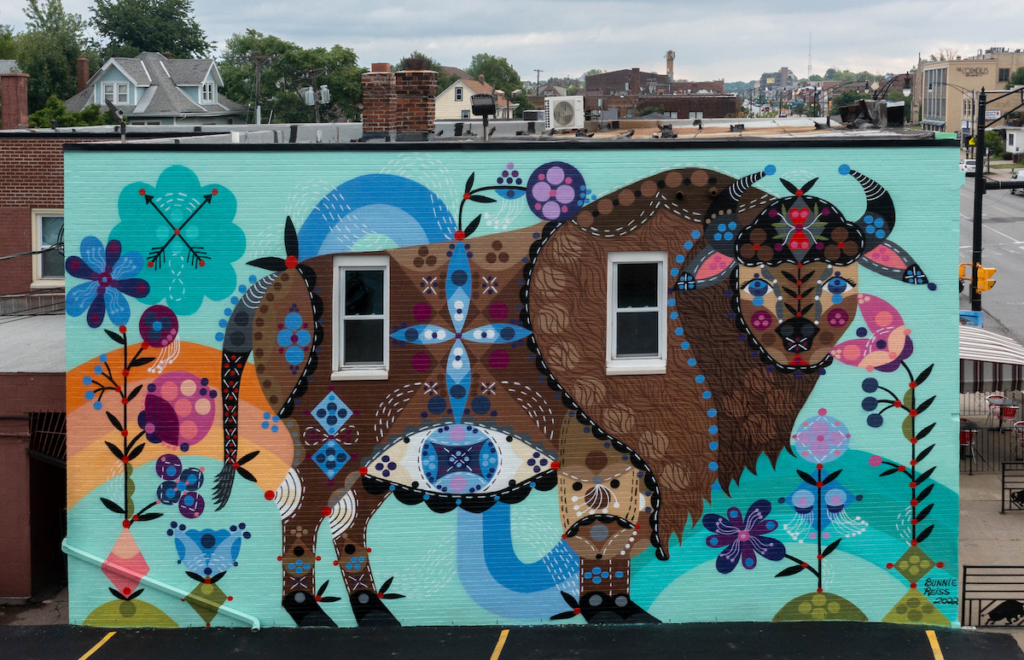 It's save to say that any mural that features a Buffalo makes me like it a little more. I am not sure but it just hits! The "Magic Buffalo" mural, created by artist Bunnie Reiss, is just that. The mix of colours pop so nicely and it makes you feel proud to be exploring Buffalo!
It is located on the side of Joe's Deli!
ADDRESS: 1322 Hertel Ave, Buffalo, NY 14202
#8. Lookin' Good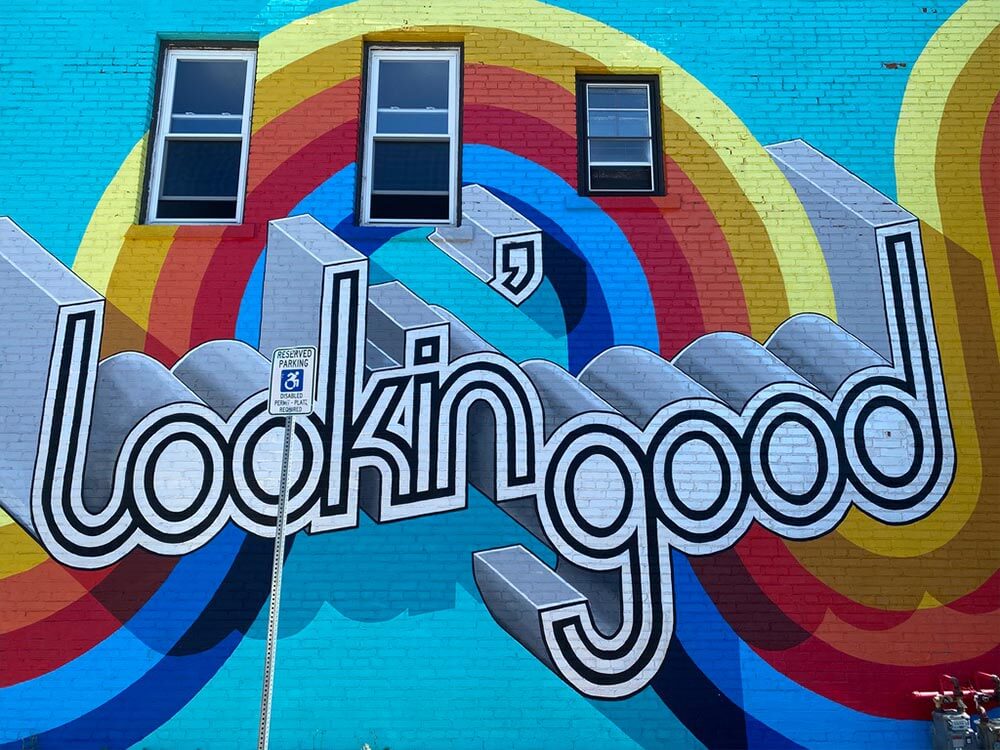 An art mural with retro font and rainbows? Count me in! This was a must visit on our unofficial Buffalo street art tour and I am so glad we visited this one! Done by local artist Casey William Milbrand, this mural is an area that is in fact "lookin' good".
The surrounding streets feature a few other note worthy Buffalo murals so you can see some additional ones just by walking around ( go down a few Hertel alley ways and you are sure to spot a few)
TIP: Visit the Gord Downie mural ( 1669 Hertel Ave) and the Buffalo Map one as well (1297 Hertel Ave) My two favs!
#9. Optichromie Mural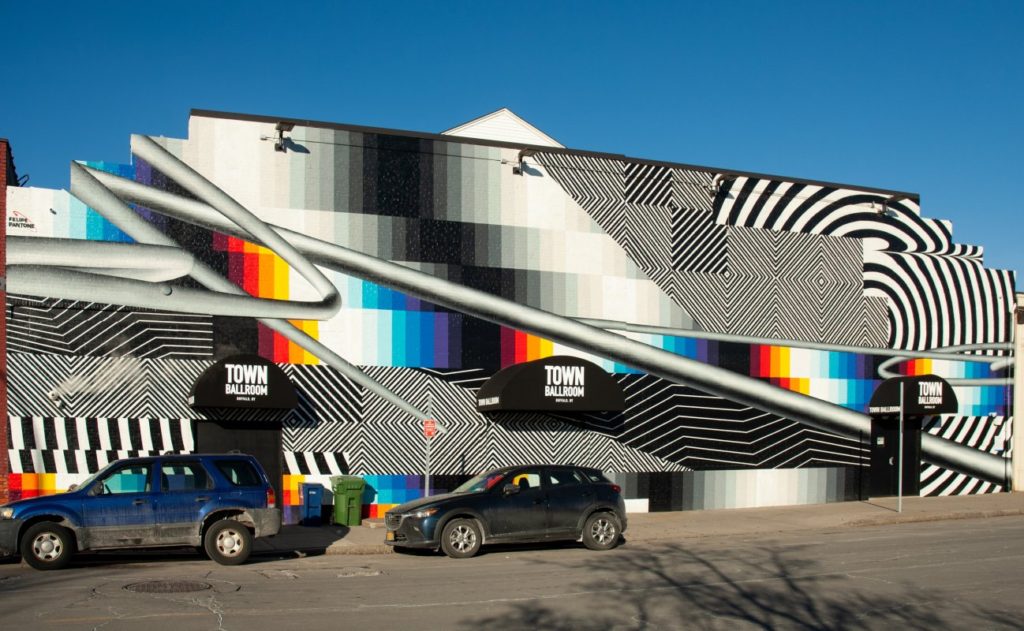 This trippy work of art by Felipe Pantone covers the iconic Town Ballroom concert hall. This art mural in Buffalo will leave you in a trance with it's bold lines and bright pixels that interconnect.
I loved the black and white abstract portions of it – it really had us staring at it for a while!!
ADDRESS: 701 Washington Street, Buffalo, NY
#10. "Walking Back In Time" Mural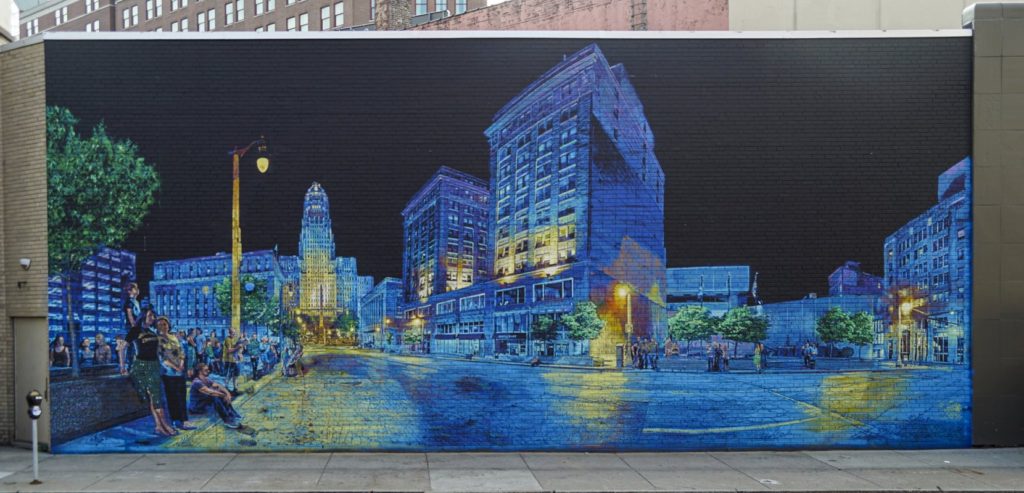 I love this Buffalo Art Mural for how inticrate it is. There are so many little details that were captured by artist Logan Hicks. It literally makes you feel like you are IN the scene itself.
Hicks said the mural represents a quiet and peaceful time in the city when things have "slowed" down and there is beauty in the mundane moments.
ADDRESS: 5 East Huron Street, Buffalo, NY
Other Notable Street Art in Buffalo mentions:
Check out all of the work of Team Razor Wire ( artists  Nicholas Conrad Miller and Christopher Kameck are behind the name) as they take over some key city spots with their work. Stay up to date with their street art on their Instagram
"The Old First Ward" by Vinny Alejandro & Yames – Republic St is another great mural and the First Ward area in general is a great place to check out! It's a place in Buffalo with great roots and history that is being revived once again
Big Ditch Brewing Company is a great place to grab a beer and spot a fun mural with the address at 55 East Huron Street, Buffalo, NY!
Niagara Falls Art Alley is not in downtown Buffalo but
"Dance Everyday" Mural at 537 East Delavan Avenue, Buffalo, NY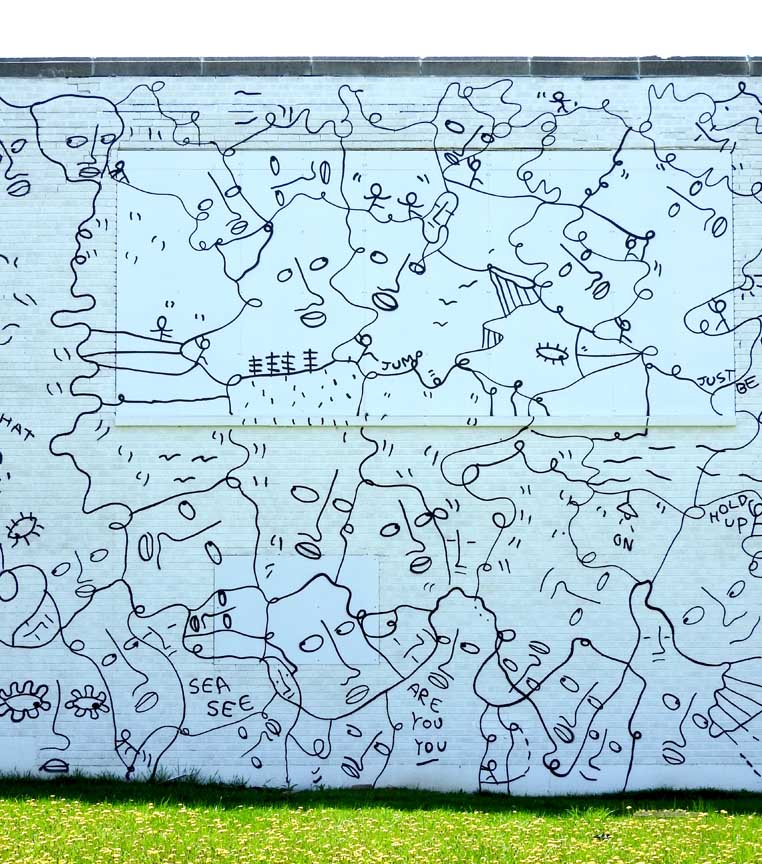 ---
As you can see the best murals in Buffalo can be found in all areas of the city but a quick drove around town will have you spotting some easily! There are even more than the ones I have mentioned here and you can certainly spend a good portion of your day seeing them all. The art scene in Buffalo seems to just be getting better by the day so I wouldn't be surprised if there are even more that pop up in another few months.
All I know is that it is one of the best free things to do in Buffalo. You can pair this mural tour with some great restaurant stops along the way and you have yourself a perfect afternoon.
PIN THIS POST