Finding a kid-friendly destination isn't always the easiest! When traveling with our girls, we always like to find places where there are a lot of activities to choose from, where we have easy access to swimming pools (because what kid doesn't love swimming) and we also love finding places that are affordable! Our trip to Tempe, Arizona was so kid friendly and offered all of these things plus more.
Whatever age your kids are or whatever their interests may be, you will have a TON of choices to keep them busy ( and also keep you entertained at the same time). 
Here are my top 10 kid friendly things to do in Tempe, Arizona: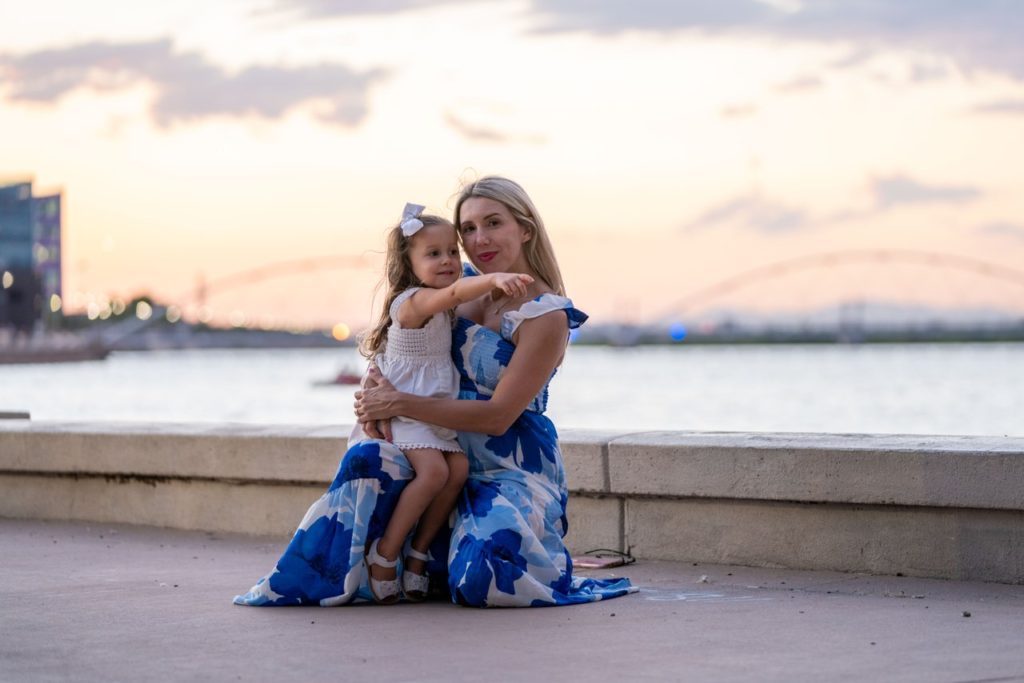 Conveniently located off one of the main freeways, SEA LIFE Arizona Aquarium was easy to get to and should be added to your itinerary if you are craving some ocean vibes (despite being smack in the middle of the Southwest!). Not a huge aquarium, it was easy to tour and navigate and especially perfect for my toddler who has a short attention span! While it was a kid friendly thing to do in Tempe, I equally enjoyed it!
This was Chloe's first time visiting an Aquarium and safe to say it really set the bar! The entire path is enclosed in a 360 degree ocean tunnel so you spot sea life at every step of the way. It also features interactive activity stops as you go along, making it both educational and also fun!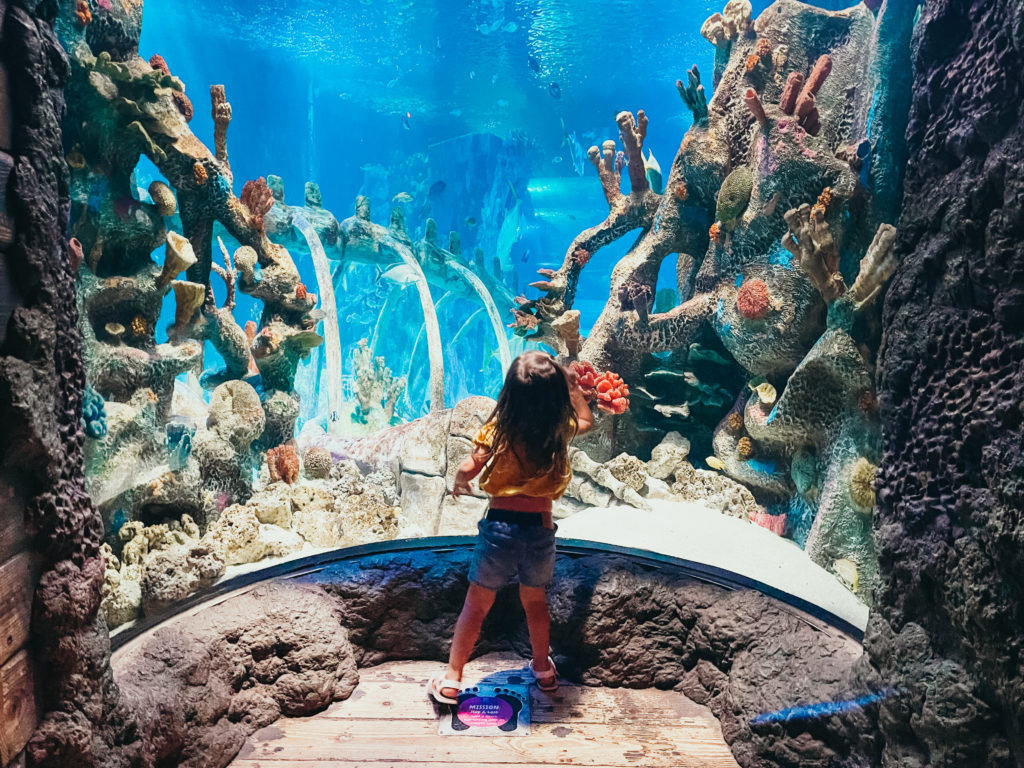 Want to add on an extra activity after visiting the SEA LIFE Arizona Aquarium? Mosey on over to the neighbouring LEGOLAND Discovery Center ( also located in Arizona Mills).
We almost by-passed this activity and we are SO glad we didn't because it was hands down the best kid friendly attraction! We planned to just casually stroll though it but ended up staying for over 2 hours and still felt like we could have spent more time there!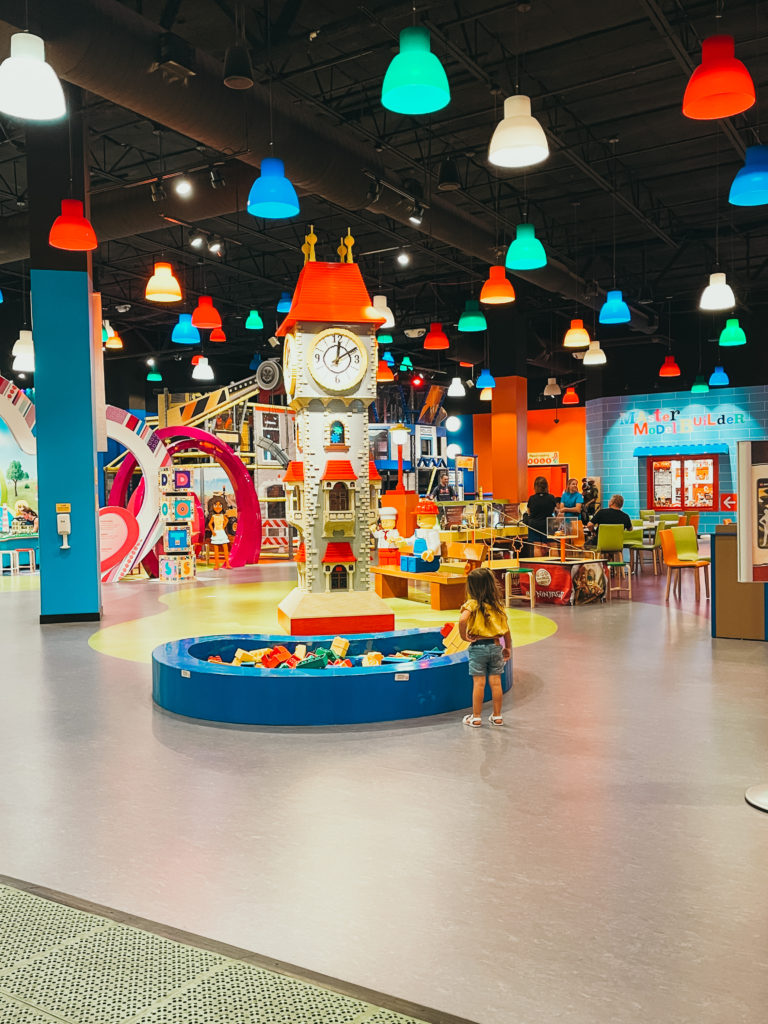 What you can find inside: two full blown RIDES ( fully felt like I was at Disneyland), a climb and play jungle gym, interactive lego stations ( almost like a little lego city), 3D theatre, more lego themed games, a massive gift shop with lots of lego items to buy and lots of yummy treats to buy! While I'm sure the food is intended for kids, I ordered a soft serve ice cream and watched Chloe have a blast running through the Jungle gym! Glorious time for us both!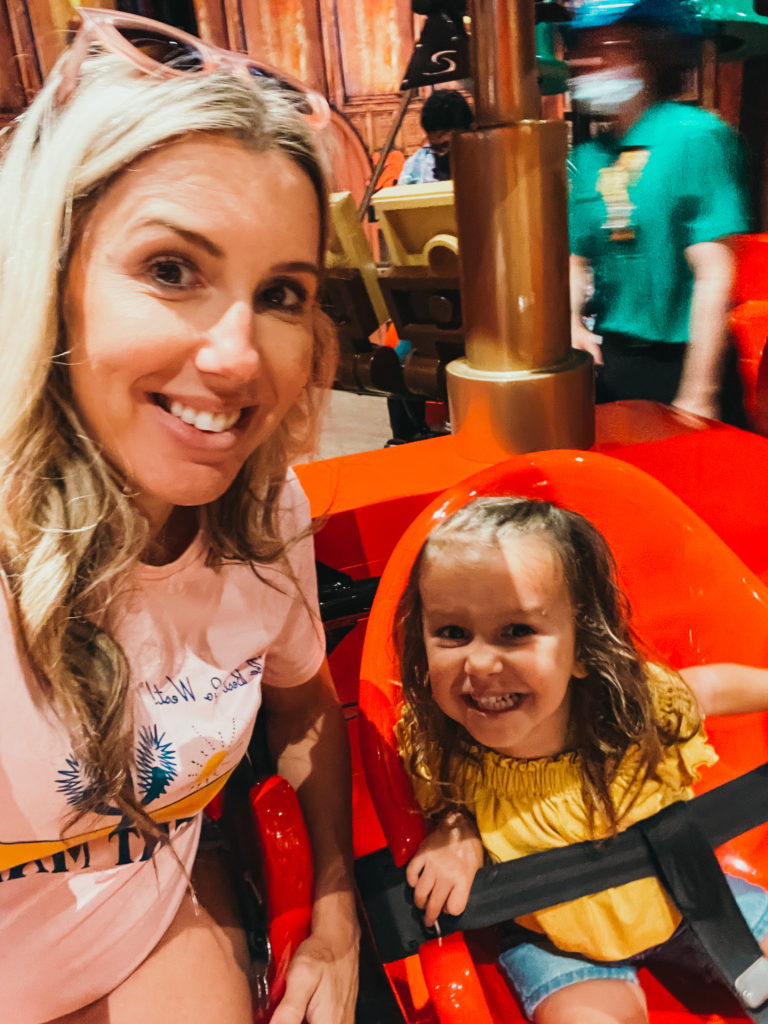 Since I was pregnant, we were not able to take part in any horseback riding when we visited Tempe! When we visit again, we are adding this to the list though because what makes you feel like you are in Arizona more than riding a horse?
With different horseback riding options ( morning or sunset rides too), this is an activity perfect for the whole family! If your kiddo is a little scared to saddle up alone, they also offer wagon rides or a horsemanship workshop where they can teach your little ones all about caring for a horse! The landscape also looks truly breathtaking too! This is a perfect kid friendly activity for kids who are probably about 5 years and up!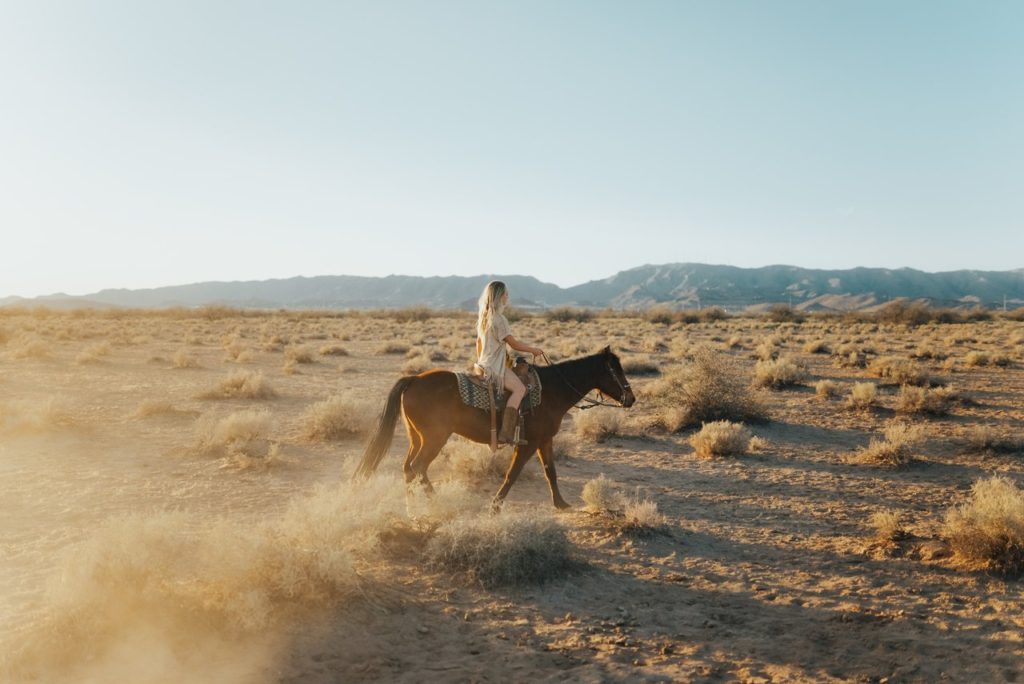 Ah Tempe Town Lake- our favourite area in the city!
Tempe felt like such a cool, unique little metropolitan city and then BAM- we found ourselves right in front of the stunning town lake at sunset proving that this city has it all.
With a boat rental kiosk offering up tons of different rental options ( kayaks, paddle boards, electric pontoons, bike rentals etc), you can keep busy here for a while. We opted for the massive Swan rental which Chloe obviously loved. They have so many fun rentals that kids would love. People probably looked at us and thought we chose this rental for her but I low key wanted to ride in it myself. If you don't want to get on the water, the path that runs along the lake is also perfect.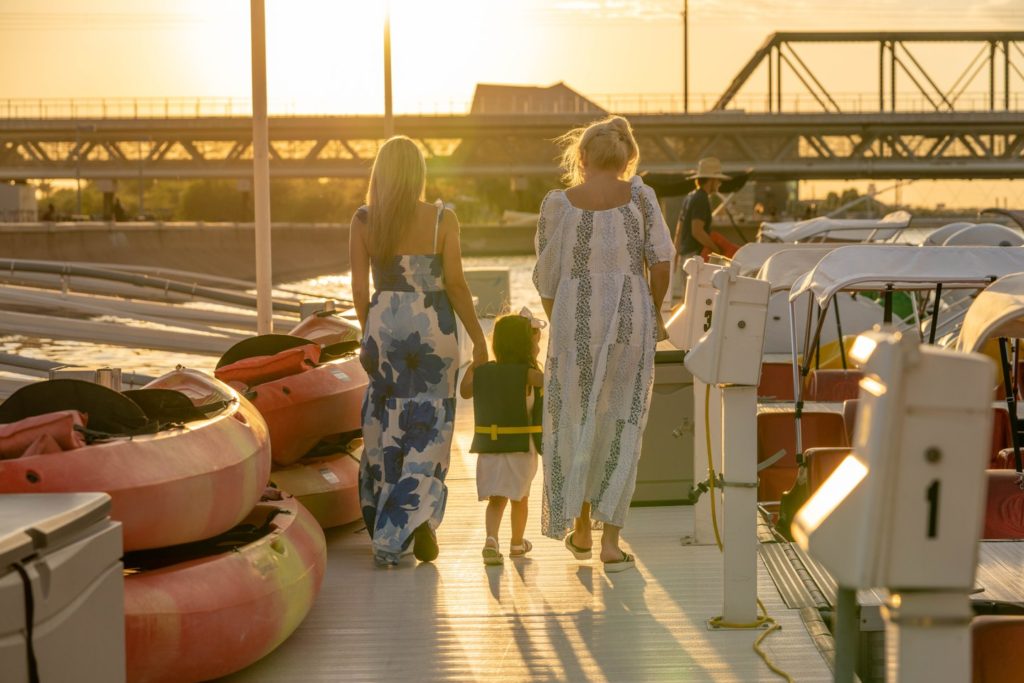 SHOP THIS POST

An outside activity where your kiddos can run around freely? SIGN US UP! This was probably one of my favourite kid friendly activities.
It was such a fun place to visit for both Chloe and for myself! There were so many beautiful botanicals to gawk at and with a stone path that weaves in and out of each garden, you feel like you are somewhere truly unique! They even had a Butterfly Garden which was Chloe's favourite part of the visit!
Make sure to check their event line up HERE before you visit as they have some weekly/monthly events that go on at the Garden- some of which are very kid friendly!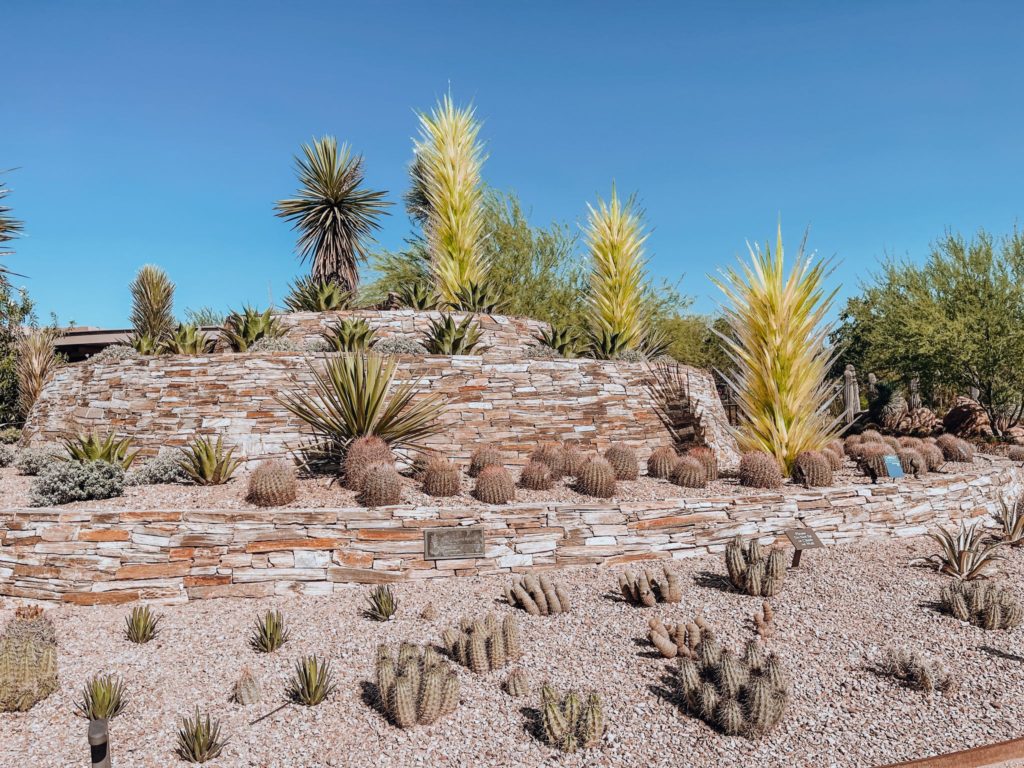 #6. GO ON AN ART TOUR IN TEMPE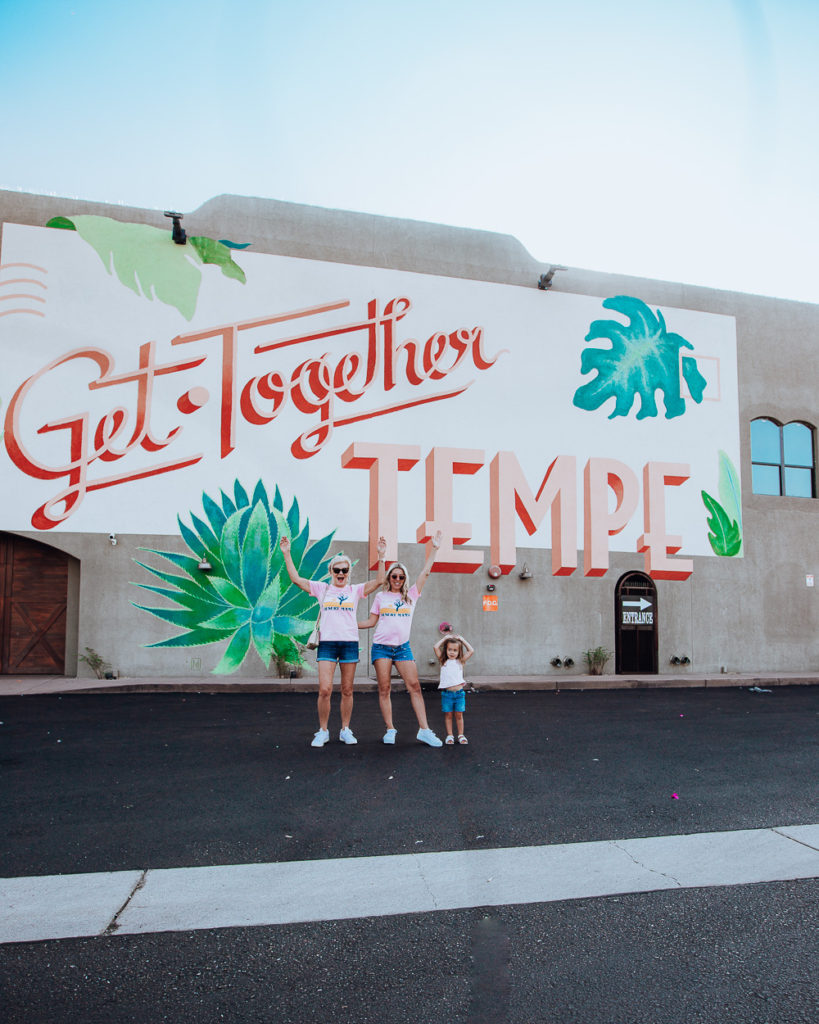 Does your kiddo love bright colours and painting? This is a kid friendly activity in Tempe you will not want to miss!
Take them on a self guided mural tour where they can check out all of the local art in the city! You can try doing one mural a day even if you want to spread it out or have them search for murals in the city as you drive around ( kind of like an eye spy game!).
Our favorite mural was the iconic "GET TOGETHER TEMPE" piece that can be found at: 715 S. McClintock Dr., Tempe, AZ 85281.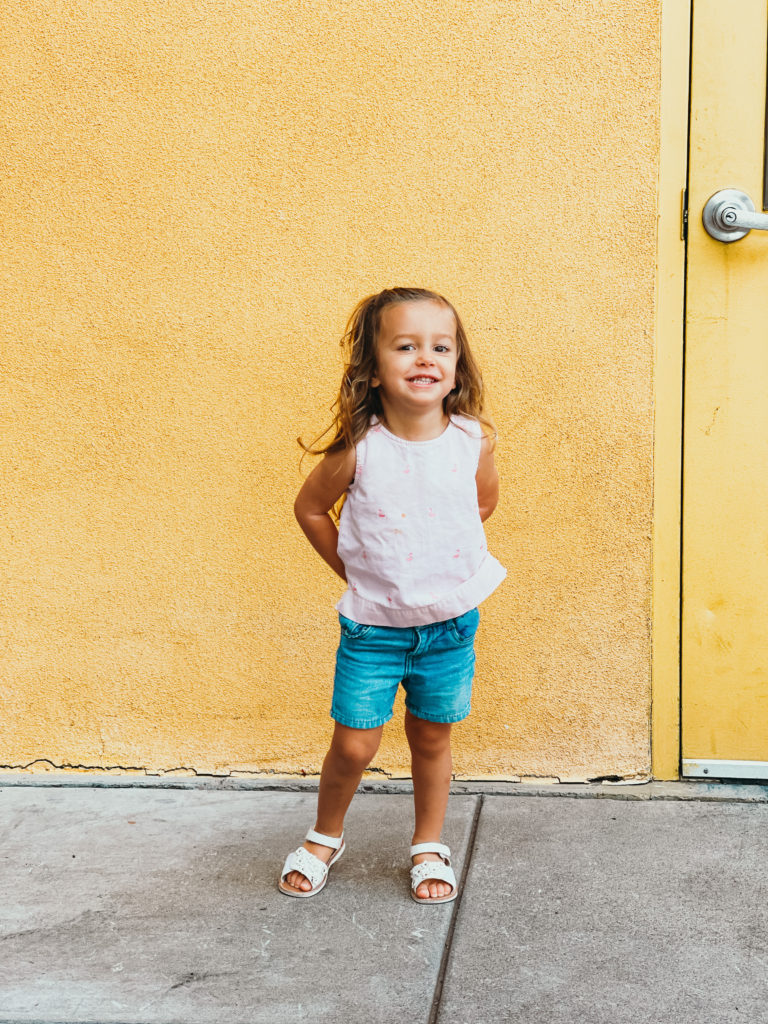 Tempe Marketplace is an outdoor haven which features pretty much everything under the sun! You can shop at many of the retailers there ( so many good stores!), grab a bite at one of the restaurants or enjoy one of the many interactive activities on site….. one of them being a free splashpad!
We loved visiting here since my mom and I were able to do some stuff we enjoy ( ie: shopping and eating) and told Chloe if she was good, we would hit up the splash pad later. Nothing like some good old fashioned bribery, am I right?
The splashpad was super modern, clean and absolutely FREE! Open everyday from 7AM-11PM, you can find a time to cool off at any point of your trip. Not going to lie, next time I visit I will probably bring my swim suit and join in on the fun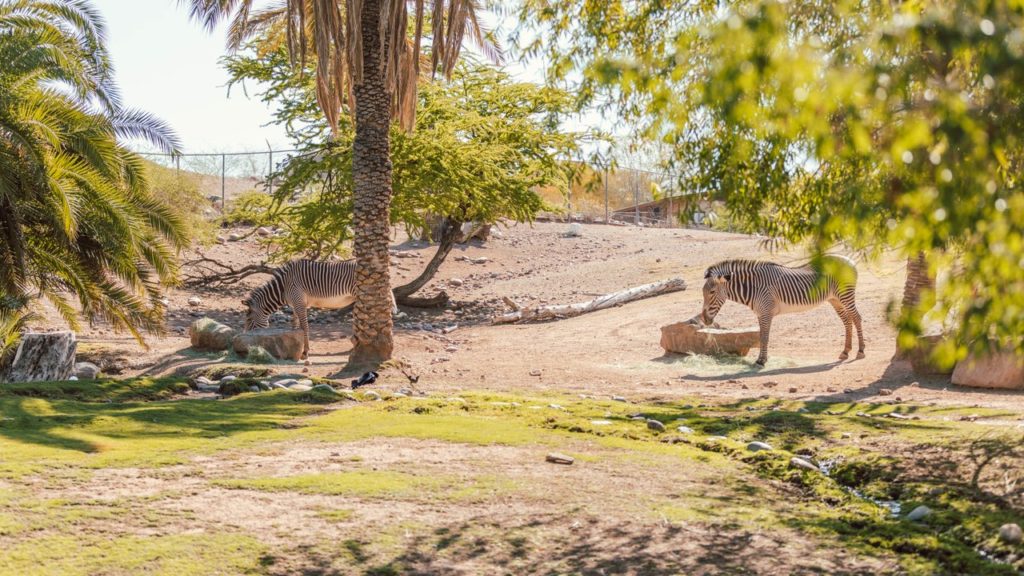 Giraffes, Monkeys and Tigers…oh my! With over 1,400 different animals and species, your kids will feel like they have seen every animal on the planet! There is an Arizona trail, Africa trail, and a Tropics Trail. They even feature specific endangered or threatened animals and have tours that explain how important it is to preserve and take care of these creatures.
The Zoo has been open since 1962 so is a well oiled operation with so much more than just animals on its 125 acre property. There are fun activity centers within, restaurants and interactive farms making it a full day activity if you want it to be!
#9. HIT UP SOME FUN RESTAURANTS
If there was one thing that Chloe approved of, it was most definitely the food! There are so many kid friendly restaurants in town that offer fun and playful dishes. Think: Red Velvet Waffles for brunch or a cowboy themed dish for dinner! Along with the food itself, the spaces of some of the restaurants also are kid friendly. With bright interiors that had Chloe in awe or scenic ones that offered lots of space for us, we didn't have a problem booking a spot!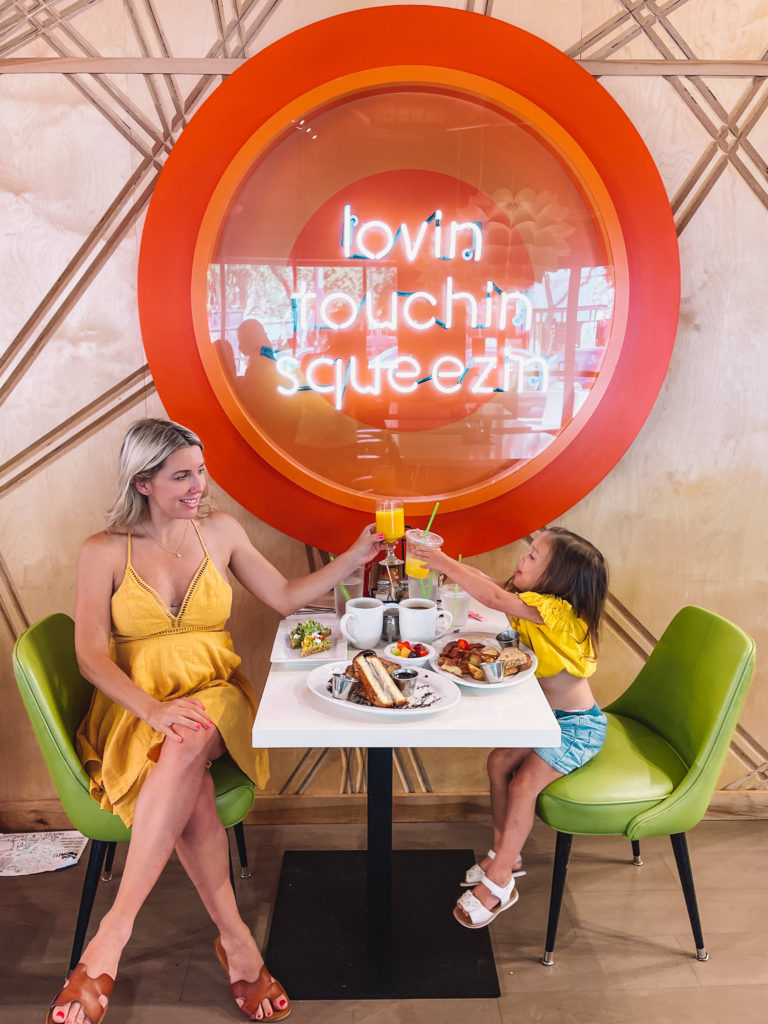 SOME OF THE BEST KID FRIENDLY RESTAURANTS IN TEMPE, ARIZONA: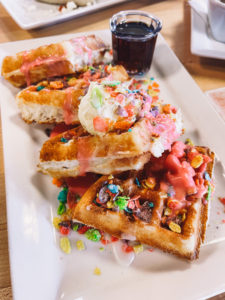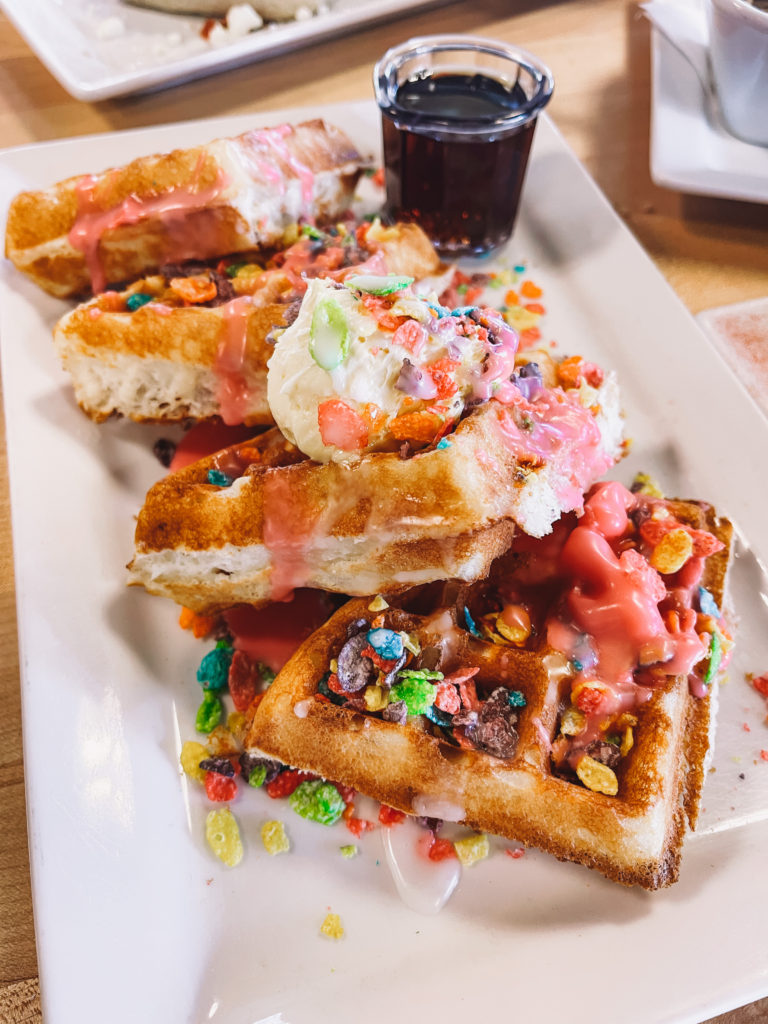 Rustlers Rooster- Live country music and cotton candy dessert- NEED I SAY MORE?
Daily Jam- We had so much fun here creating our own Waffles! This restaurant offers up the option of adding several different toppings to their famous in house waffles. We went for colorful cereal and vanilla icing and let me just say that I was very much hoping Chloe wouldn't finish it so I could have the rest!
Snakes and Lattes– Get your kids off their Ipads and have them play some board games when they eat! They offer up a ton of different games to rent out during your meal offering up a truly unique experience.
Morning Squeeze– Perfect breakfast or lunch spot in the center of town! Amazing atmosphere and vibe!
#10. GO ON A HIKE IN TEMPE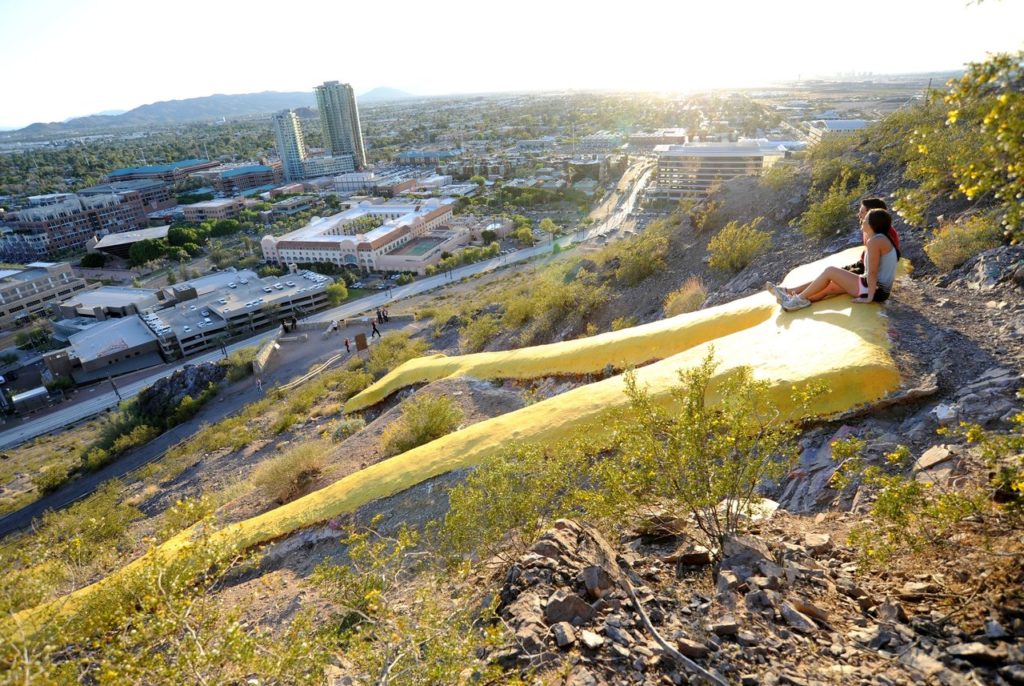 Best way to work off those red velvet waffles the family just ate? Hiking in town!
There are not one but two amazing family and kid friendly hikes that will make you break a sweat but are not too strenuous.
Papago Park is at the edge of town and offers beautiful scenic views of Tempe Lake and the neighbouring desert areas. It also features the "Hole in the Rock" trail which offers you a unique viewpoint.
The "A" Mountain hike is more central and right in the middle of Downtown Tempe. It is considered one of the most accessible hikes and can be done in just 30 minutes! Again, a great option for kiddos with short attention spans!
SEE A LIST OF HIKES WITHIN TEMPE, ARIZONA HERE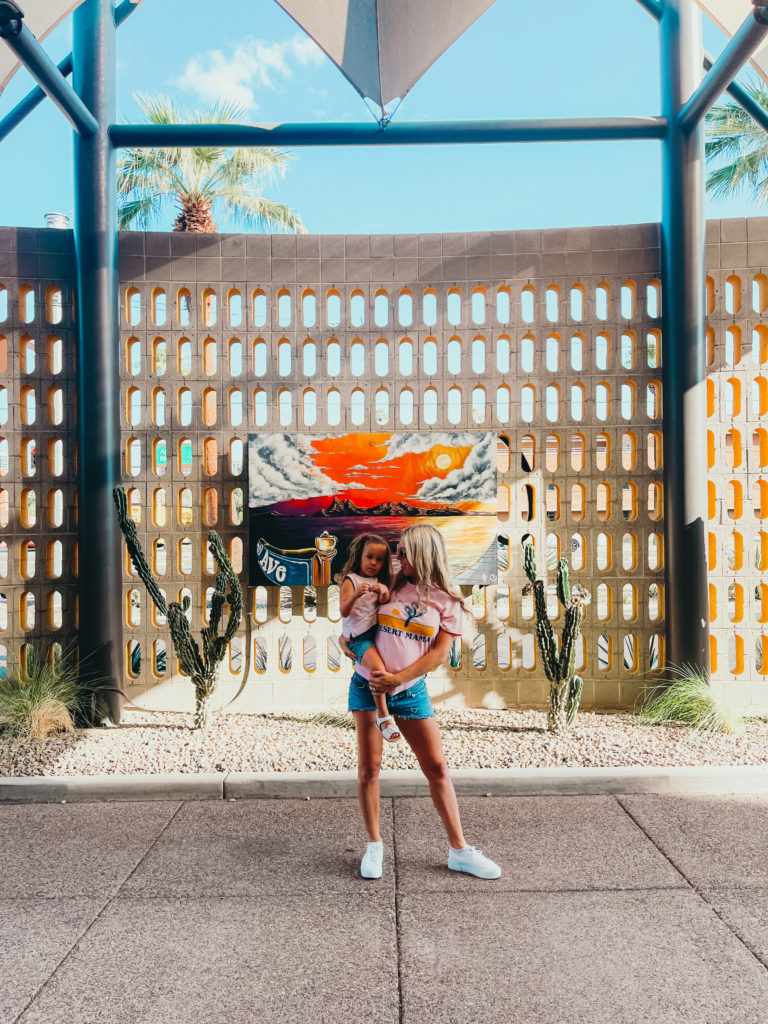 Whatever you get up to in Tempe, you will not be disappointed!
And if all of these activities still have you wanting more, I would recommend the following places to check out:
BUTTERFLY WONDERLAND– Considered America's largest butterfly conservatory with over 3,000 butterflies, you are able to get up close and personal with some beautiful insects!
KIWANIS PARK– With a one of a kind water structure for kids to play in, boat rentals and expansive picnic areas for lunch, Kiwanis Park is a staple in town.
HALL OF FLAME MUSEUM– Aspiring firefighters in your house? This place is for you!

**This post was done in partnership with Tempe Tourism but all opinions and views are my own**
PIN THIS POST