Sayulita, on Mexico's Riveria Nayarit, is one of the most idyllic bohemian surfing towns that I have ever laid eyes on. Located just 45 minutes from the Puerto Vallarta airport, this place feels worlds away from a typical Mexican tourist destination.
It is well known for it's expat and international community, strong surf, stunning sunsets, yoga and colorful little streets. It used to be a secret but now many people have started to discover this little gem of a town and upon arrival you can almost instantly understand why it's so popular.
Aside from the surfing, tacos and margs, this town has so much to offer. With the gorgeous shorelines of the Pacific Ocean and the Jungle like mountains situated minutes from town, it is a destination for any kind of traveller. You can hike through some epic trails, explore the street art and culinary scene or just simply relax and do nothing.
I am sharing the ultimate guide to Sayulita, Mexico so that you can visit here soon!
CHECK OUT OTHER POSTS ON MEXICO:
How To Get To Sayulita, Mexico?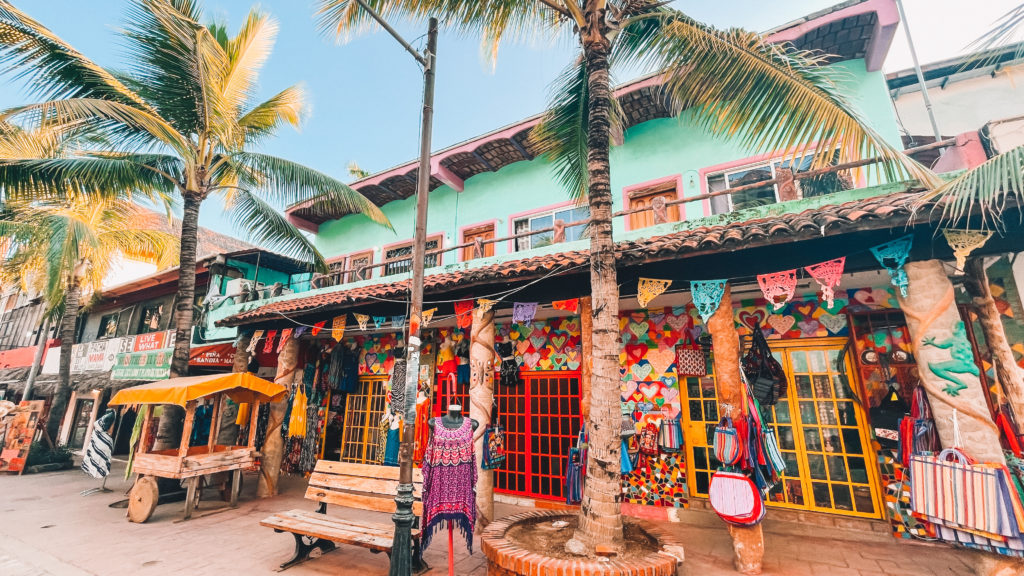 CLOSEST INTERNATIONAL AIRPORT:
If you are travelling to Sayulita from an International destination, you will want to fly into Puerto Vallarta International Airport ( PVR).
There are lots of direct flights into PVR from many cities. From Toronto and Hamilton, there are direct flights that run seasonally ( November to April) and it will take you 4.5/5 hours total!
How to get to Sayulita from Puerto Vallarta?
Sayulita is a quick 45 minutes from Puerto Vallarta. We took a taxi there which cost us about $55 dollars USD. There are also lots of car rental companies at the PVR airport should you wish to rent a car
Should I Rent a Car in Sayulita?
If you want to explore the Pacific Coast and do a few days in Puerto Vallarta, Punta Mita and Sayulita, a car wouldn't be a horrible idea. It would allow you to check out some smaller towns in between and do some day trips. Do you need a car in Sayulita itself? Definitely not.
BEST WAY TO GET AROUND OVERALL: GOLF CART!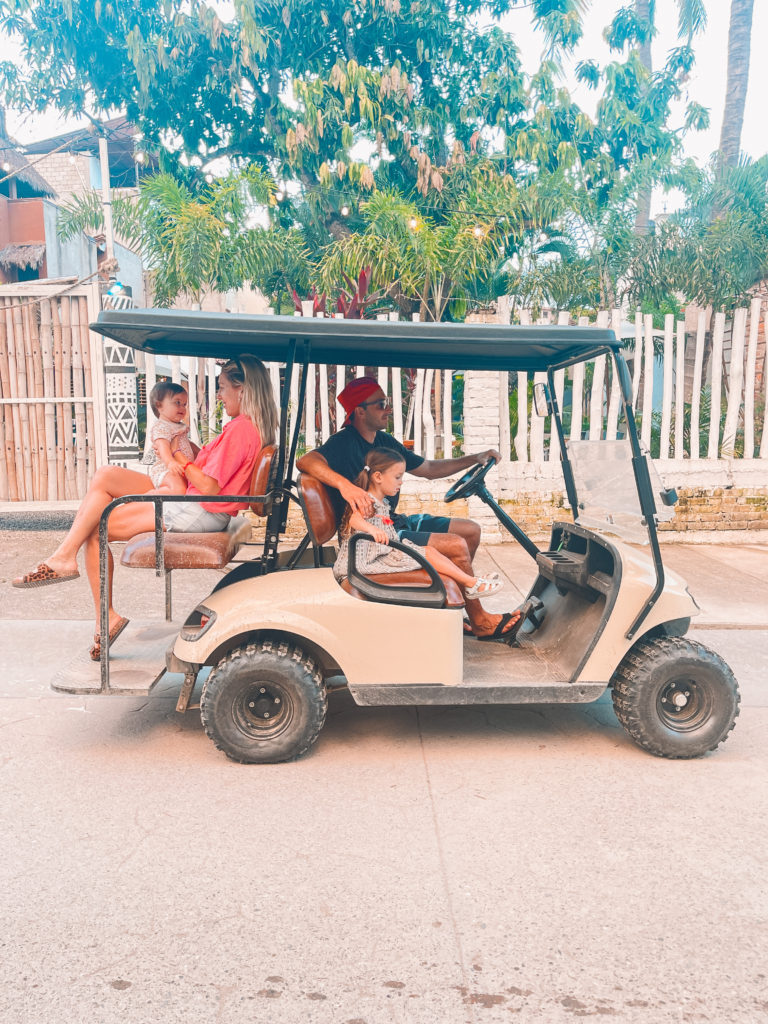 If you are ever stuck in Sayulita traffic, it won't be back to back car bumpers- it will be back to back Golf Cart bumpers. The town is dominated by golf carts as it is the best way to scoot around town.
Even with having a young baby, we choose to rent a golf cart and saw many other families with young kids doing the same.
We rented ours from Ocean Golf Carts and we couldn't recommend them enough. Matt, the owner, was very easy to communicate with and pick up/drop off was easy peasy.
ANOTHER GREAT WAY TO GET AROUND?:
Walk! The best thing about Sayulita is that it is compeltely walkaable! If you are staying in downtown everything is a 10 minute walk away and though there are some hilly areas on the outskirts of town, the main streets are completely doable.
Quick Links: Shop My Favourite Amazon Travel Items
, , , ,
When to Visit Sayulita?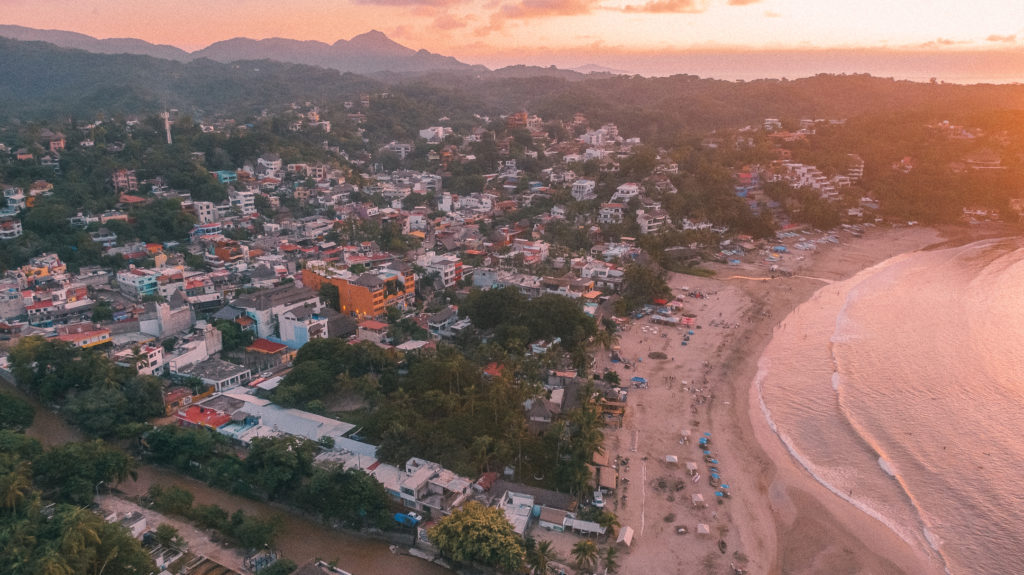 HIGH SEASON: High season in Sayulita runs from November to March where weather is beautiful and there is little rain. Temperatures reach the 80's during the day but you have cooler moments compared to the June- September months. High season also means it is much busier with it being the prime holiday season in North America ( Christmas, Thanksgiving, New Years and March Break).
We had a few people tell us that December in Sayulita almost becomes unbearable busy with no parking spots in town, tons of traffic and inflated prices.
LOW SEASON: August and September are considered the wettest months in the region and also the most humid. You can expect a greater chance of tropical storms to pass through the area but most of the time they do not last all day. Prices are lower during this time so if you are looking to budget a bit, this may be a good time to consider going.
Low Season starts in June and ends early October.
SHOULDER SEASON: We visited in October which is considered shoulder season. We were actually there during a full on Hurricane
How Many Days Do You Need In Sayulita Mexico?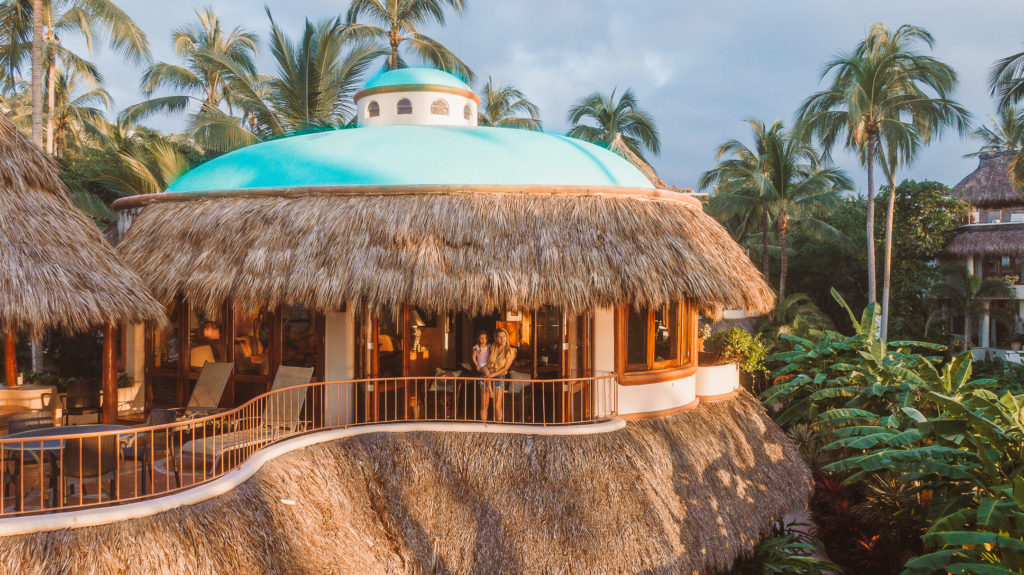 We stayed 5 nights in Sayulita and felt it was a perfect amount of time to really get a good lay of the land, eat at all the restaurants and tap into the vibe!
We probably could have stayed for another month though because we very well wanted to move there after our visit!
I would not recommend anything less than 5 days as you won't truly experience the magic of Sayulita in anything shorter!
Where to Stay in Sayulita, Mexico?
Sayulita is the kind of place that offers a lot of different accommodation options.
What started as a hippie little beach town frequented by backpackers is more and more becoming a place where a lot of expats have purchased homes and built up the town.
There are tons of hostels, small boutique hotels and some really nice Air BNB options.
Whatever your budget is, you can find something in Sayulita that suits it
The one thing you won't find though is massive resorts and large hotel options. Thank goodness for that because it would completely change the face of Sayulita!
We stayed at an incredible Air Bnb which I will talk about below but I wanted to share some other unique accommodations in Sayulita that we visited for food or that we heard great things about!
Don Bonito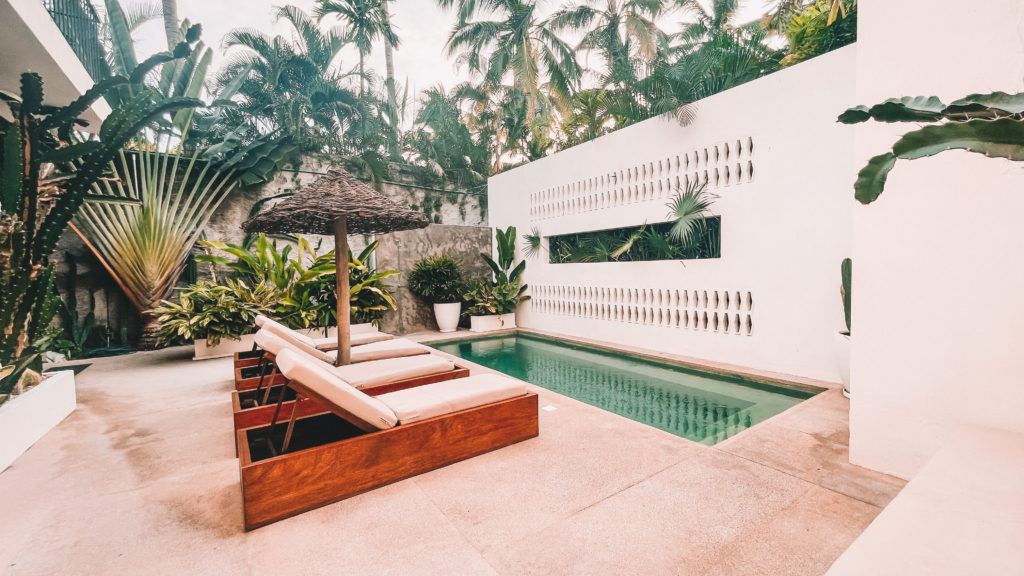 Not only is Don Bonito Hotel in Sayulita a design lover's dream, it also is an awesome place to grab some coffee and food! It has the cutest little café attached to their 9 bedroom boutique hotel and the grounds of both the café and hotel are immaculate. With a sexy plunge pool at the back, a rooftop terrace for yoga and every corner offering an atheistically pleasing photo op, you will want to stay here.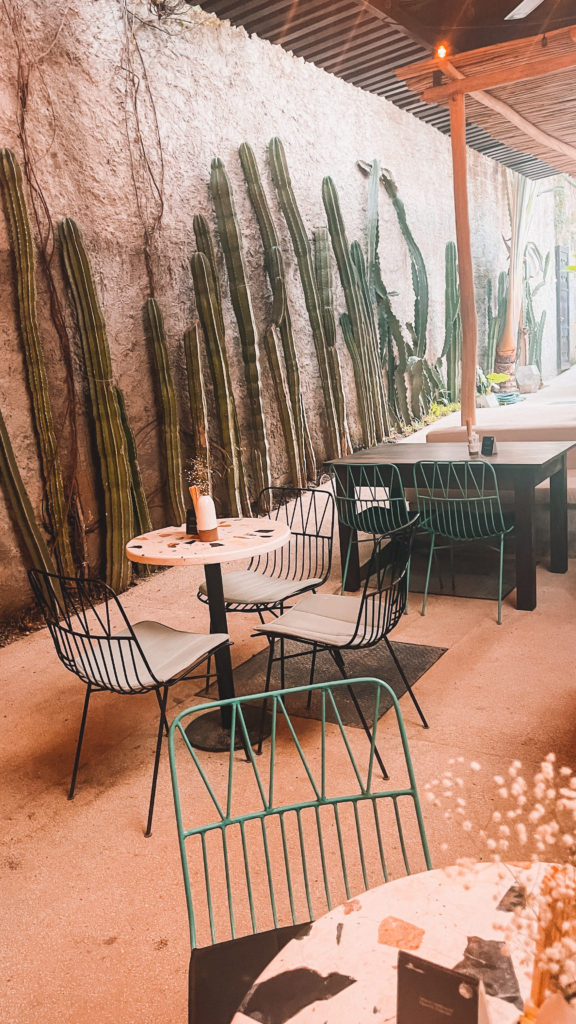 Selina Sayulita
If you are looking for a budget option right in the center of town, check our Selina Sayulita! I would call it a mix of a hostel and a hotel and caters to the younger crowd. If you are travelling solo, this is the place to stay as there is a always a happening pool and bar scene happening right in the hotel itself!
Casa Copa De Oro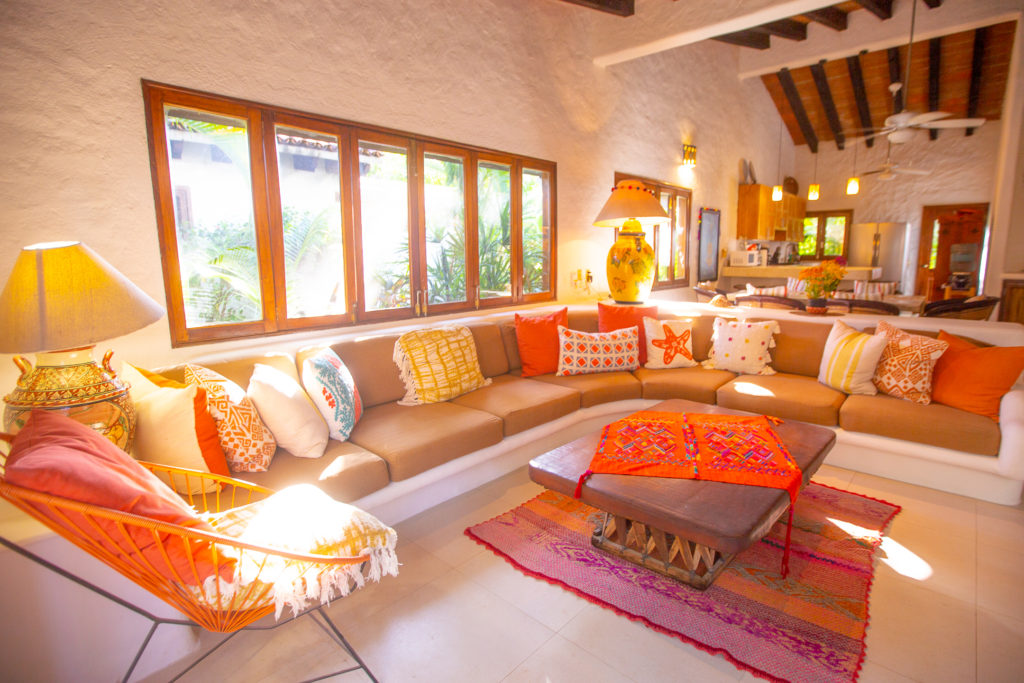 This place is a mid range rental in the North area of Sayulita that offers you SO MUCH bang for your buck. With 3 bedrooms, a community pool, a 1 minute walk to the beach and a beautiful interior- it is such a perfect space to rent for a week long vacation.
We stayed here for a portion of our trip and would book it again in a heartbeat. If you are travelling with a family, this is your place.
Luxury Vacation Rental: Serena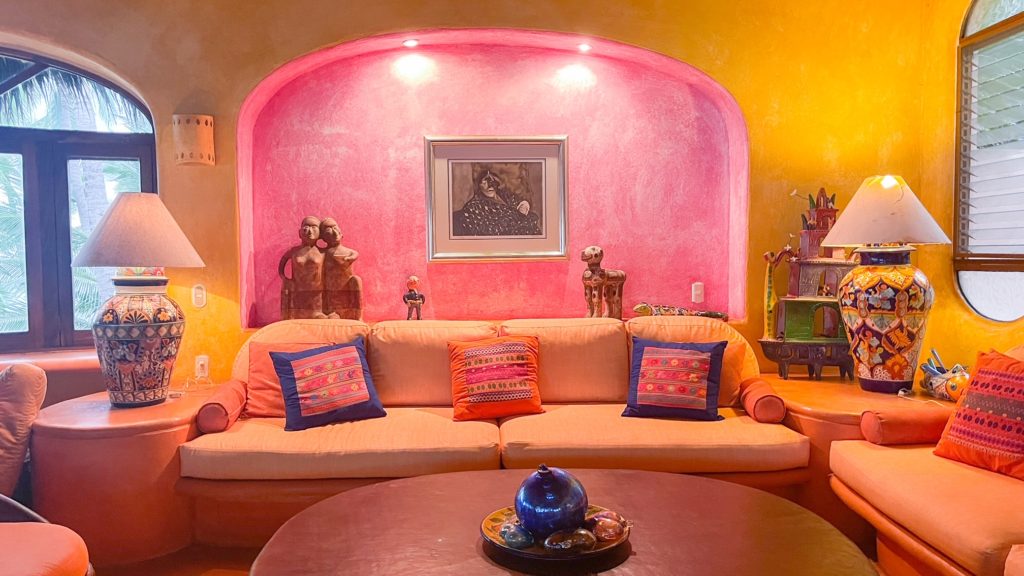 Tucked away on a quiet street in North Sayulita ( In my opinion- one of the best areas to stay in Sayulita), this luxury vacation rental called Casa Serena is hands down one of the coolest places we have stayed!
It features 3 big bedrooms, a large common space, two different balconies……and the best feature? OCEAN VIEWS! The Ocean views from this place are considered some of the best in town after speaking to a few locals so we felt extra fortunate that we ended up staying here!
If you are travelling with a family or with other couples, this is your place!
The Best Restaurants in Sayulita, Mexico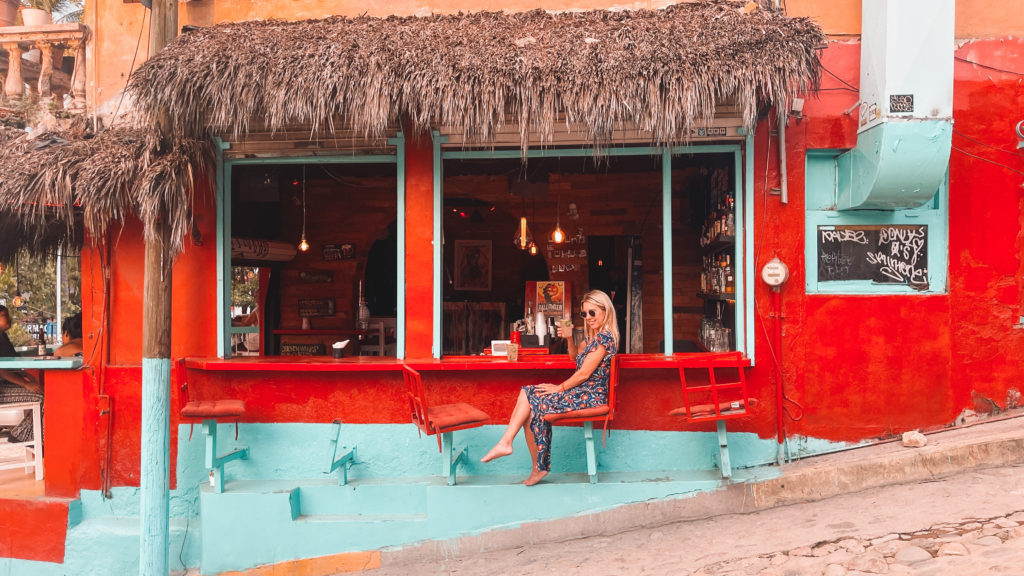 While some head to Sayulita to surf, we came to eat tacos and drink mezcal my amigos!!
No really. We researched a head of time all the cute and cool restaurants that Sayulita had and wanted to try them all!
For a town so small, it has ALOT of awesome restaurants to check out and I imagine there are new ones popping up every month. My favourite thing to do on any trip is to put together an EAT-tinerary ( basically a detailed list of places I want to try and visit) and the Sayulita food scene made our list pretty long!
Here are some favourite Sayulita restaurants that you should eat or drink at:
Mary's Tacos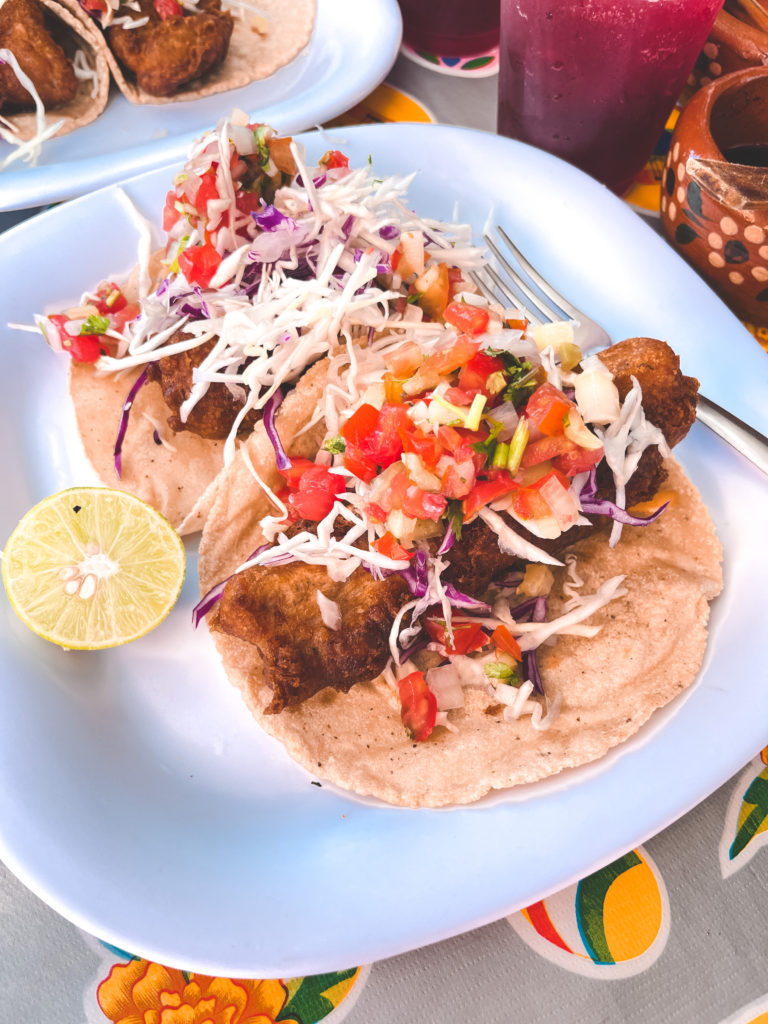 Mary's Tacos in Sayulita is the real deal! It is a tiny little place on the main road that has been around for years ( I would call it a hole in the wall but it's actually cute!!)
We loved it there so much that we ate there 3 times and each time was 10/10. We got the breaded fish tacos and hibiscus margs and I can honestly say that the margs were some of the best out of the entire Mexico trip ( and I had some pretty fancy ones!)
This place gets really busy but it's worth the wait!
Pro Tip: Go for a late lunch or early dinner ( say 3/4PM) and you should get it rather quick.
Anchor Cafe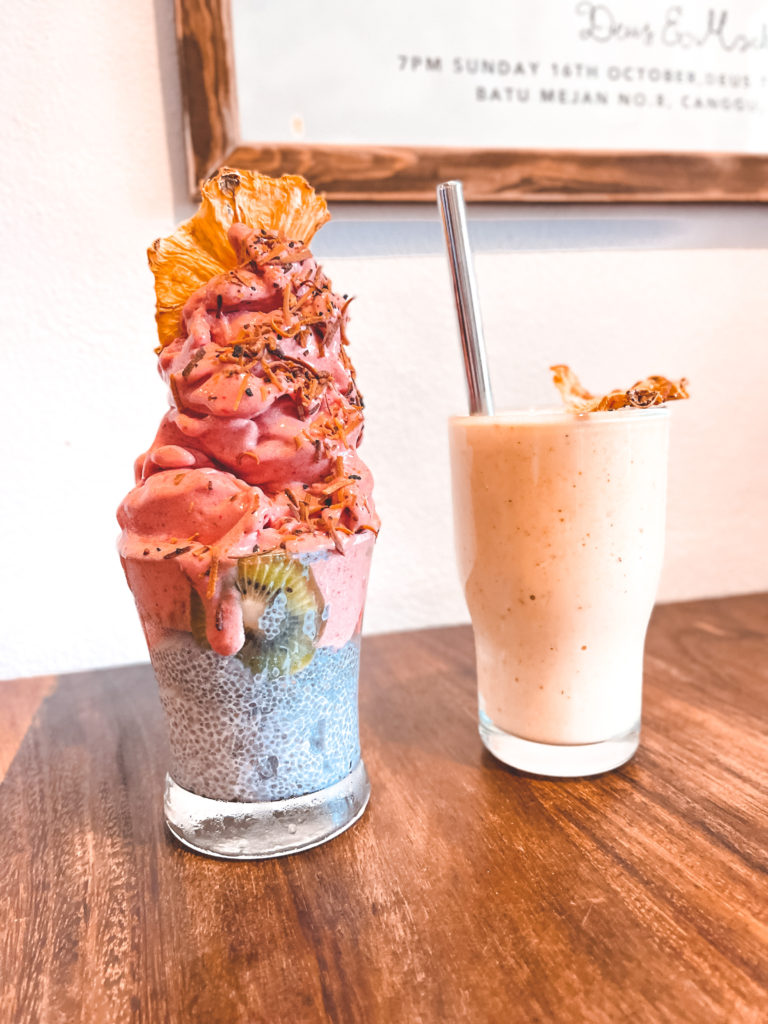 This place is awesome spot to grab some Insta worthy Smoothies and Bowls! They are ENOURMOUS and priced very fair. My favourite item was the Chia Seed Pudding Smoothie which is pictured above. It fed myself and my two kiddos!!
If you are REALLY hungry they also have a full breakfast menu too. It's a great spot to grab a fast and casual breakfast or lunch.
Miscelanea Cafe
If I had to pick my favourite daytime restaurant, it would hands down be Miscelanea Cafe. Located down a little pathway off the main street, this place is like walking into an oasis. It feels worlds away from the hustle of Sayulita and offers a calming space for a morning meal.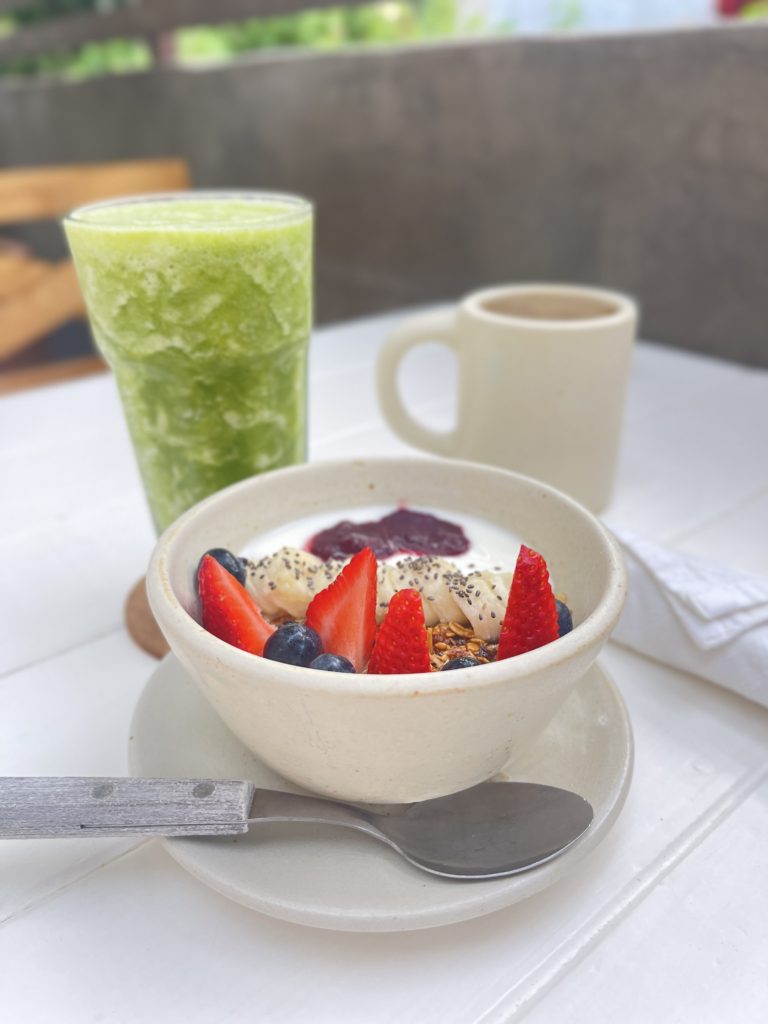 We went 3 times out of our 5 mornings there and experienced with a few of the dishes on the menu. One day we got pancakes, another day we got the Avo toast and WOW- they knocked every dish out of the park.
Get their Caramel Latte. Trust me.
El Tiburon
El Tiburon is one of the nicest restaurants in Sayulita . It features a modern tiled bar and floor, unique fixtures and an eclectic menu.
We came for their happy hour from 4-6 where we got our hands on some spicy margs, waffle fries ( that they top with lots of good fixings) and a classic burger.
I loved the location of El Tiburon which is located down a colorful and small alleyway! Such a vibe- even before entering the place!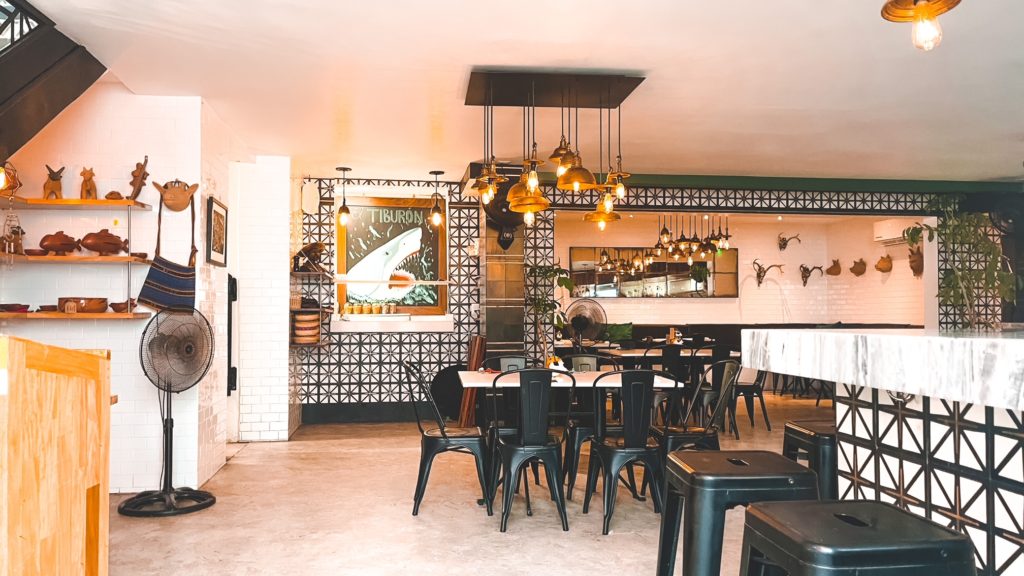 Organi-K
You can't miss Organi-K as it is located on the main street in town and is as colorful as they come! It was one of the first restaurants in Sayulita that really gained popularity with the expat scene. It has some very hearty Acai bowls and the menu itself is not small. You can find every time of bowl you can think of!
We got a Smoothie and an Acai bowl and it was $12 USD. We found this pretty reasonable compared to prices back home!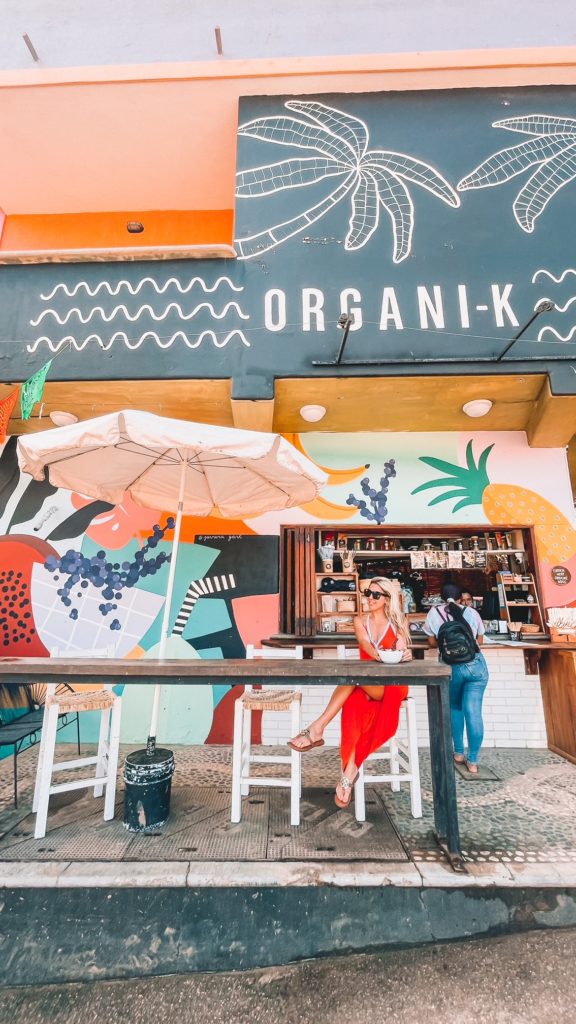 Chaman Creative Kitchen
Ok this place is a must visit…for many reasons! First of all the design of the space is perfection. With an outdoor bar, a swing seat, a manifestation alter and an overall boho feel, I wanted to snap photos of everything.
We loved how much space it offered for our family of four ( if you have kids, this is such a great dinner choice) and most importantly the food was impressive. We got burgers one night, did the pancakes for breakfast another day and stopped by for some happy hour margs for good measure.
It is rated the #2 restaurant in all of Sayulita and for good reason!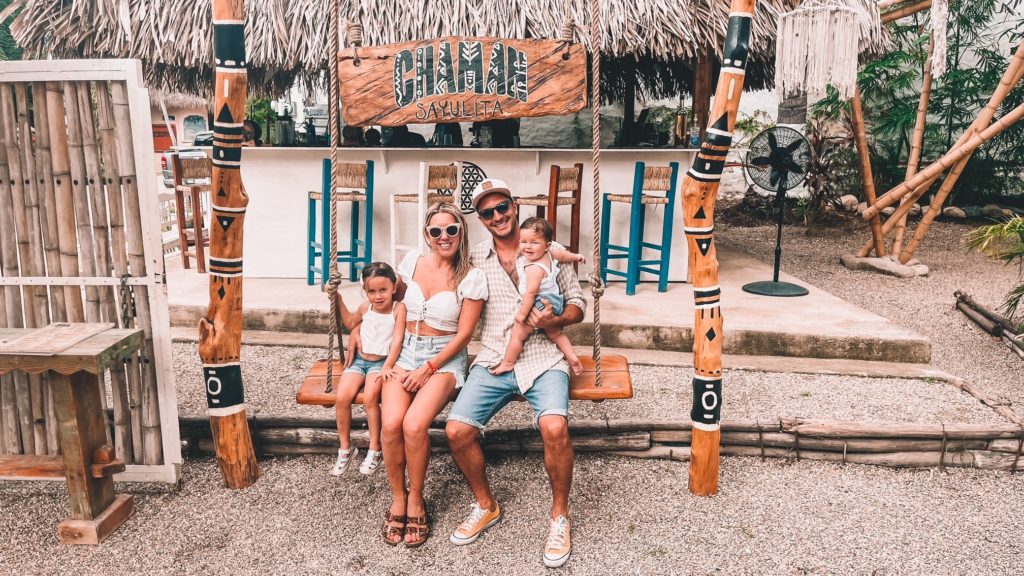 Other Restaurants and Bars to Visit in Sayulita:
Like I said there are so many places to eat in Sayulita that it is hard to list them all! The ones I listed above are just a few of the favourites places we visited but there was some other restaurants and bars in Sayulita that I also very much enjoyed! Some of which we enjoyed so much that I didn't even have time to take photos at!
La Rustica: Top Notch Italian. Best pizzas!!!!
Xochi: A large restaurant in the main Plaza that is perfect for families. They also have crazy cocktails !
Chocobanana: Banana treats dipped in chocolate with a variety of toppings
Sueños Creative Cuisine and Cocktails: Stunning place for a romantic dinner in town.
Best Places to Drink in Sayulita
When the sun begins to set, Sayulita comes alive. Gone are the days of it being a quiet little fishing town! There are many places in Sayulita to drink at, enjoy a happy hour or even party! While I can't comment on the party aspect, here are some favourite bars we hit up!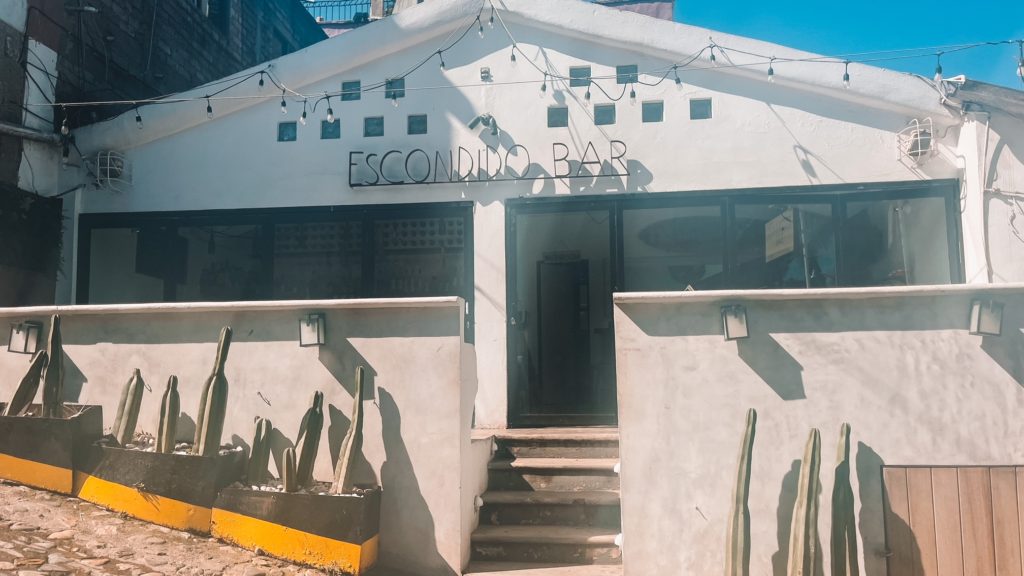 CAVA– cute little bar that is very hidden. I"m not even sure there is a sign but we drank several Mezcals there
El Barrilito-A local watering hole on the corner within the main square of town! Awesome bar seats right along the street and CHEAP margs. Like $6 cheap
Escondido Bar- One of the nicest cocktail bars in town. This is right across the street from El Barrilito
---
I find a lot of Sayulita Travel guides suggest Don Pedro's as a must visit and Atico Bar ( the bar with swing seats) but we found both of them terrible. They seem outdated and only popular because they have been on so many lists?
I'm not sure but there are SO many other awesome places that I would hit up before we visited either of these places again!
A note on "Sayulita Sickness"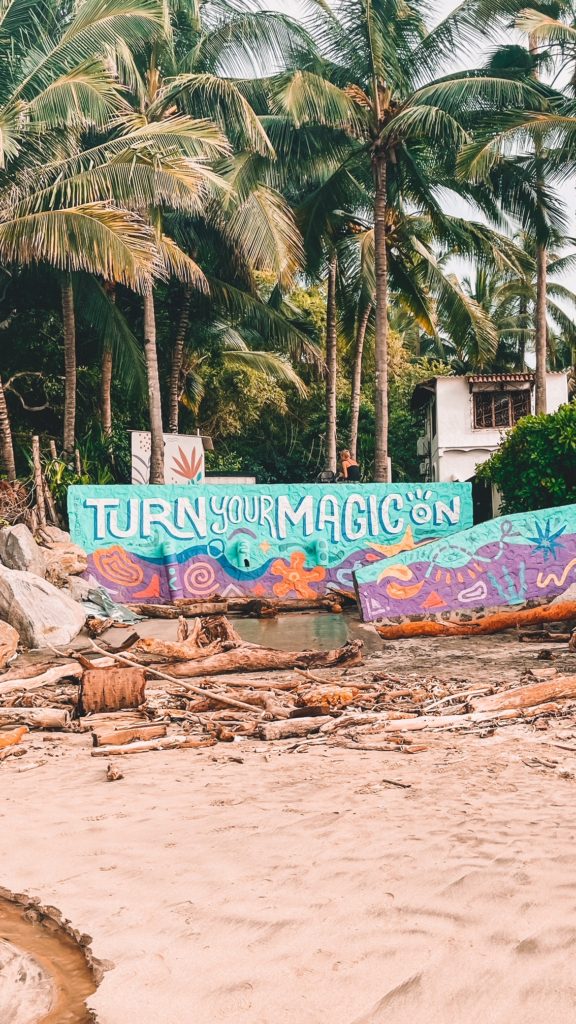 Before booking a trip to Sayulita, we were nervous about this so called "Sayulita Sickness".
A couple years back there was a lot of problems with the towns sewage system. Rumors floated around that the sewage water trickled into the ocean ( where so many people swim everyday) and people were getting sick by the dozens.
I was on Trip Advisor forums trying to find information on this and the most recent posts shared that they solved the problem and had the Ministry of Health involved in improving things. Still, you had a few posters saying they were there recently and got SO sick.
I am happy to report that we did not get sick during our time there BUT I do want to make a note that we were super careful. Ain't no matter got time to be throwing up all day!
Things we did to avoid Sayulita Sickness:
We started taking Probiotics 2 weeks before our trip!
We did not drink tap water. We even brushed our teeth with bottled water
We still drank drinks that had ice but only from reputable spots
We didn't swim in the ocean. Pools only! We aren't surfers and have two young kids so this did not bother us.
And the real VIP- which I truly swear by- are these pills that I took after every meal. I took these in India and Bali and never got "Delhi Belly" or "Bali Belly"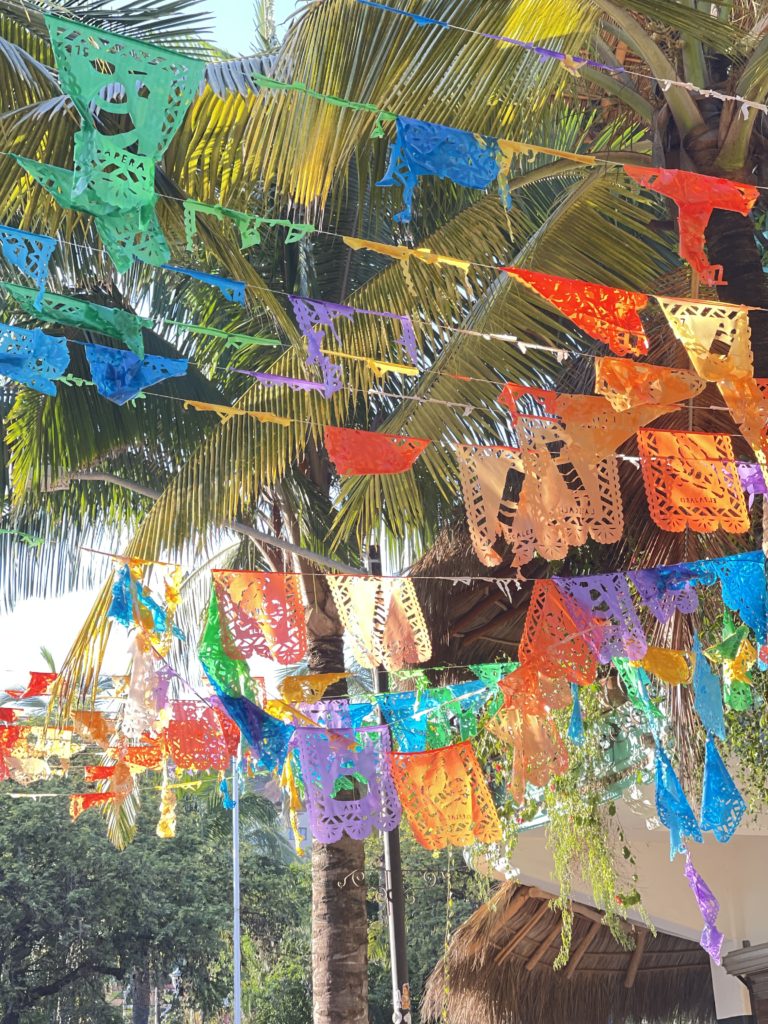 Things to do in Sayulita
I find the best way to explore Sayulita is to just get out there on foot and walk around! Doing so will give you a feel of the place, take you into some beautiful shops and allow you to spot some restaurants that you want to check out.
If you are something who needs concrete plans, you can get busy really quickly with a lot of different activities
.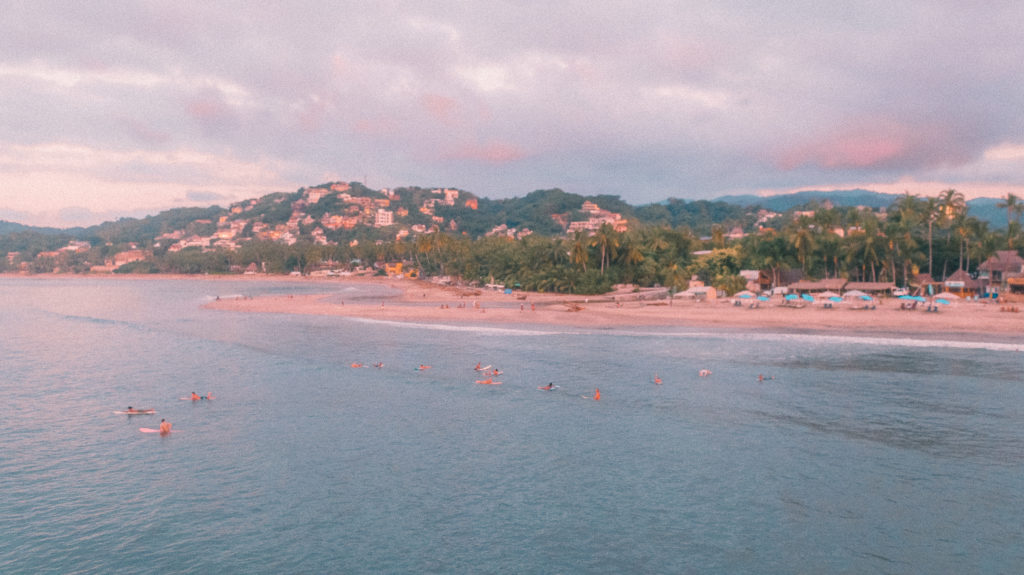 Go Beach Hopping
The main beach of Sayulita is in short "meh". It is very crowded and filled with lots of restaurants, noise and it also isn't necessarily the cleanest. For people watching and catching a sunset, it certainly does the job but we had the most fun beach hopping. Here are the Sayulita beaches you should visit:
Playa Carricitos ( 20 minutes walk from town)
Playa Los Muertos (you actually have to walk through a graceyard to access it but 100% worth it!)
Playa Malpaso (You have to walk through a cave to get to it. Again worth it!)
Do some Surfing or Yoga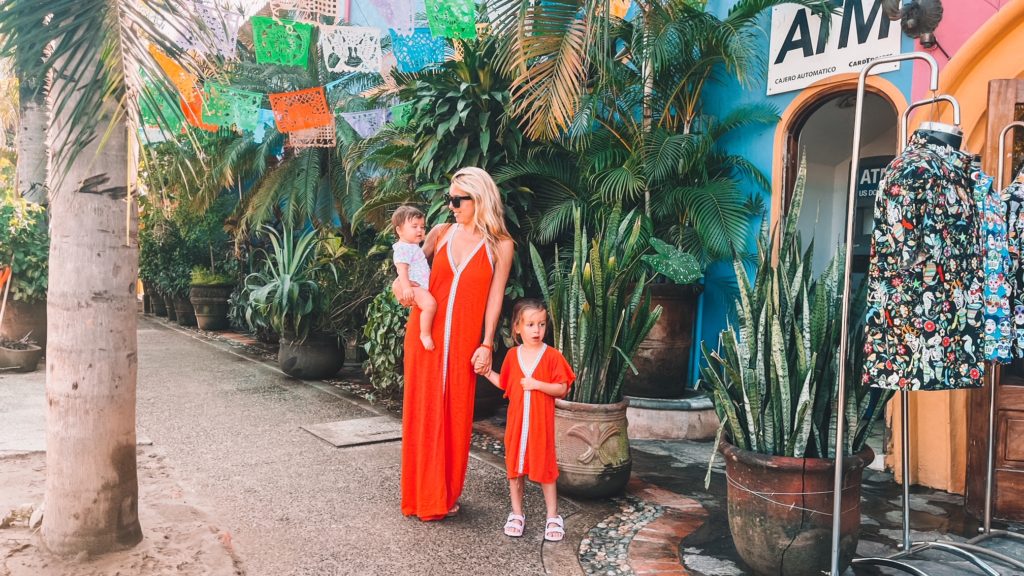 This seems like an obvious one but you can't really visit Sayulita without seeing endless Surfers, Yoga signs or luring holistic treatments on many corners.
I easily drink this kind of Koolaid and love doing activities that locals do. I also really do love yoga, sound baths and meditation so this was a very easy "yes" for me.
You can find surf lessons on every corner or join a yoga class very easily. Most will run you about $10-$15 USD er hour.
Visit The Neighboring Town of San Panchos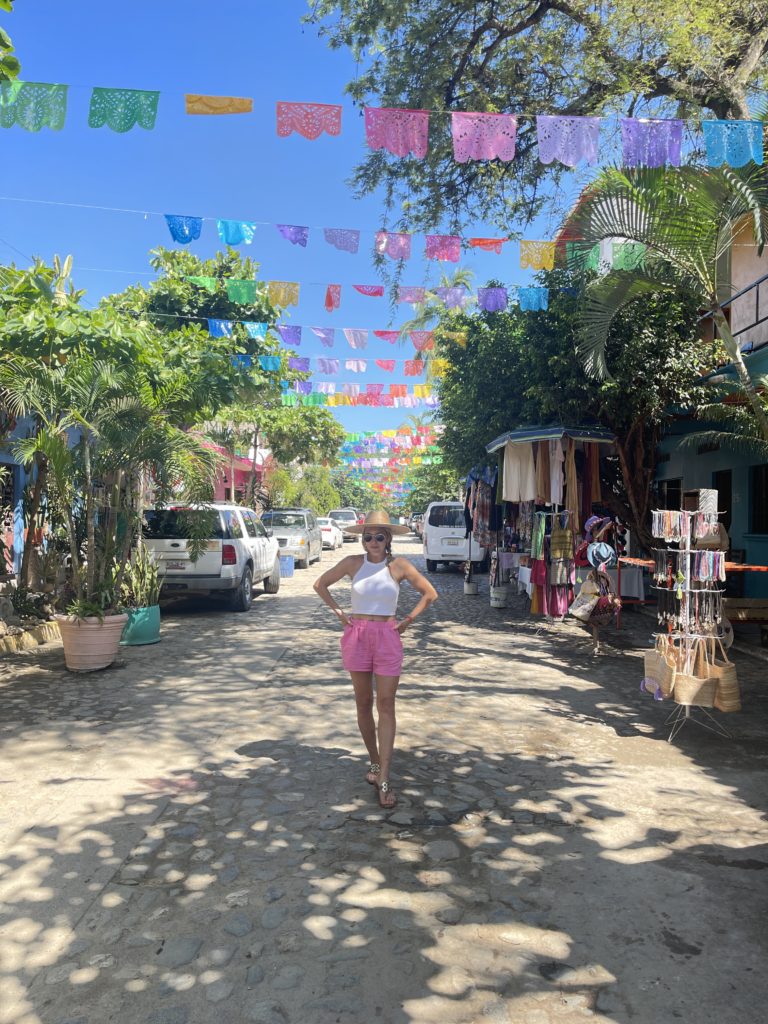 If you are in Sayulita for more than a week, I suggest visiting the neighboring town of San Pachos. San Pachos is what Sayulita used to be many years ago. Or at least that's what some locals told us! It is a bit quieter, cleaner and a bit smaller in terms of the main strip itself.
Grab a cervesa on the beach and take in the scene. They also have an awesome rope swing there which makes for the perfect IG photo!
Is it Safe in Sayulita, Mexico?
We couldn't have felt more safe in Sayulita. We were shocked at all the families travelling around town with young babies. We didn't feel so alone! Not only were the fellow travelers friendly but the locals were also very welcoming.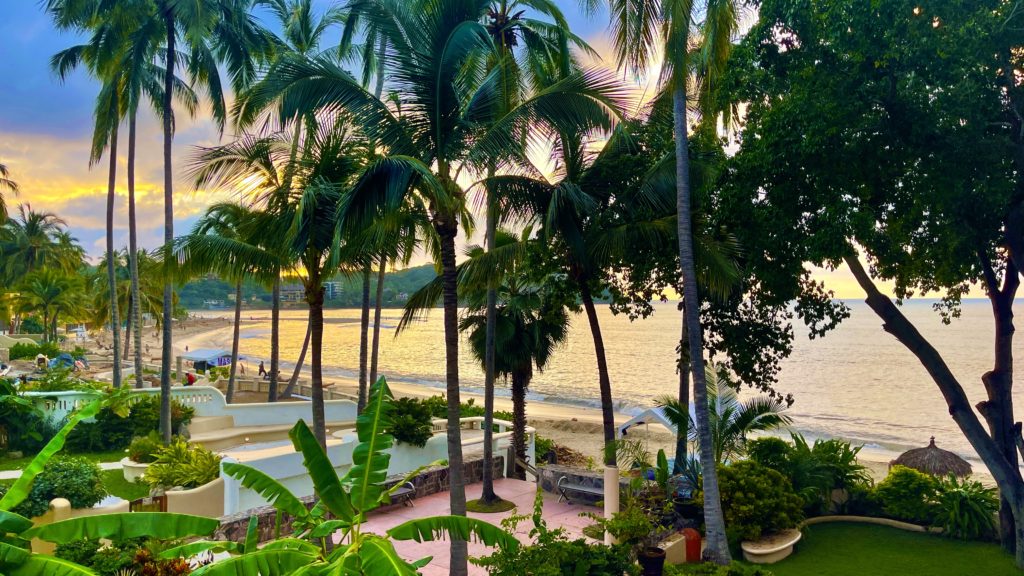 So many people working at the restaurants were always offering to hold Gemma or entertain Chloe. It wasn't unusual for us to see some of the same people at restaurants and we very quickly felt a sense of community there.
---
Looking to book your flight? I always book mine with Cheap O Air
Helpful Hints for your Visit to Sayulita, Mexico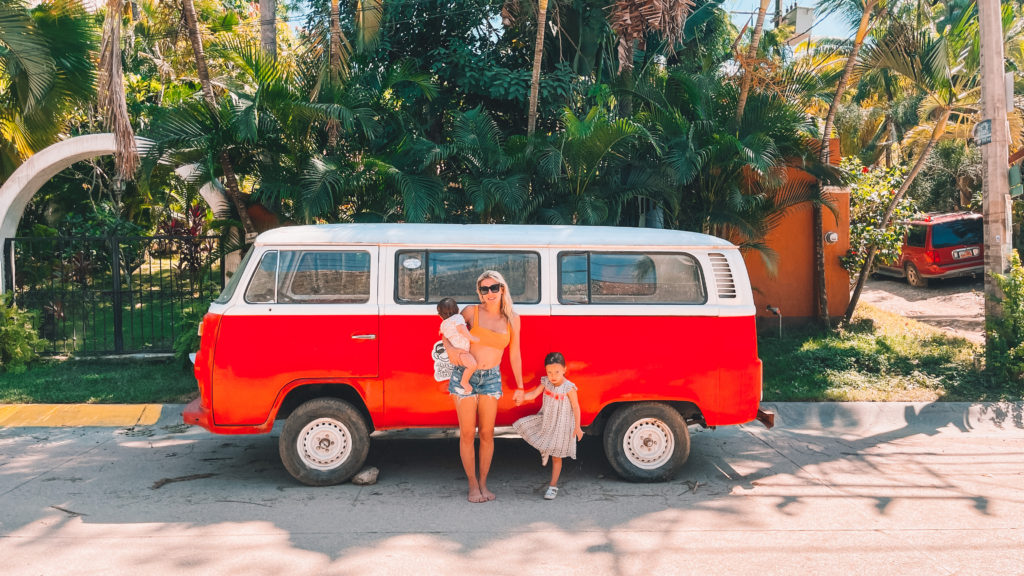 While there are grocery stores in town, I would recommend stopping at Walmart in Puerto Vallarta when you land to do a big shopping haul. This is especially recommended if you don't rent a car for your stay. You can get your taxi or private car to stop there while you stock up on items!
Most of the restaurants accept credit cards but it is best to bring some Pesos along just in case. There are only a few ATMS in town.
We found the prices there to be slightly cheaper than to prices in Toronto. Cocktails on average were $8-10 USD and Main Entrees were $10-12 USD
If you are looking for a babysitter when you are there, I highly recommend Georgia and her team
PIN THIS POST