Sayulita Mexico is best known as a little Mexican surf town filled with amazing restaurants, a tight knit community and a great spot to surf. The best beaches in Sayulita are all very close together yet each one offers up something special.
If you are looking for a beach in Sayulita to relax at, a place to do yoga, a place to eat on the beach or even a beach to do an environmental clean up, you can find it in this region! This guide will break down the best beaches in Sayulita and the surrounding areas.
Some people head to Sayulita and only hit up the main beach there which is only just a sliver of the type of beaches that the area offers!
Grab yourself a margarita, a taco and some exploring shoes and you can keep yourself busy exploring this list of Sayulita beaches below.
Are The Beaches in Sayulita Swimmable?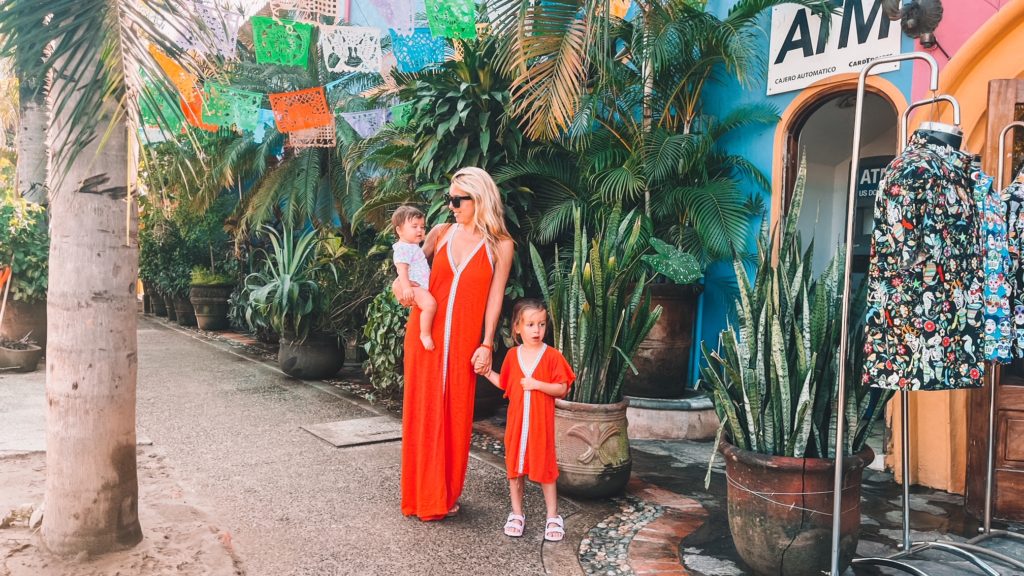 The short answer is YES! While the water system has gone through some tremendous strain over the years and at one point people were getting sick in masses, the government and public health team has worked tirelessly to get the Sayulita water quality back to great conditions.
Now would I swim and purposely ingest the water? No.
To be honest we read A LOT about Sayulita sickness before deciding to take the trip there and from what we read, it seemed that if you were careful in all aspects- food you ate, staying hydrated with bottled water and rinsing after swimming in the ocean, that you would be A-ok.
If you plan to stay in Mexico for months on end, a lot of people said that at some point in the months of being there- Sayulita sickness would get you. This happens in Asia, India and Bali a lot too.
We were there for two weeks and felt completely fine ( all four of us!). We washed our hands like crazy, didn't eat street food or salads and always took a quick shower after going in the ocean. It seems crazy that we were almost doubting the trip because of this. DO NOT LET THIS DEFER YOU FROM GOING. Sayulita was one of the best places we have visited…ever.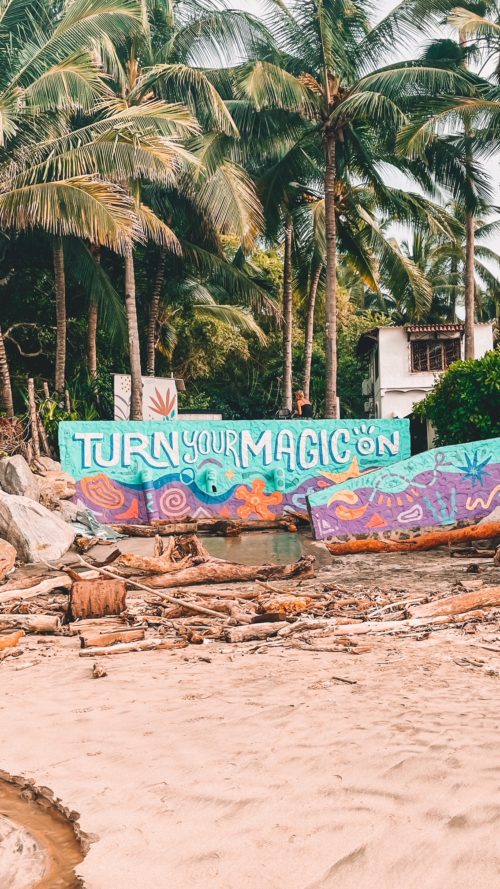 The Best Beaches in Sayulita
#1. Playa Sayulita aka The Main Beach in Sayulita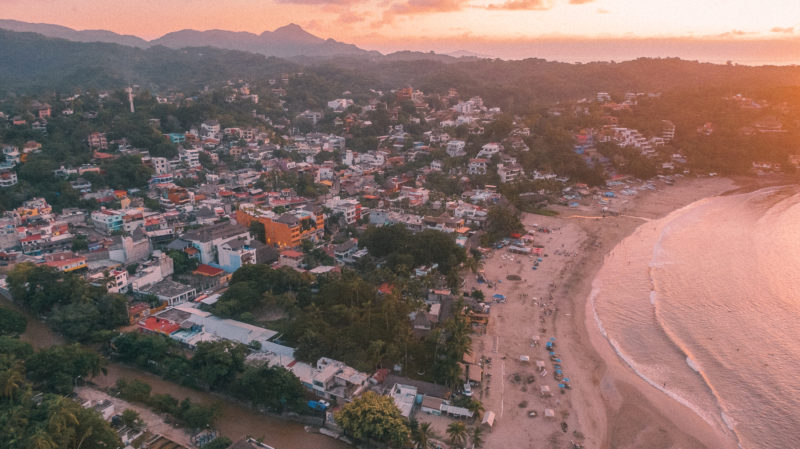 While I obviously would recommend this beach for convenience as it's closest to the main restaurants and to town, Playa Sayulita is admittedly not my favourite beach in the area.
The water is not the cleanest and it can get super packed BUT it is a great spot to watch the sunset with a few cervesas. It is also a great spot to walk along and see the town of Sayulita from the water view. The colours pop even more from afar!
You can find some great massage options on the beach for very reasonable! There is also a weekly beach clean up that happens once a week that we took part in. The Sayulita community is a tight knit one and it's a great way to meet other travelers and locals if you are visiting for longer.
Shop My Favourite Amazon Vacation Items
#2. Playa De Los Muertos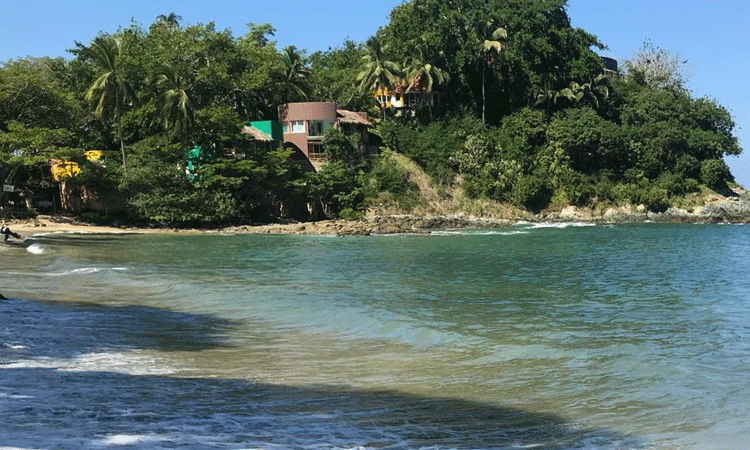 Playa De Los Muertos is probably one of the most popular beaches in Sayulita apart from the Main beach. It is a really close walk to town yet offers you a bit more privacy than the main beach. You basically walk to the very end of the main beach ( where the Villa Amor hotel is) and you will then see an entrance for the Sayulita cemetery. 
Yes, to get to Playa Los Muertos you must walk through a graveyard! Don't worry it's small. After the cemetery you will then reach Playa los Muertos.
Once you reach the beach, you can expect to find really calm waves so if you want to test out surfing this is definitely a great beach to do it at!
Where to Stay in Playa De Los Muertos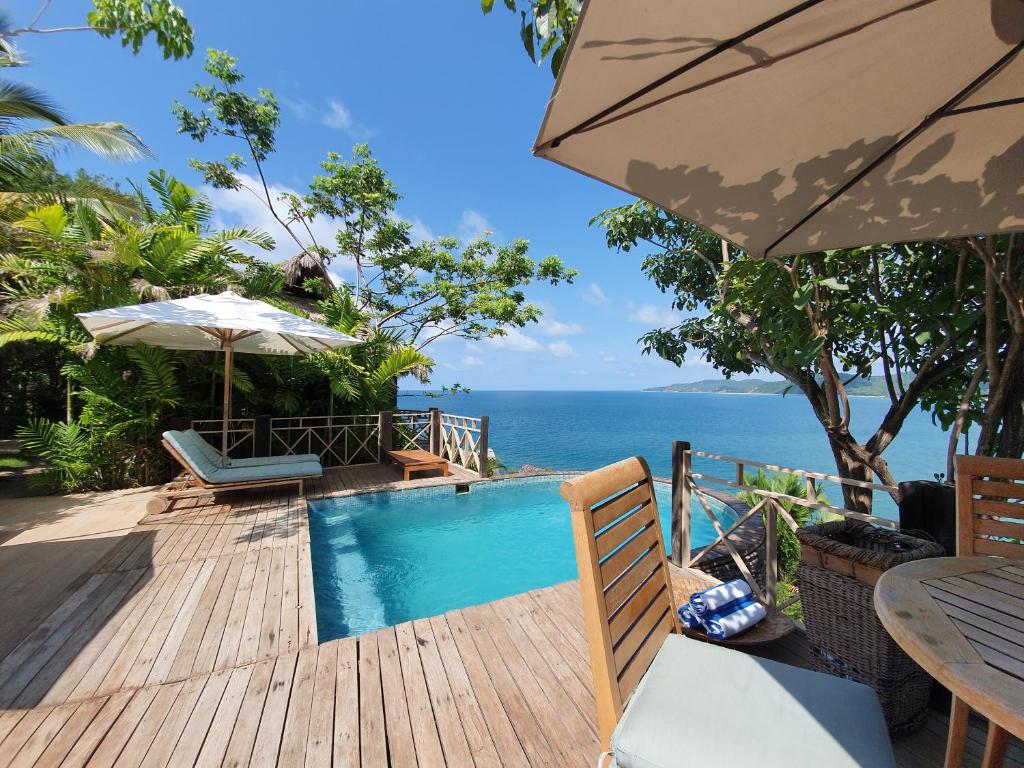 Travelling to Mexico? You Might Like These Other Posts:
#3. Playa Carricitos- Beaches in Sayulita that should be on everyone's list!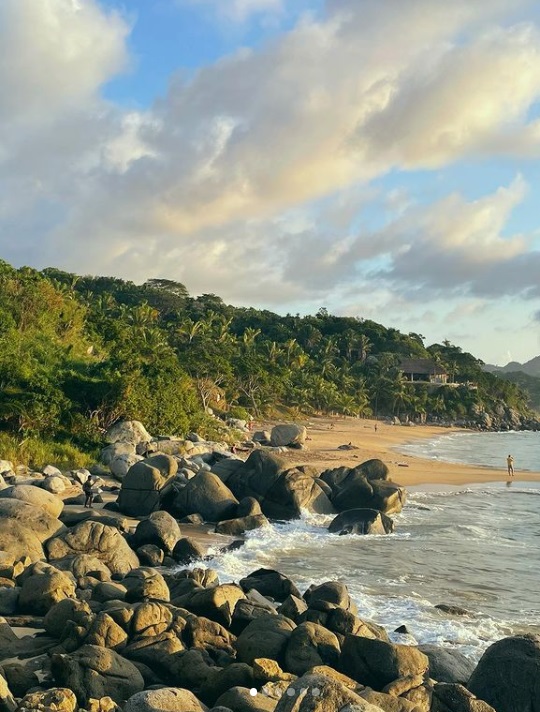 Playa Carricitos is hands down my favourite out of all the beaches in Sayulita! It is well known for having very soft sand and is SO much more chill and quiet than some of the other beaches in Sayulita.
There are boulders that line the back of the beach with loads of palm trees peering between them. If you are looking to take some incredible beach shots, this is the place. Instagram heaven.
While the beach area here is pretty much perfect, the waters and tide here can be a bit powerful so please be mindful of that! This is definitely the best public beach in Sayulita
How To Get To this Playa Carricitos Beach in Sayulita
The walk to Playa Carricitos it is about 20 minutes from town. The quickest way is to go through Playa Muertos beach. Walk through the cemetery and do not stop until you come to the path with signs. From this point onwards get your legs ready for an uphill hike.
Once you come to the first little house, make a left and you are there. It's definitely work the extra steps!
#4. San Pancho Beach Near Sayulita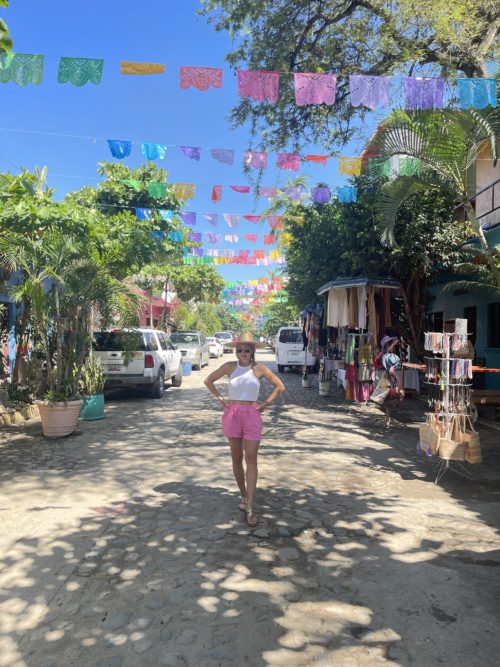 San Pancho is considered the town that Sayulita used to be 10 years ago aka a small fishing and surf town! Though it has evolved a lot over the past few years. It is still slightly untouched (although there is still a ton of cool places to check out here) but it isn't overpacked, filled with nomads and is still very clean. You won't be bothered by vendors at this beach and can easily find a spot to set up shop.
This is a great beach in Sayulita ( near it should I say), if you are looking to learn to surf! There is a great restaurant right on the beach that is perfect for post surf tacos and beer. They also have a really cute ( and Instagrammable) beach swing right in front of this restaurant.
How To Get To San Pancho
There are a few options to get to San Pancho. We took a taxi there and it cost us about $10 USD. It is easy to get a taxi in each of the town's to take you over but make sure you set the rate before you get into the car.
We had a golf cart but unfortunately they are not allowed on the main roads there otherwise we would have forsure took it!
Another great ( and much cheaper option) is to take the local bus. Make your way to the bus station in town and for only 30 pesos you can be in San Pancho in 10-15 minutes. San Pancho is super walkable and you can be at the beach in less than 10 minutes.
Where To Stay in San Pancho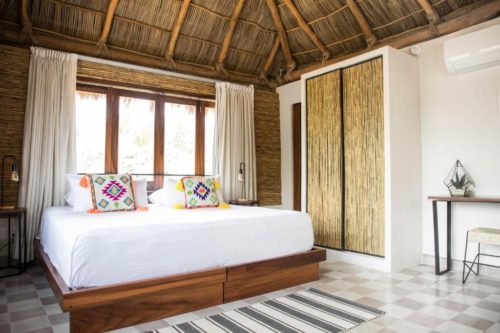 #5. Playa Malpaso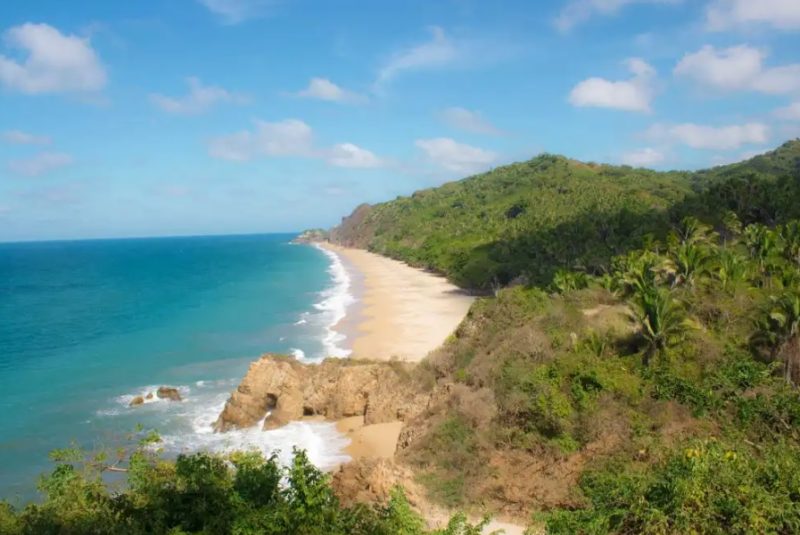 Jungle lovers where are you at?
Playa Malpaso also known as "Cave Beach" in Sayulita is another beach that requires a little bit of a walking effort and gives off all of the JUNGLE vibes!
You need to walk through a cave and jungle path to reach the beach and through a dense little jungle path. This is the type of beach adventure where walking to it also is a cool thing to do! It's very picturesque and once you arrive, even more so!
How to get to Malpaso Beach in Sayulita:
We took our golf course to the start of the trail and I recommend doing that to save you some time ( and steps!). The trail is located on the north end of Av. del Palmar.
Head to the trail on this dead end. You will be on this trail for about 20 minutes or so. It may feel like there is no beach in sight for a little bit but trust me, the beach is near! You will pass another small rocky beach. You will walk through the cave here. Sometimes the water levels are high so you will also need to walk through some water. Once you go through the cave, Malpaso beach will be waiting for you on the other side!
#6. Playa La Lancha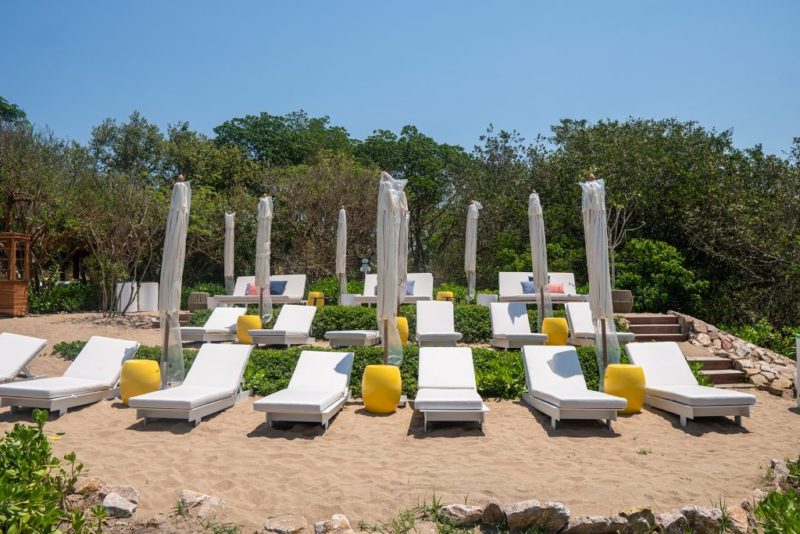 La Lancha is such a gem of a beach. It is super wide and expansive and we loved this for the kids. They were able to run around and we didn't have to worry about them lodging themselves directly in the water.
La Lancha beach is super loved by surfers because of it's consistent waves and we really enjoyed watching all the local surfers ride the waves for hours. It was perfect. There is lots of palm trees and vegetation here so if you are looking to take a little nap or spend the day here, it is definitely possible!
Looking to get a little fancy? Check out the new El Surf Club which is situated on this beach stretch.
#7. Punta Mita Beaches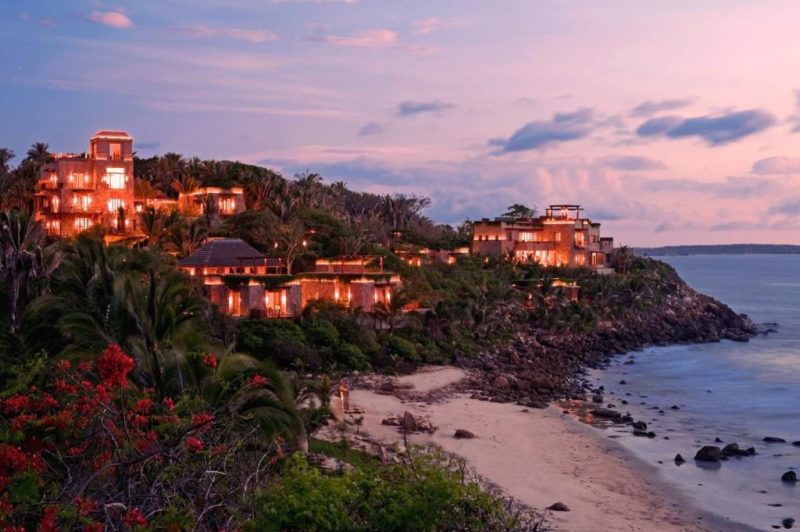 Punta Mita is about an hour from Sayulita but the beaches there are definitely worth checking out. If you are staying in Sayulita for a week I would 100% recommend a day trip to Punta Mita.
Punta Mita is home to luxury vacation rentals and 5 star resorts ( think Four Seasons, St Regis and more). It's no secret that resorts of this caliber often find the best real estate on the coast and set up shop and the coast line in Punta Mita is pretty exceptional.
The town of Punta Mita is really cute and has started to build up with some great restaurants. I would recommend checking out the restaurant Zicatela which is a modern and open air space that overlooks the water. The W Hotel also offers day passes or day bed rentals by their pool and they often have weekly DJ parties. The vibe there is immaculate!
Looking to stay a few nights in Punta Mita? Check Out These Hotels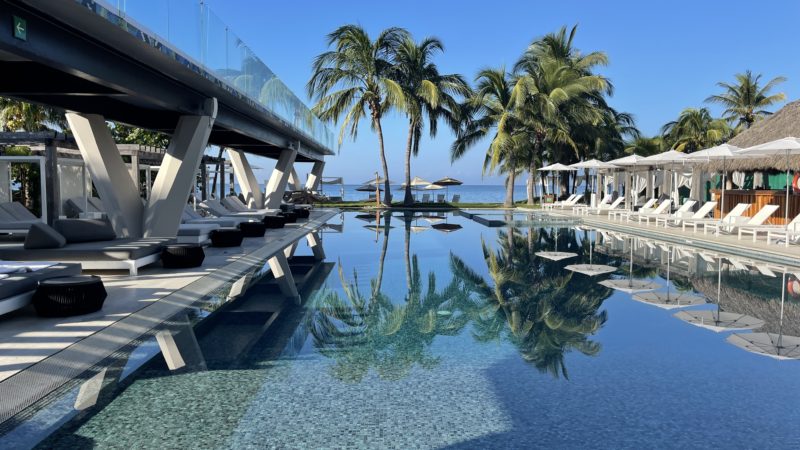 #8. Patzcuarito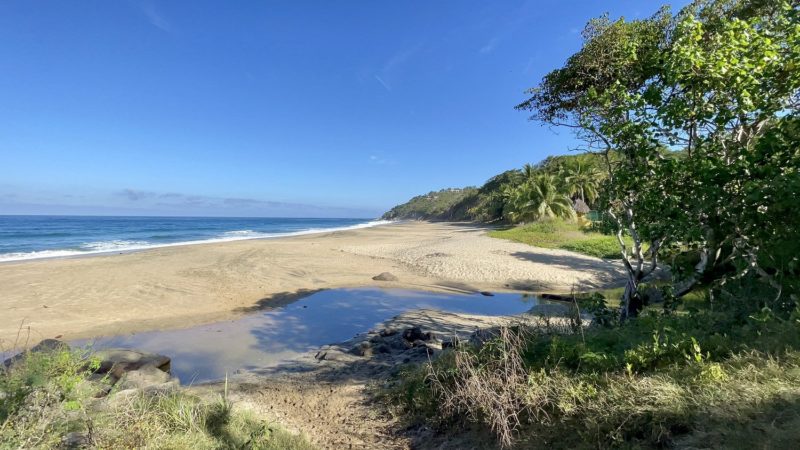 Image via here
I almost debated not including this beach in the list because I don't want too many people to find out about it! It's one of those beaches that have yet to catch on and that is what makes it so great.
It is a slice of solitude in Sayulita- away from all the margaritas and music and liveliness.
You will not find any stores, beach vendors or really much of anything here so pack accordingly. We LOVED this beach but couldn't stay as long as we wanted because there wasn't much shade for the kids!
Next time I would be packing a tent and a picnic and setting up shop until sunset.
#8.  Playa Destiladeras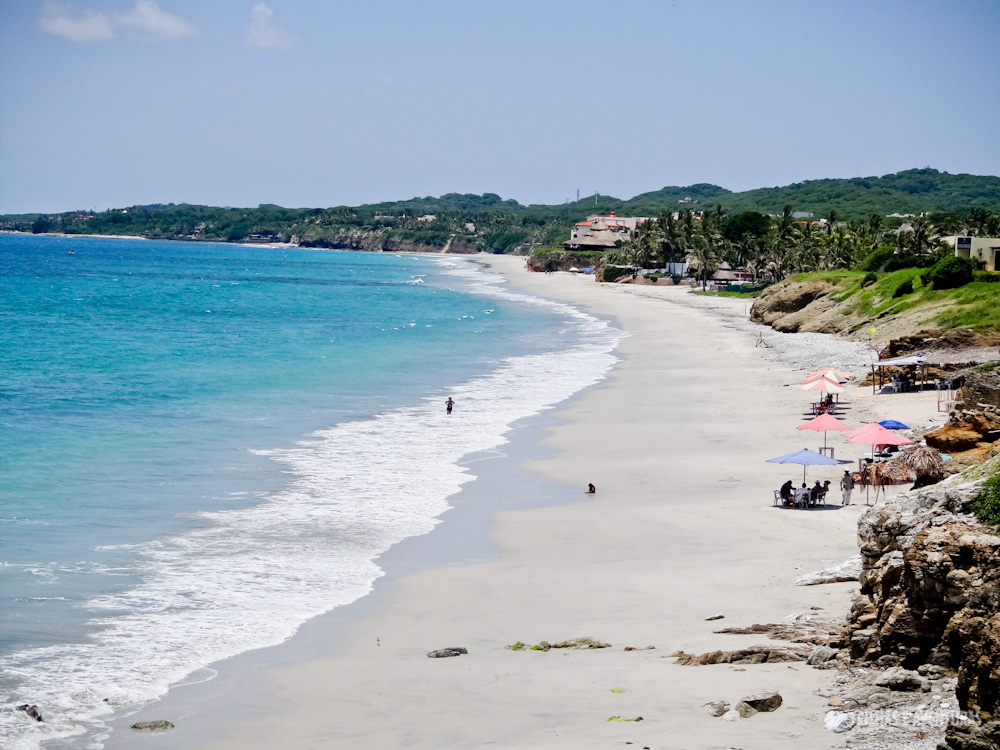 Sandwiches between Nuevo Vallarta and Punta Mita, Playa Destiladeras is a perfect beach for those seeker true relaxation. This is a great day trip option if you are staying in Sayulita for longer than a week.
Visiting here gives you a taste of the different beaches you can find along the coast line and unlike the beaches in Punta Mita that are home to many of the luxury hotels, Playa Destiladeras is really isolated from all the hotels, high rises and noise from the neighbouring towns.
It does cost $5.00 to park here so keep that in mind!
#9.  Marieta Islands- Hidden Beaches in Sayulita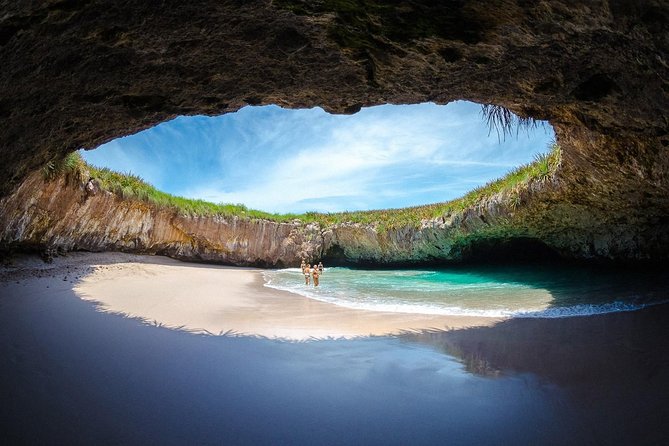 The Marieta Islands aka hidden beach is a must visit if you are visiting Sayulita! It is a famous spot with volcanic topography that allows you to go right underneath the formation. The rock structure has an open air view of the sky from the beach and it is truly unique.
To access these islands and this particular beach you need to go with a tour. There is a fee of $2600 Pesos to visit and they limit the number of visitors each day so the spot doesn't get overwhelemed.
It takes about an hour each way to get to the Marieta Islands and the boat. Once you are there a lot of tours will have you stay for a bit so you can snorkel or bird watch. The area is home to so many beautiful and protected species.
---
Sayulita is such a unique part of Mexico that instantly energizes you. It surpassed all of my expectations and although the beaches are not blue like the Caribbean, they offer you a feeling. There is something just magical about them and the sunsets there are like no other! I hope you enjoyed this round up of the best beaches in Sayulita!
PIN THIS POST