When I told people we were going to Colombia, we were met with a lot of blank stares and responses like "Isn't it super dangerous?". Before I get into everything, I can tell you that Cartagena is very safe and I never once felt scared there. This Cartagena travel guide will show you why it is so amazing and should be added to your list asap! It is now my favourite place in South American, hands down. I can't wait to go back to Cartagena and also check out some neighbouring cities like Medellin!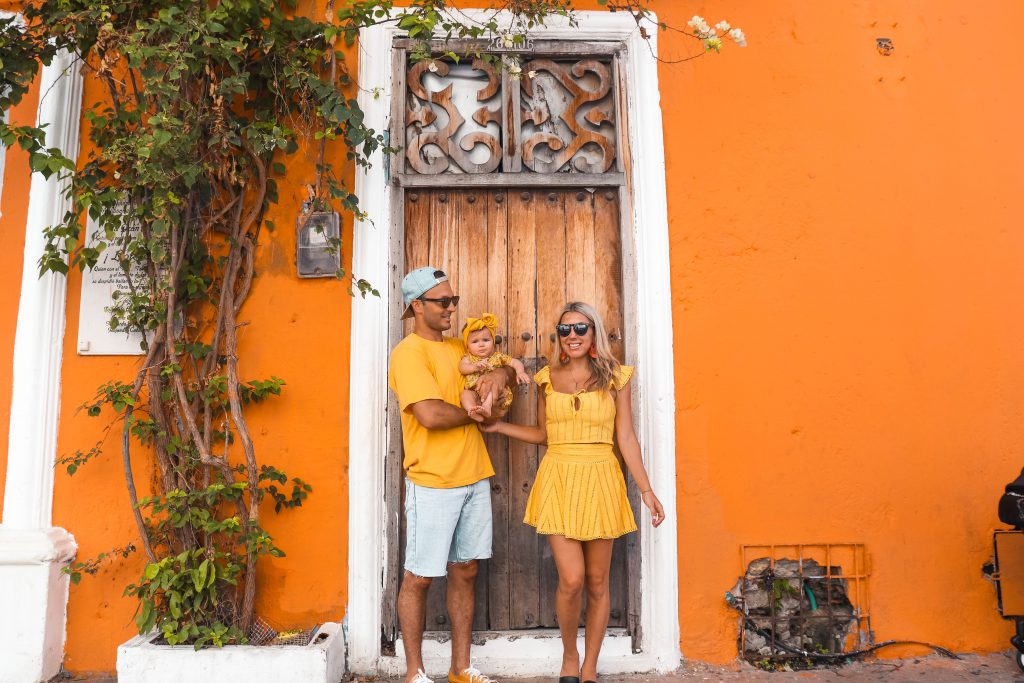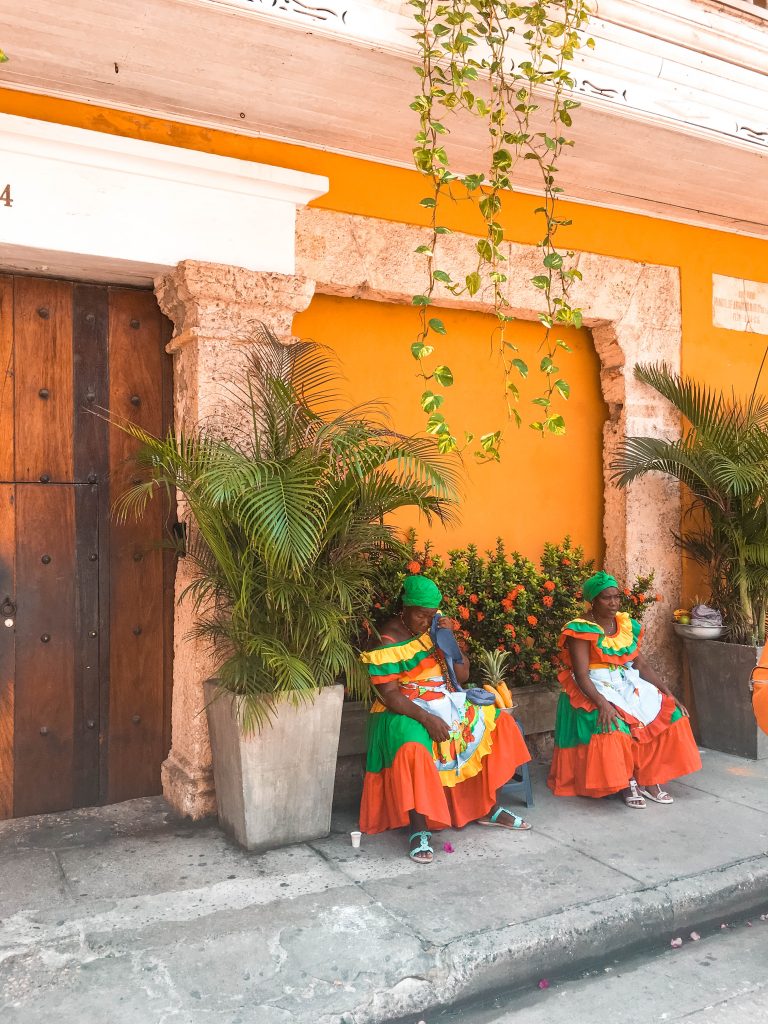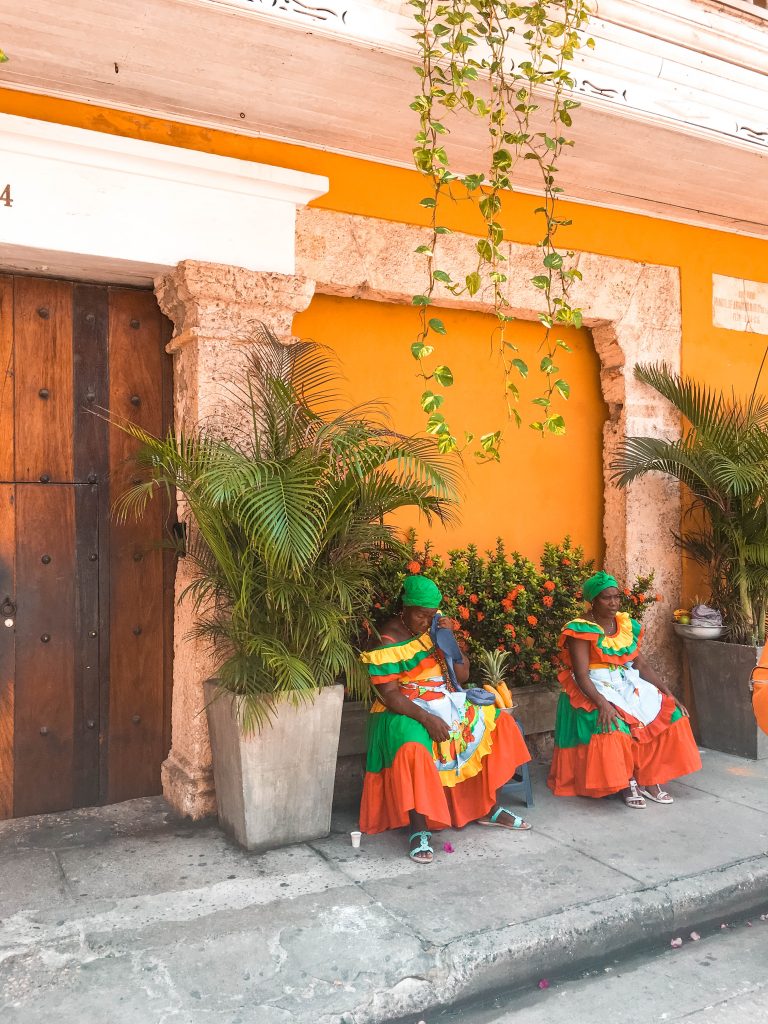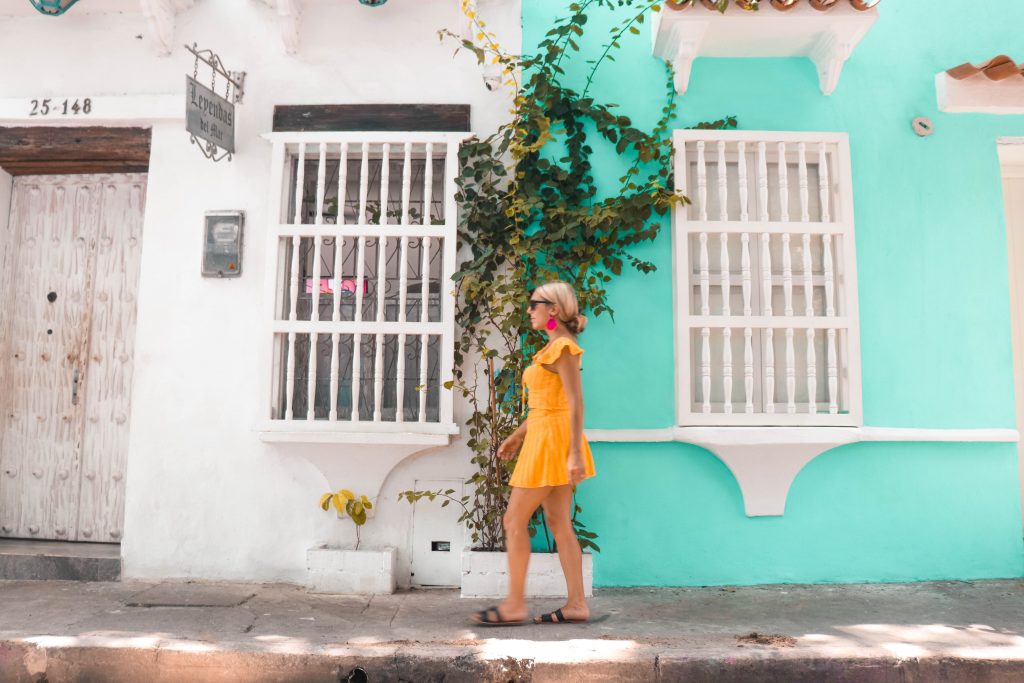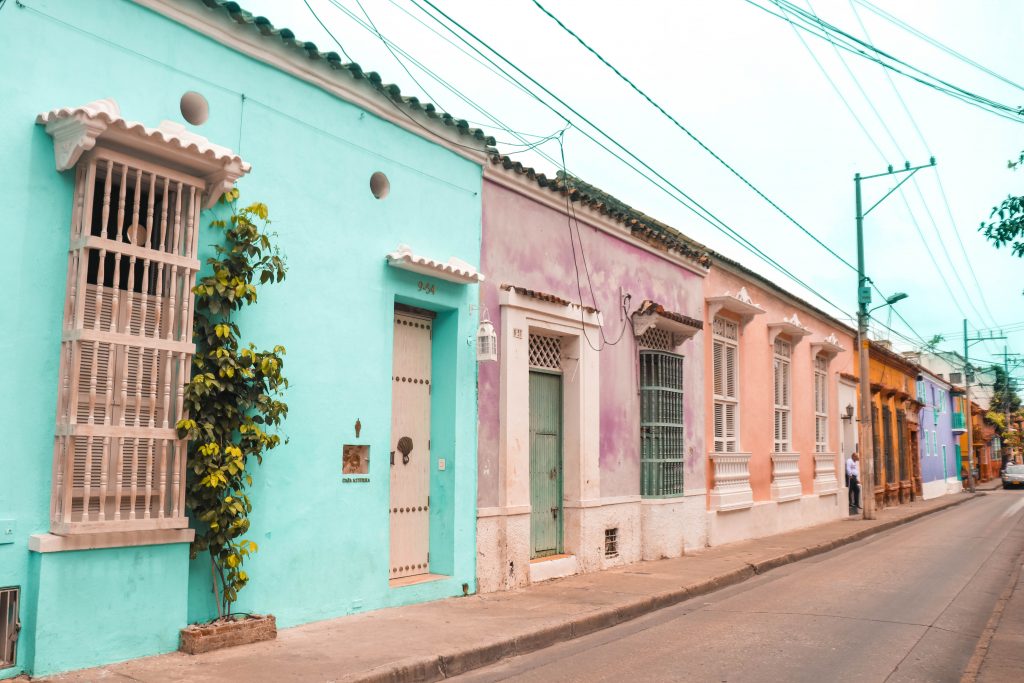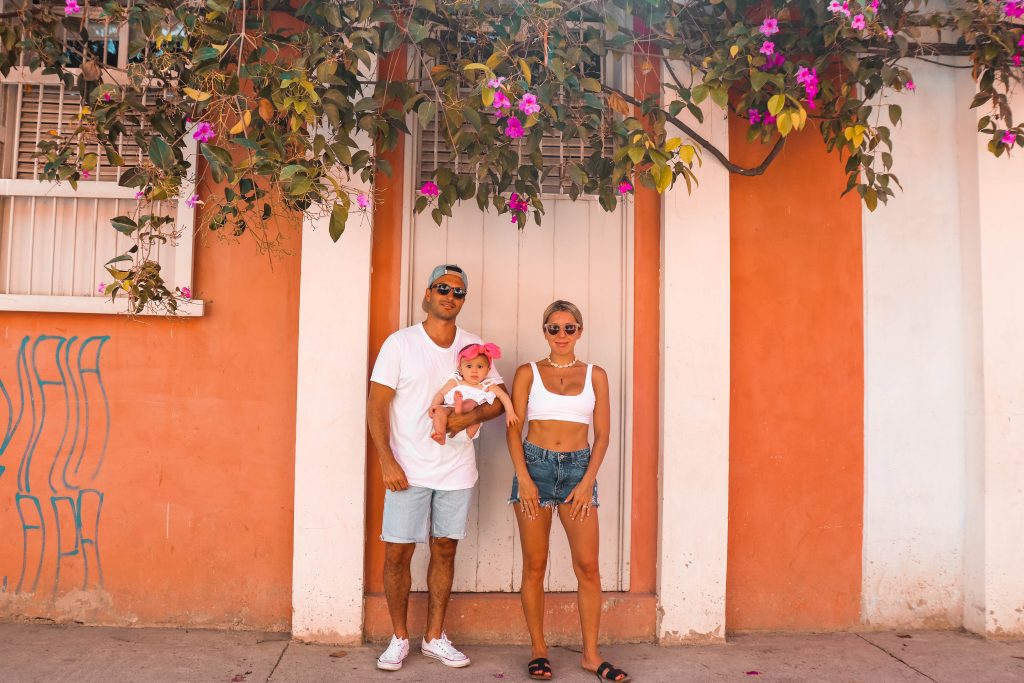 While this was definitely the case years ago, the country has turned over a new leaf and has actually had FAR LESS shootings than the US in the last two years.
We felt super safe the entire time we were there and received such a warm welcome from all of the locals everywhere we went. Of course, it is important to note that we stayed in the main cities of Cartagena and Bogota.
Whether your idea of a vacation is sipping the world's best coffee on a bougainvillea-laced balcony, heading to a tropical island just minutes off of the city, or salsa-dancing until 6am in one of Cartagena's famous nightclubs , this place has something for everyone and we were SO happy we went!! colorful The Colonial architecture has been featured in many magazine and the fact that it is a Unesco world heritage site also tell you a lot about it! Just stunning.
GETTING TO CARTAGENA, COLOMBIA
There are direct flights from Toronto to Cartagena but they only operate seasonally. I believe they are from December- March. If you do not travel during these times ( we did not), you can either do a stop over in Miami or somewhere along those lines or fly direct to Bogota, Colombia and take a domestic flight to Cartagena. We flew direct to Bogota and spent a night/day there. We felt that one day was all that we needed to see the city of Bogota.
If you are coming from Florida or visit Florida frequently, you should know there are direct flights from Miami or Fort Lauderdale and the flight time is only 2 HOURS!!! We are definitely going to scoot down from Florida for a few days when we are there next.
The Cartagena Airport is small and once you arrive, you are only a 15 minute drive to the Walled City. So great after a long flight!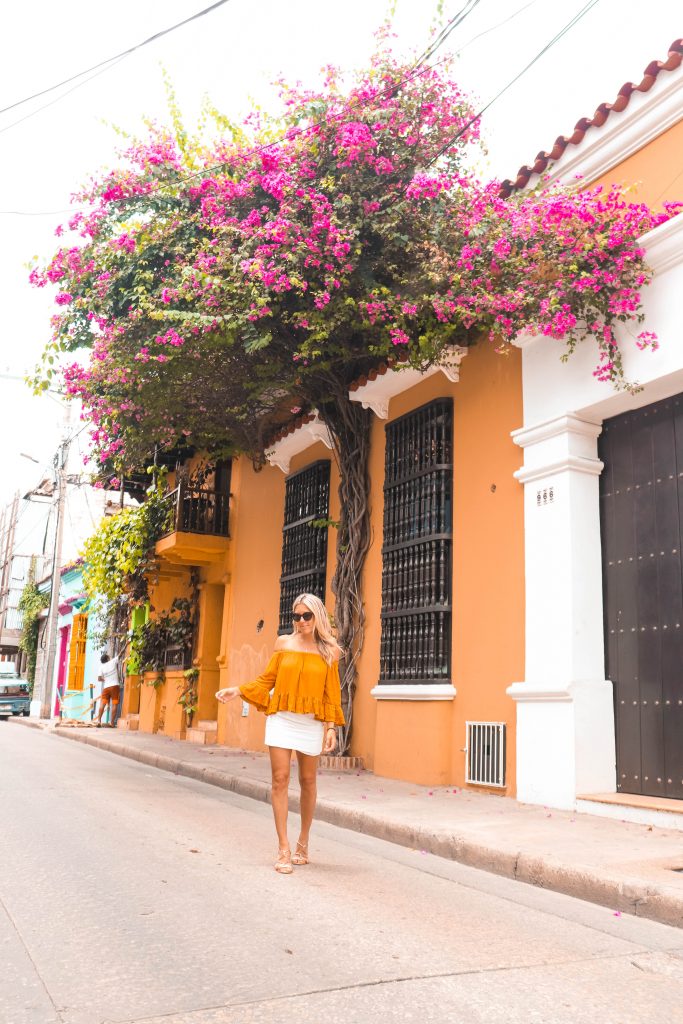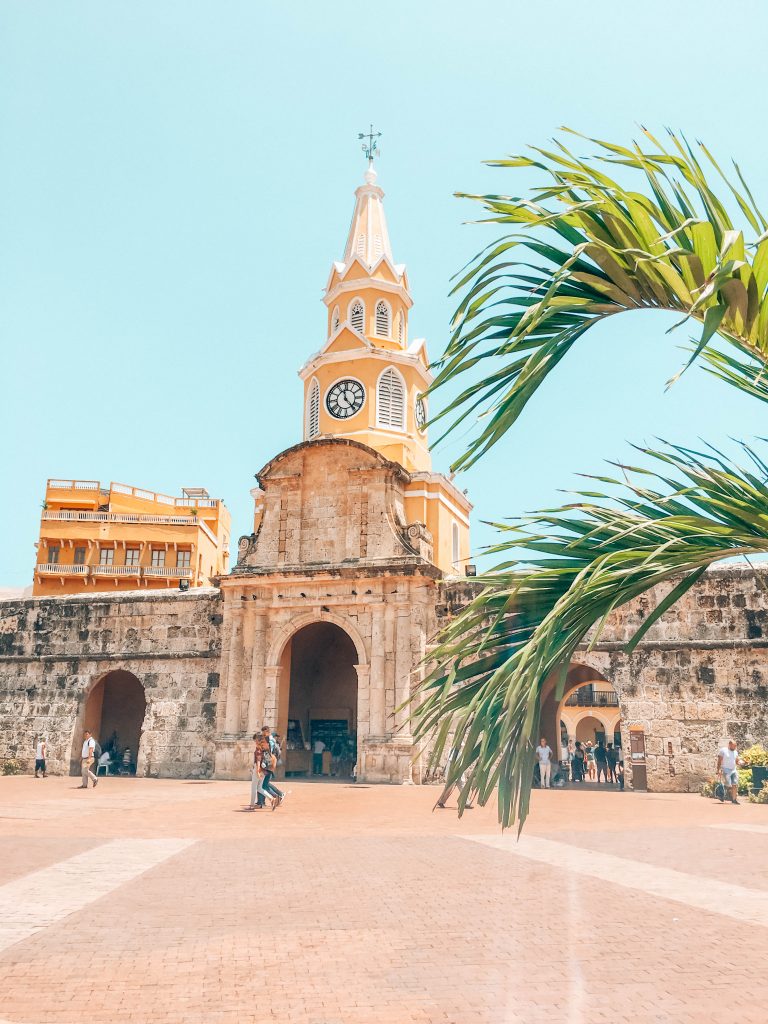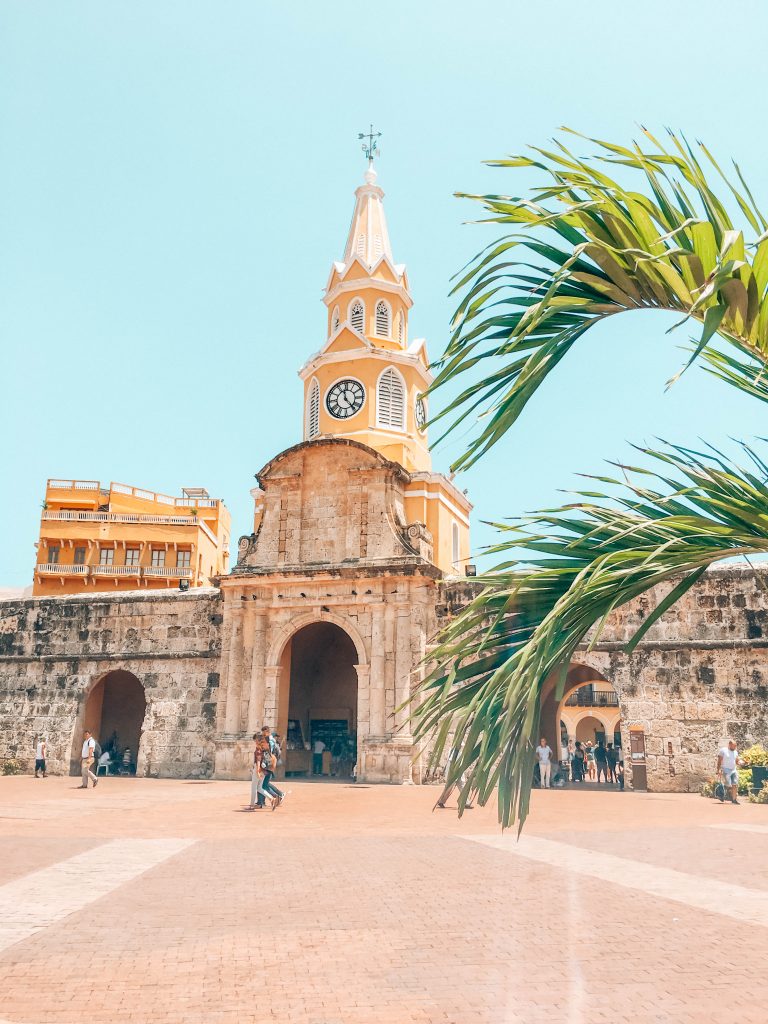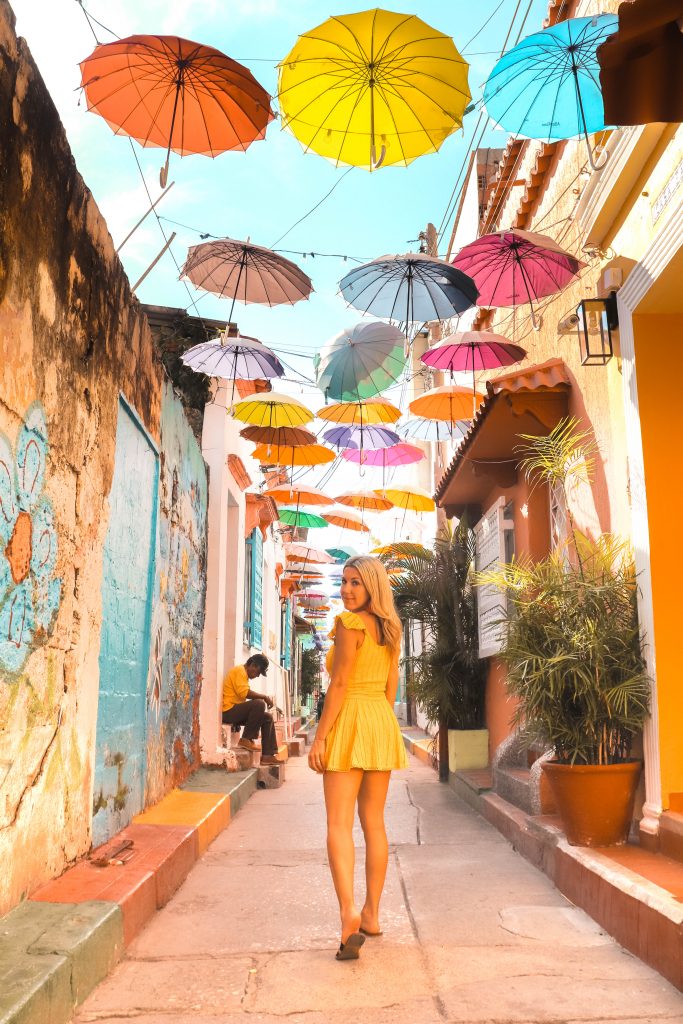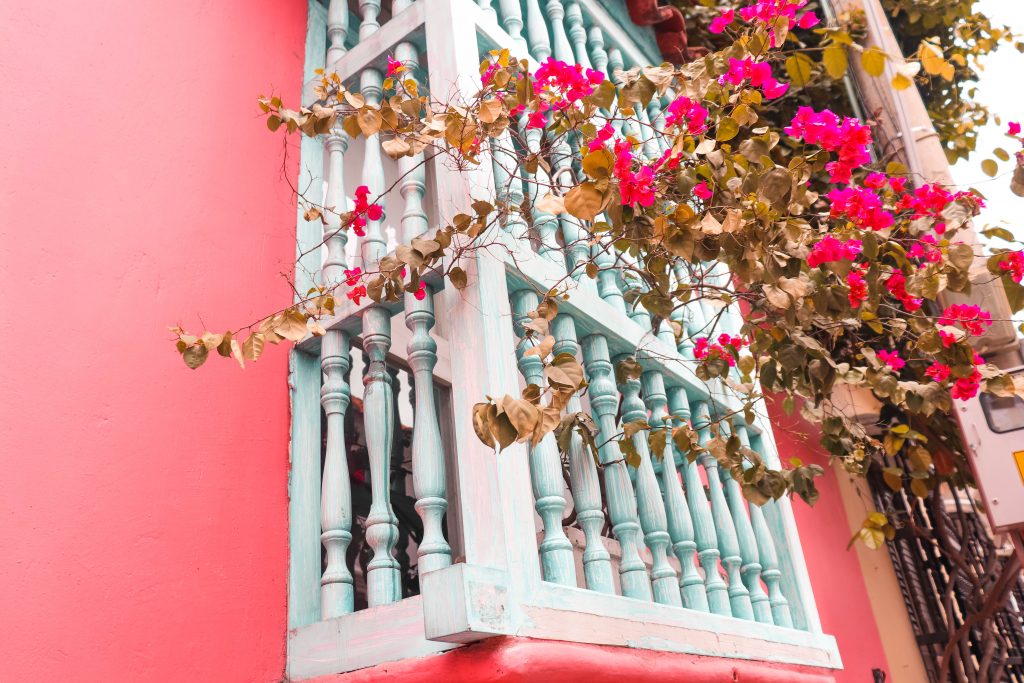 NEIGHBOURHOOD BREAKDOWN:
Old City: This is the post popular area for tourists to stay in Cartagena. It's also where most of the main tourist sites area.
Gestemani: Located just outside the walls of the Old City, Getsemani is a laid-back, authentic neighbourhood and is considered "up and coming". It is definitely more raw than the Old City and has a lot more hostel like sleeping options.
Bocagrande: Boca grande is located southwest of the Old City and is located on the water. It is filled with high rise hotels and condos and is about a 15 minute cab ride from the walled city.
BEST TIME TO VISIT CARTAGENA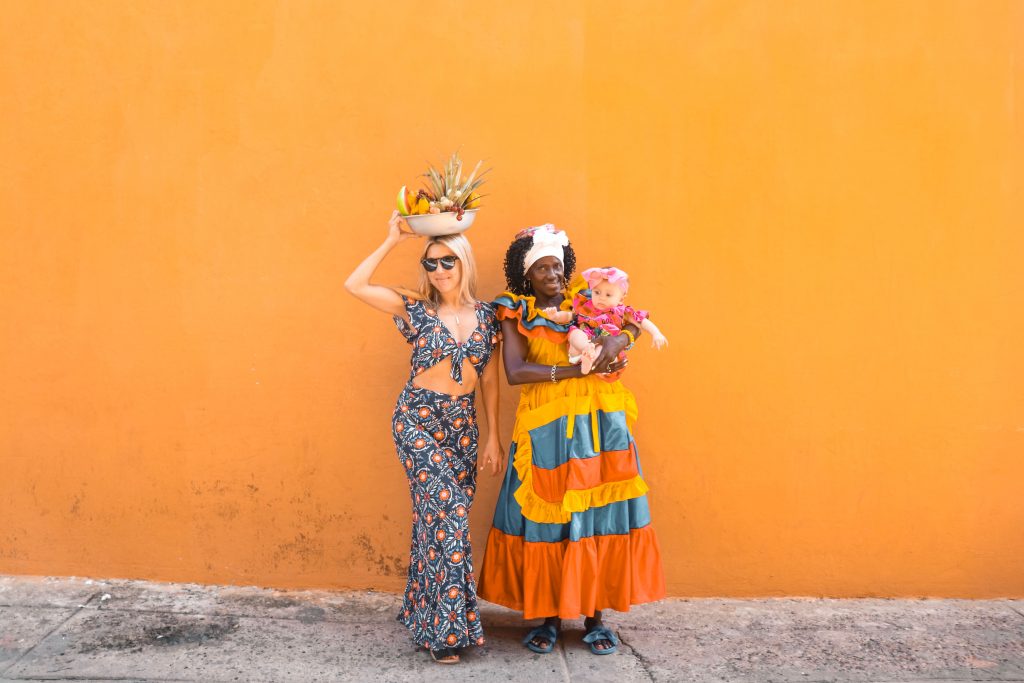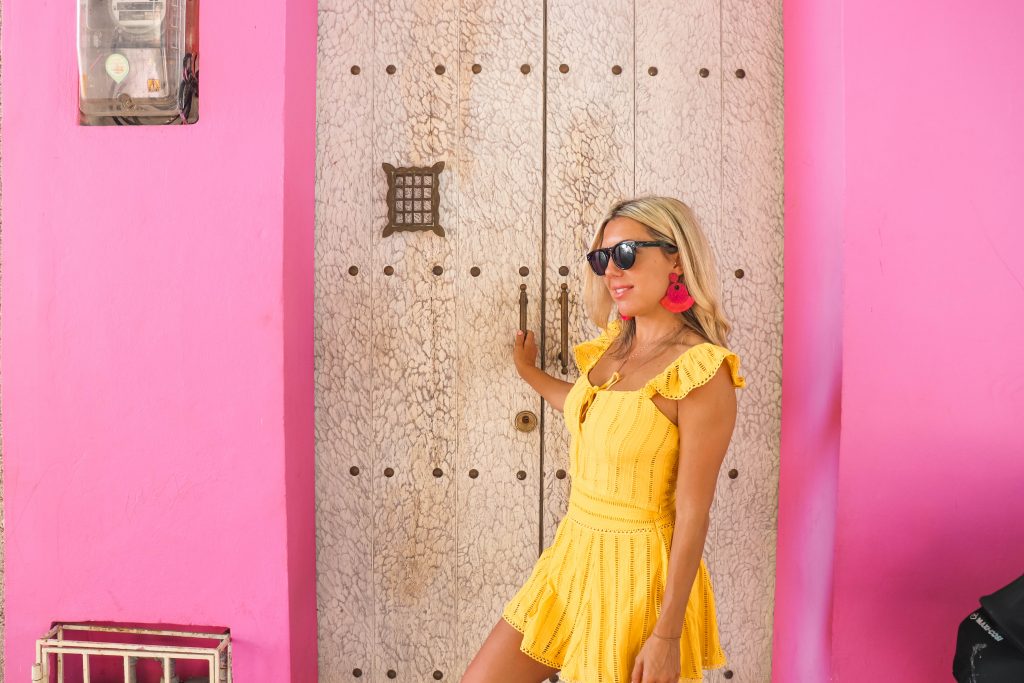 It's always hot and humid in Cartagena…like I'm talking DESERT HOT! Throughout the year the average the temperature range is between 77°F and 87°F. That is why you MUST stay at place with both Air Conditioning and a Pool.
The weather is a bit better from January to March, when afternoon sea breezes provide daily relief. This is, however, their peak tourist season when prices are $$$. Rainy season is considered September-November with October being the rainiest month. With that being said you can visit year round if you wanted but I would say shoulder season of April would be best!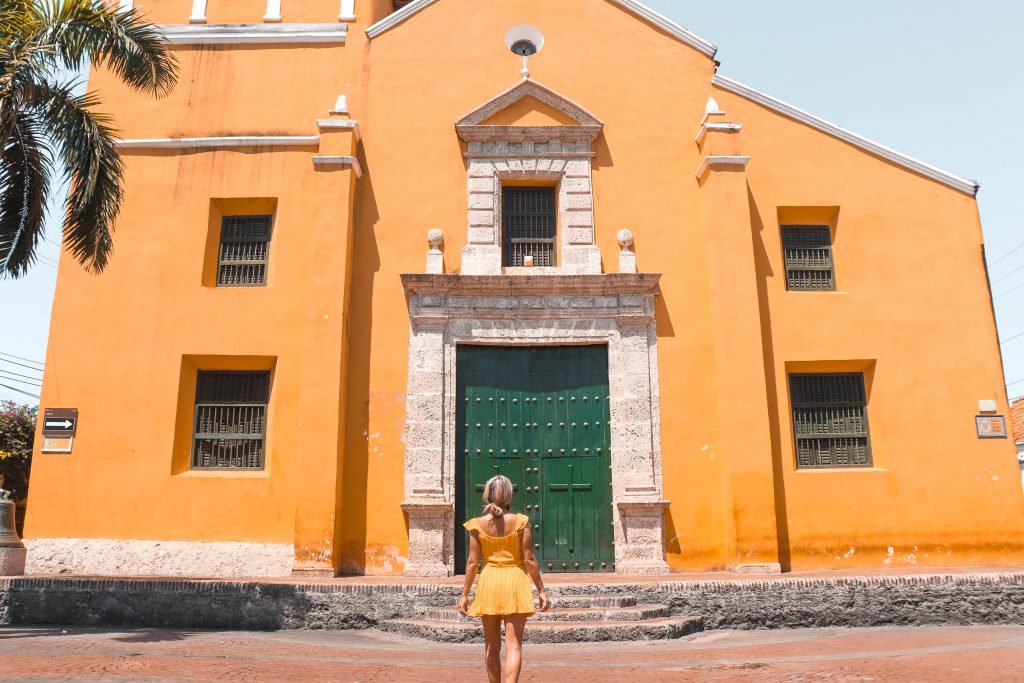 With that being said, it is a tropical climate so even when it calls for rain, it will likely only pour for an hour or two and be sunny once again! We went in June which is considered a bit of rainy season and never had rain once!
WHERE TO STAY IN CARTAGENA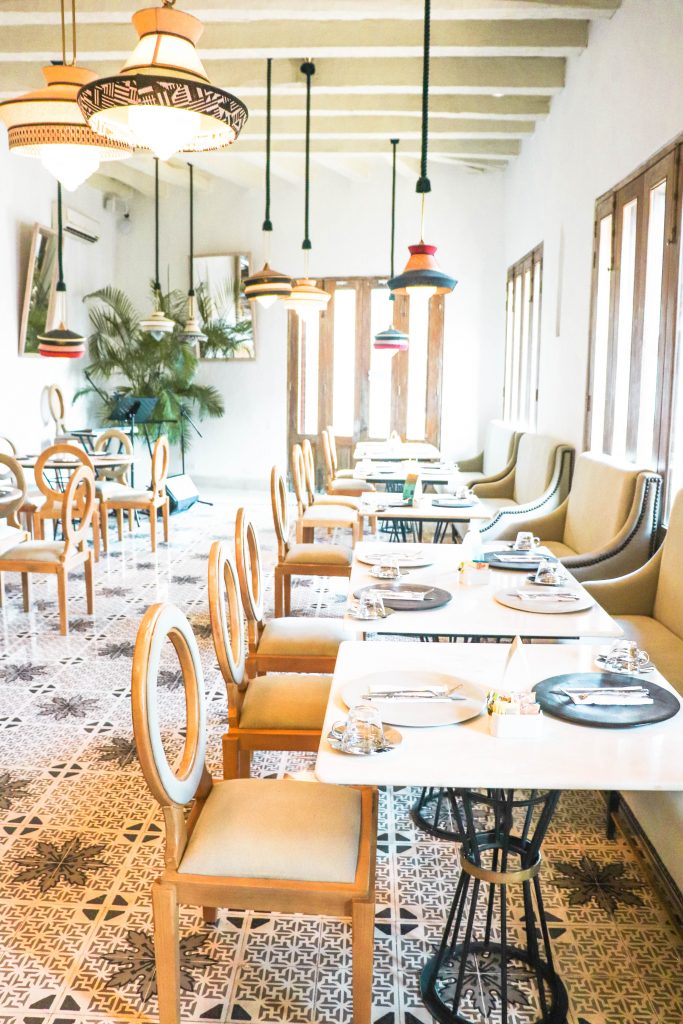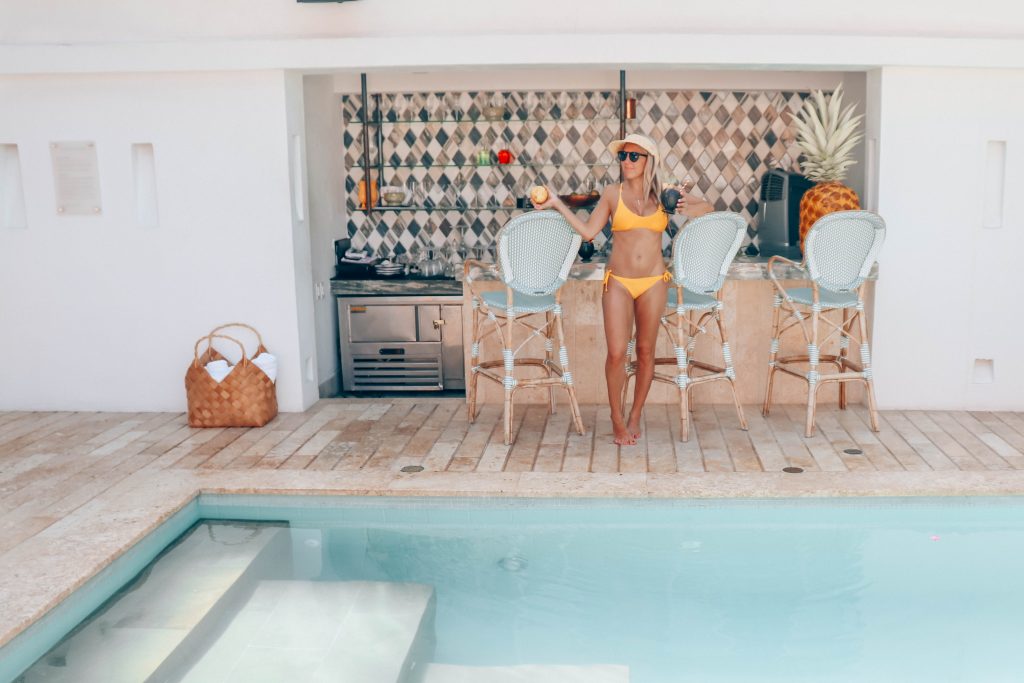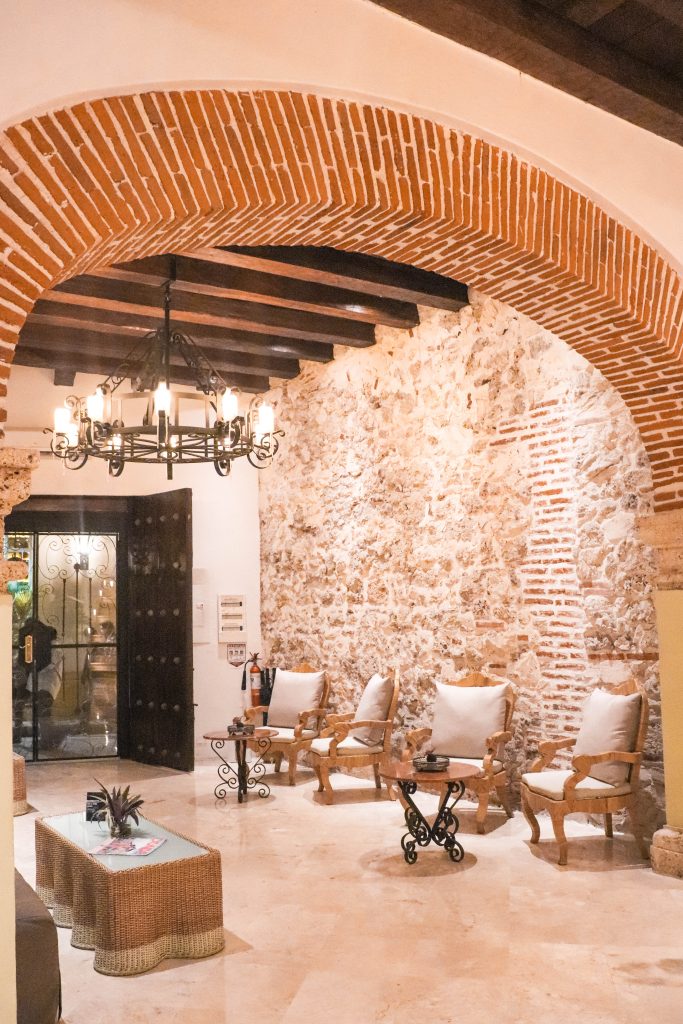 WHERE WE STAYED IN CARTAGENA: Hotel Capellan! The location of this hotel was SO perfect. We were smack in the middle of the Walled City and Getsemani. You can see my full review HERE!
WE ALSO STAYED AT: Las Americas Torre. This was about a 15 minute taxi ride from the walled city and was directly on the beach. It is definitely good if you have kids and it was a beautiful hotel. We got to watch sunsets everynight! There isn't much to do around here though and we found ourselves taking a taxi into the city everynight!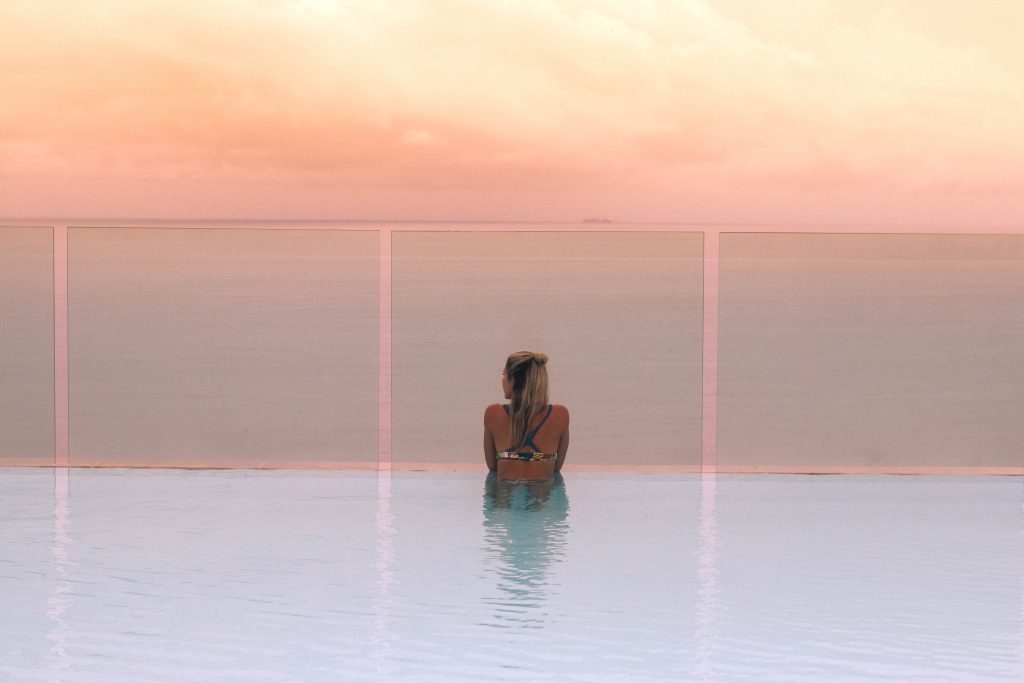 OTHER RECOMMENDATIONS FOR CARTAGENA HOTELS | Some spots within the Walled City that I'd recommend looking into are the Casa Factoria Hotel ( new!), Casa San Augustin (what design dreams are made of and where many Cartagena Travel Guides will tell you to stay), Ananda Boutique Hotel, Townhouse Boutique Hotel & Rooftop (amazing rooftop for Sunset as well), and Bastion Luxury Hotel, These are all inside the walled city. If you're a budget traveler, Cartagena is FULL of hostels ( most of which are located in the Gestemani district), so you have plenty to research and choose from! There is also some pretty sick Air Bnb's in Cartagena and if you are going with a large group, I would DEFINITELY recommend it.
NOTES ABOUT ACOMMODATION: If your budget allows, I would recommend staying somewhere with a pool. It is very unlikely you will be strolling around the city all day and with the kind of heat Cartagena has, a pool is so VITAL!
WHERE TO EAT AND DRINK IN CARTAGENA
El Baron– This unsuspecting little place was one of our favs! Not only was it on the perfect corner to people watch, it had insanely well crafted cocktails with delicious tapas to match. Order the perfume drink ( I forget the name but ask the server) and the shrimp bruschetta.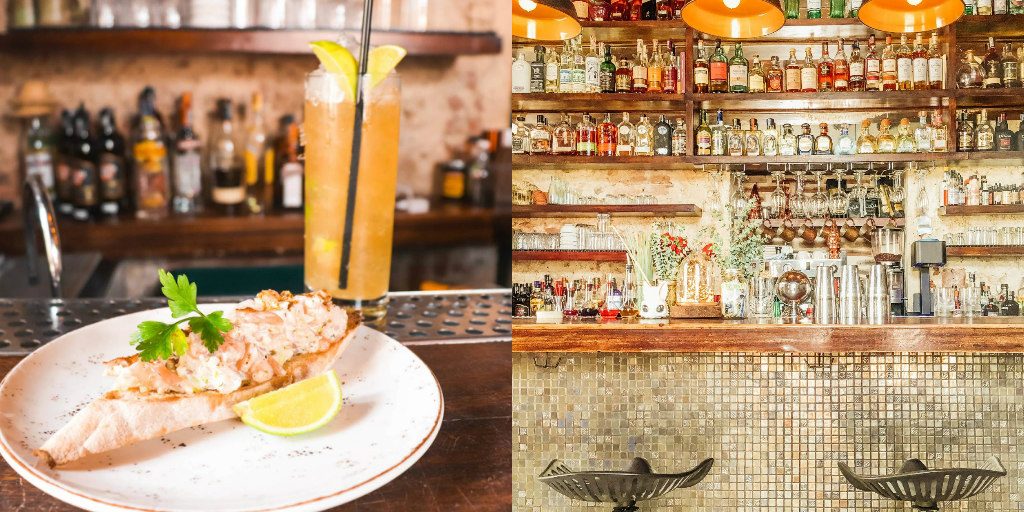 Carmen- When you're ready to drop some dollars and live like the tourist king (or queen) that you are, you've got to stop by Carmen for a high-end take on Cartagena's passion for seafood.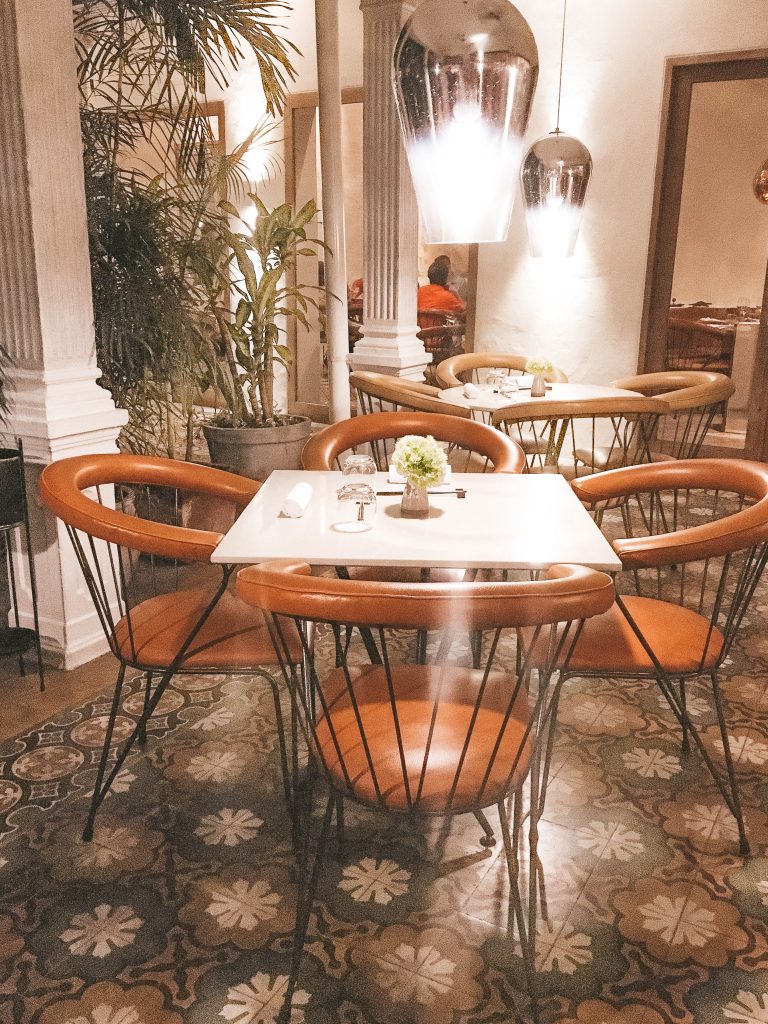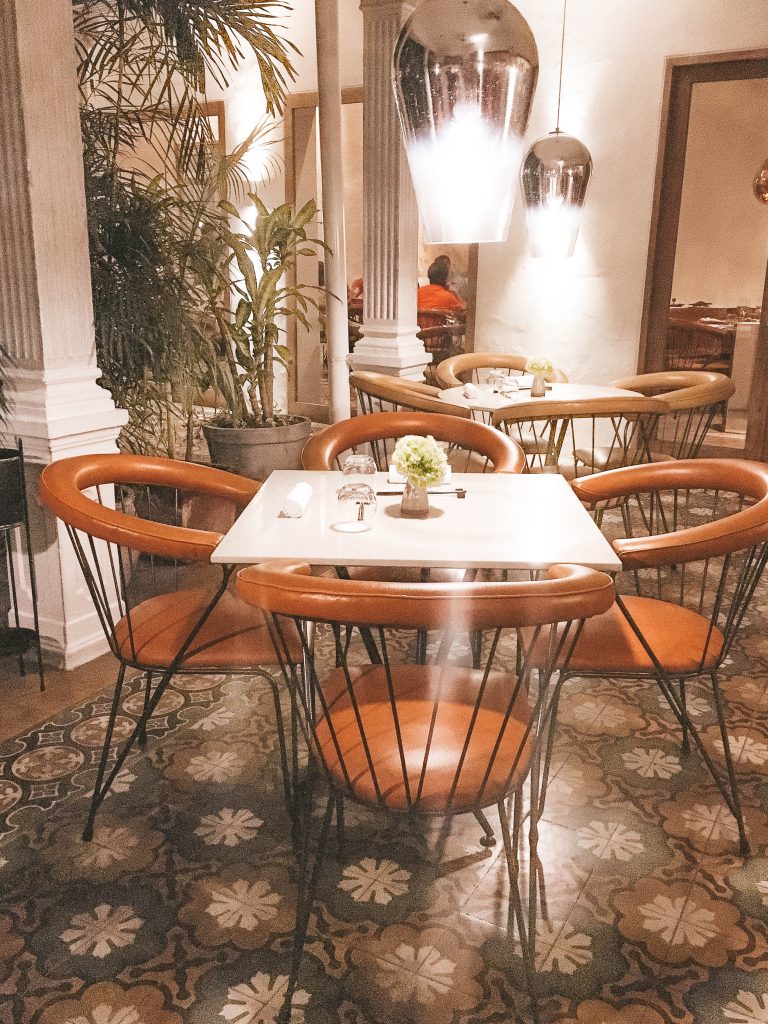 Demente– If you are anything like me and need Pizza once a week, this place is for you! Actually this place needs to be on your list regardless! It is the best restaurant in Gestemani by far and the settting is tres cool! Get a table in the outdoor courtyard in the back! Hot tip: Get the French Onion Pizza. I was on the fence about it because it sounds weird but OMG SO GOOD!
La Cevicheria– Made popular by Anthony Bourdain, this ceviche restaurant shows up on every "Must-Visit" list of restaurants in Cartagena. Some reviews say it's overpriced and not that great but we LOVED it!! We are glad we went on our last day as we would have definitely went a few times. It opens at 1pm and lines up quite quickly!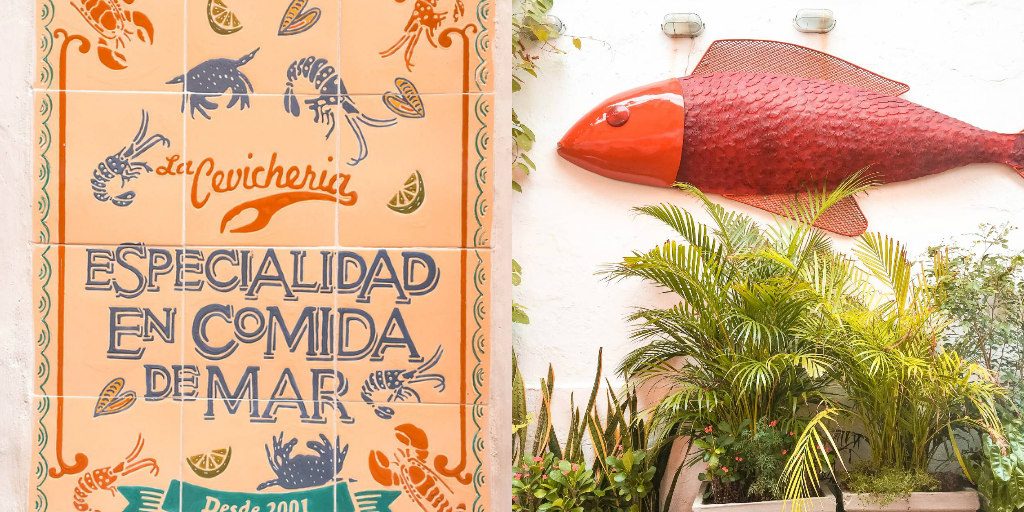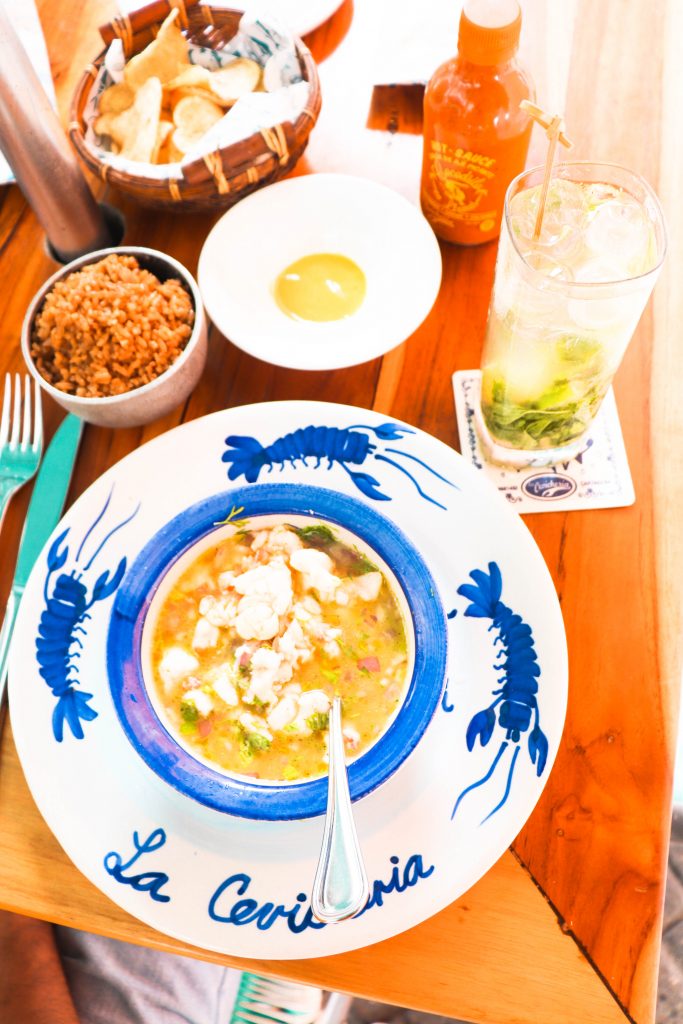 Maria Bonita-Another trendy little spot but this time in the Gestemani district! This place is in the main square so you really can't miss it. Not only were the drinks SO TASTY but the food was also delish. It wasn't cheap keep in mind but definitely hit all the boxes. They were also super sweet to Chloe and made sure we sat in a place that had direct fans on us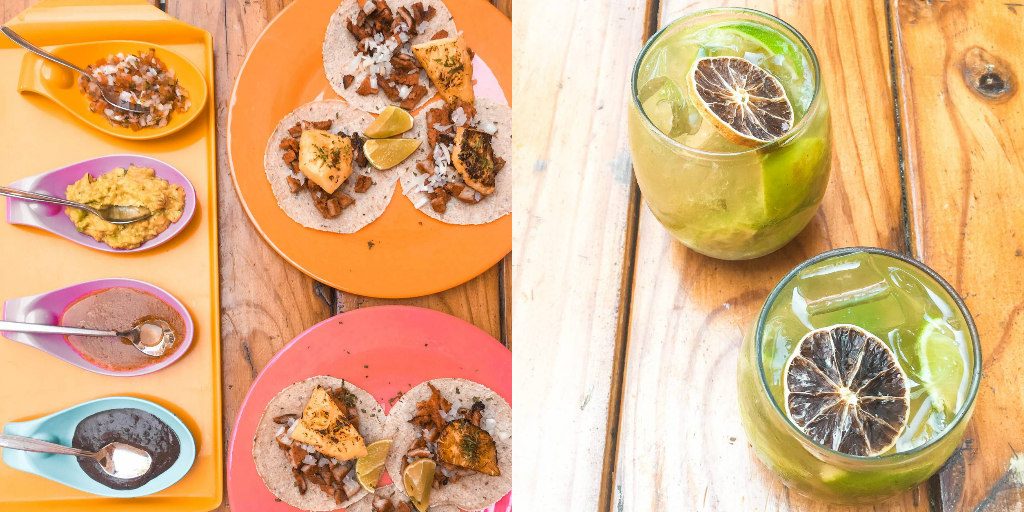 Alquimico– Ok so this isn't necessarily for eating but more for drinking in style. With 3 floors of fun, we absolutely LOVED the vibe there. There was a DJ spinning on the first floor which was dark and moody and as you went up a level, the vibe got a bit more amped up. The final floor is a rooftop patio with a more relaxed vibe so there is something for everyone!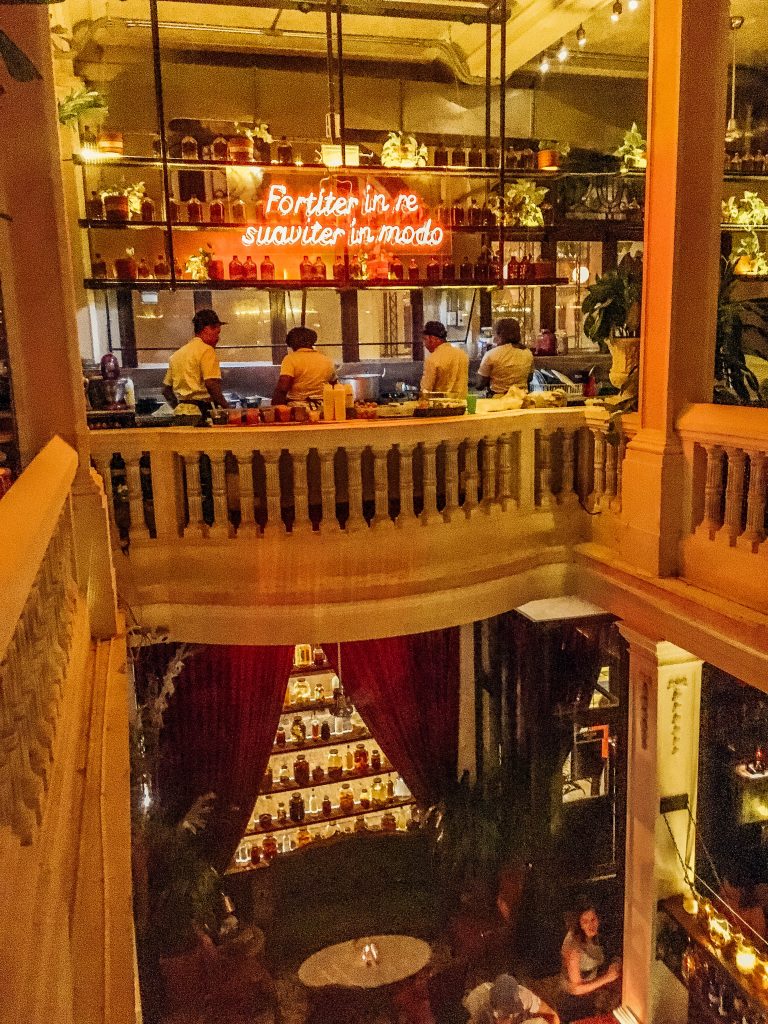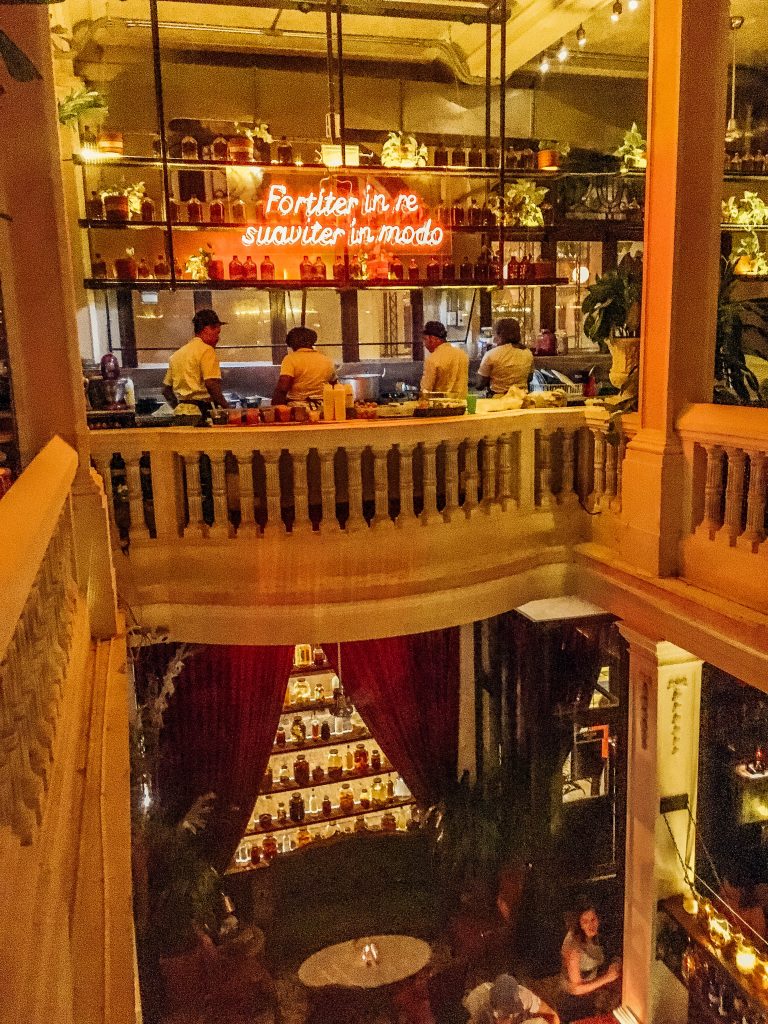 OTHER RECOMMENDATIONS | Maria's ( on par with Carmen), Don Juan's, La Paleteria ( for ice cream and popsciles- SO GOOD!!), La Perla , Townhouse for sunset or post dinner drinks, Movich Hotel for sunset drinks as well, Alma ( inside the Casa Agustin hotel)
THINGS TO DO IN CARTAGENA, COLOMBIA
TAKE A BOAT TRIP TO THE ROSARIO ISLANDS OR ISLA BARU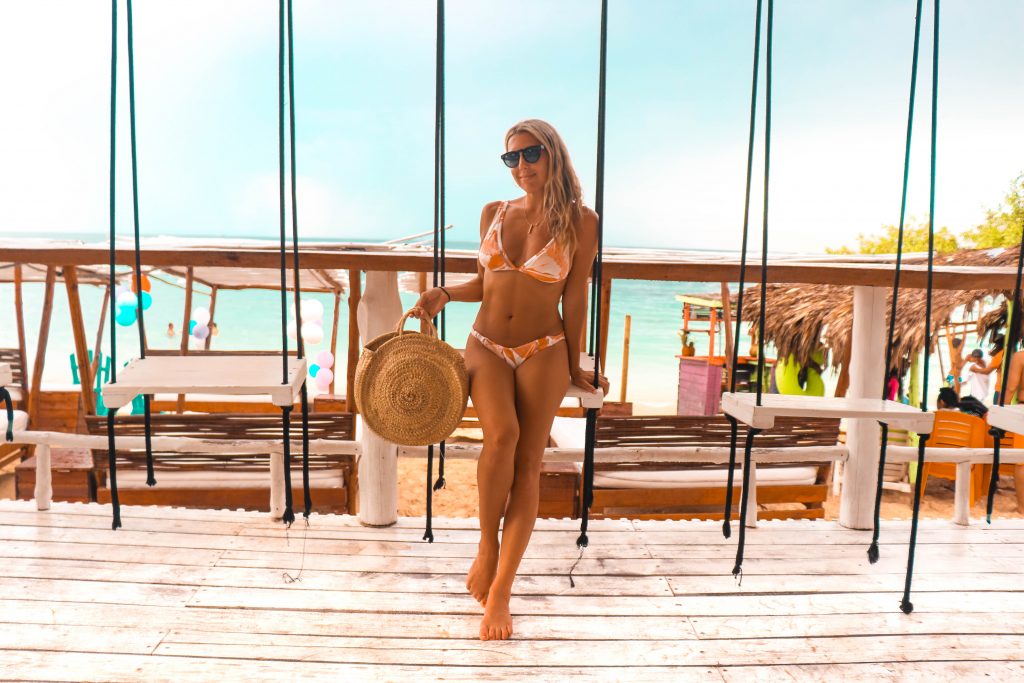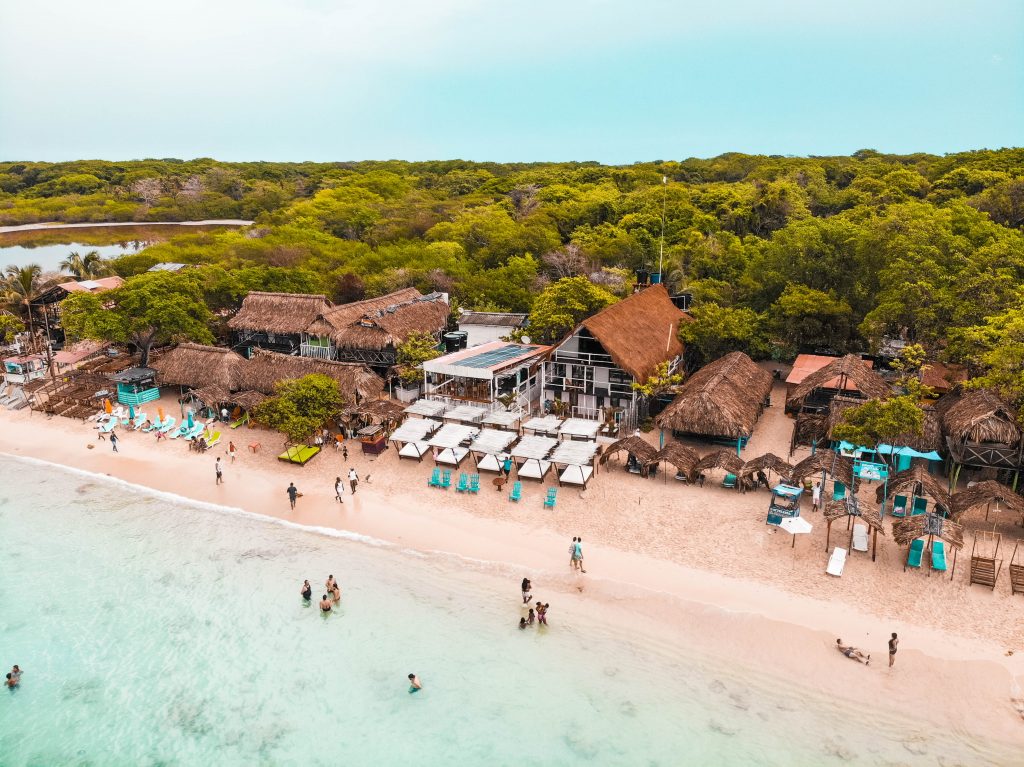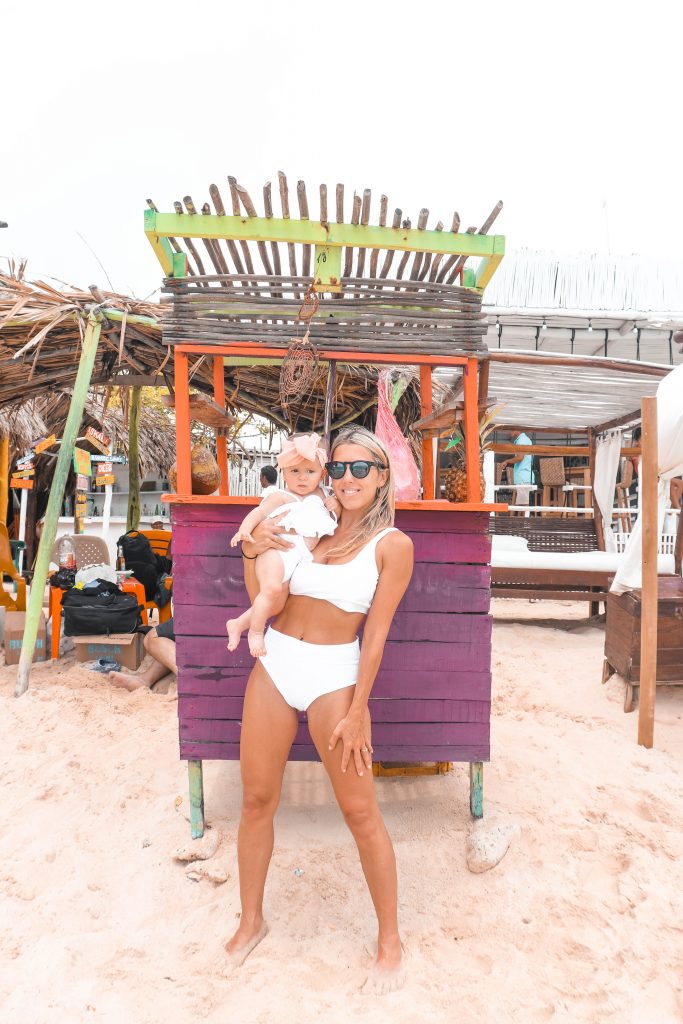 While it is easy to get wrapped up in the Walled City, it wouldn't be a trip to Cartagena without experiencing it's beautiful Caribbean waters! There are tons of companies that do day trips to the nearby islands which are Isla Baru, Rosario Islands, Playa Grande and there are a bunch more. We hit up Nena Beach Club on Isla Baru!
We got a package that included transportation, a welcome drink and lunch! We choose this one as it did not require a boat to get there which was key with the baby. Apparently the boat rides to and from the island-although much quicker- are SERIOUSLY rocky and some people have felt really unsafe. If you are prone to sea sickness, keep this in mind. The ride to Nena Beach Club via car was about an hour each way.
OTHER BEACH CLUBS: Bora Bora Cartagena and Blue Apple Beach Club
ALSO NOTE: The closest beach is the beach in the Bocagrande area, however, it is a dark sand and dark water style beach. Not pretty. It is great for sunsets but not for relaxing!
DO A RUM TASTING
For rum cocktails to wash it all down, try El Arsenal: The Rum Box. With a collection of every single rum made in Colombia, and premium knowledge on pairings—particularly chocolate pairings—you're in for your own drunken history lesson with every visit.
SALSA IT UP: A CARTAGENA TRAVEL GUIDE MUST!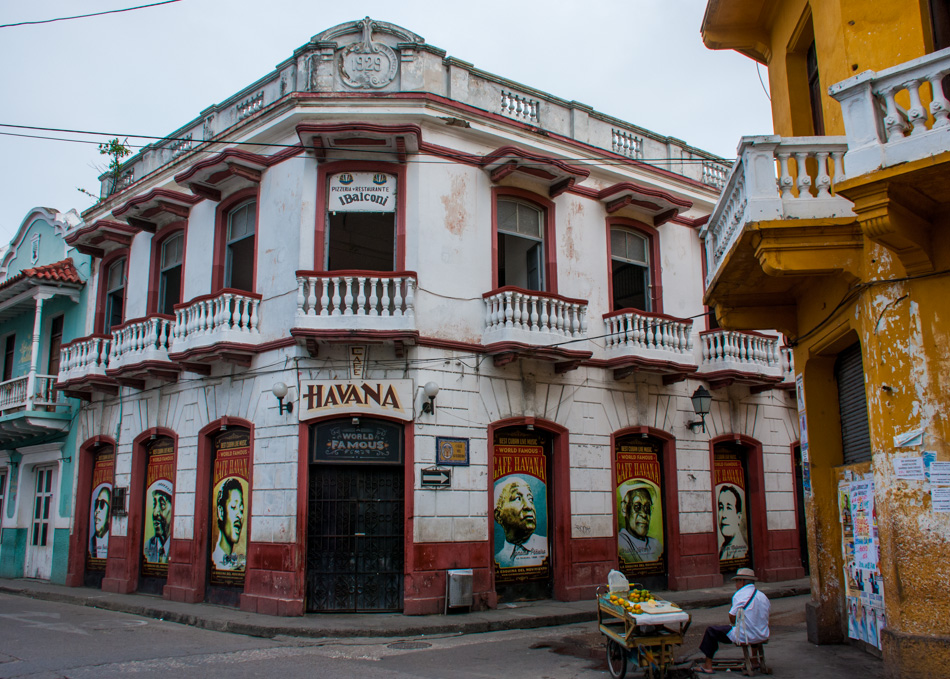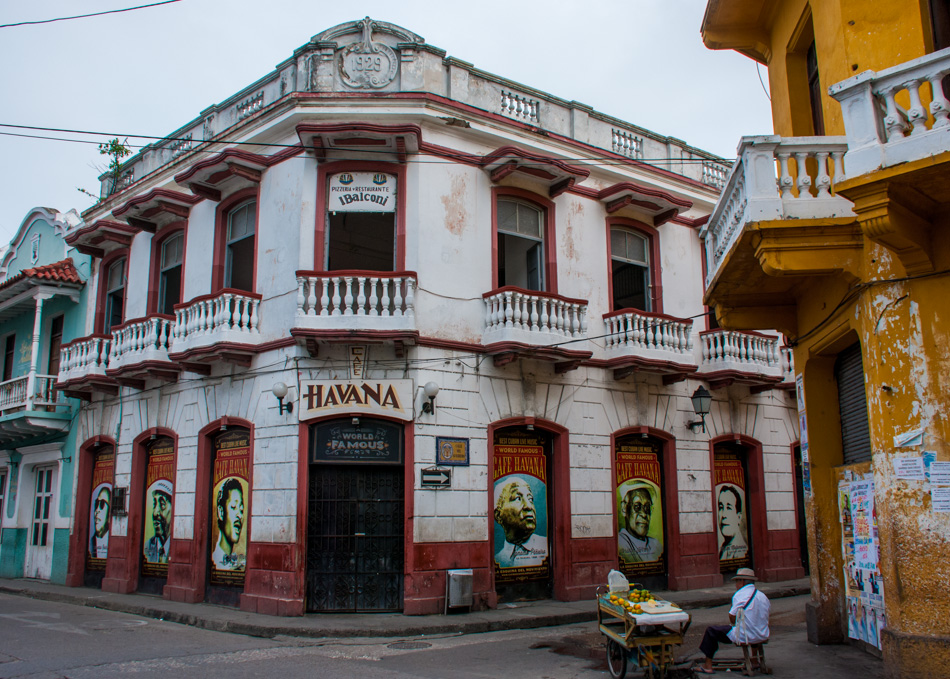 There are a few salsa clubs in town but the best and most legendary one is Club Havana. It is located just outside the walled city in Gestemani and it gets BUSY! Whether you want to just observe or actually groove, its great for either! Every Cartagena travel guide will mention Salsa dancing and for good reason.
DRINK LOTS OF COFFEE – ANOTHER CARTAGENA MUST DO!
There is epic Colombian corner on every corner- even locals sell it out of thermos in the park but the best places we loved where the following:
Epoca Cafe – This is perfect early in the morning for breakfast as it gets super packed later in the day for brunch. The inside design of the space is also drool worthy so it's worth coming to for both! Side note: They also have killer mojitos.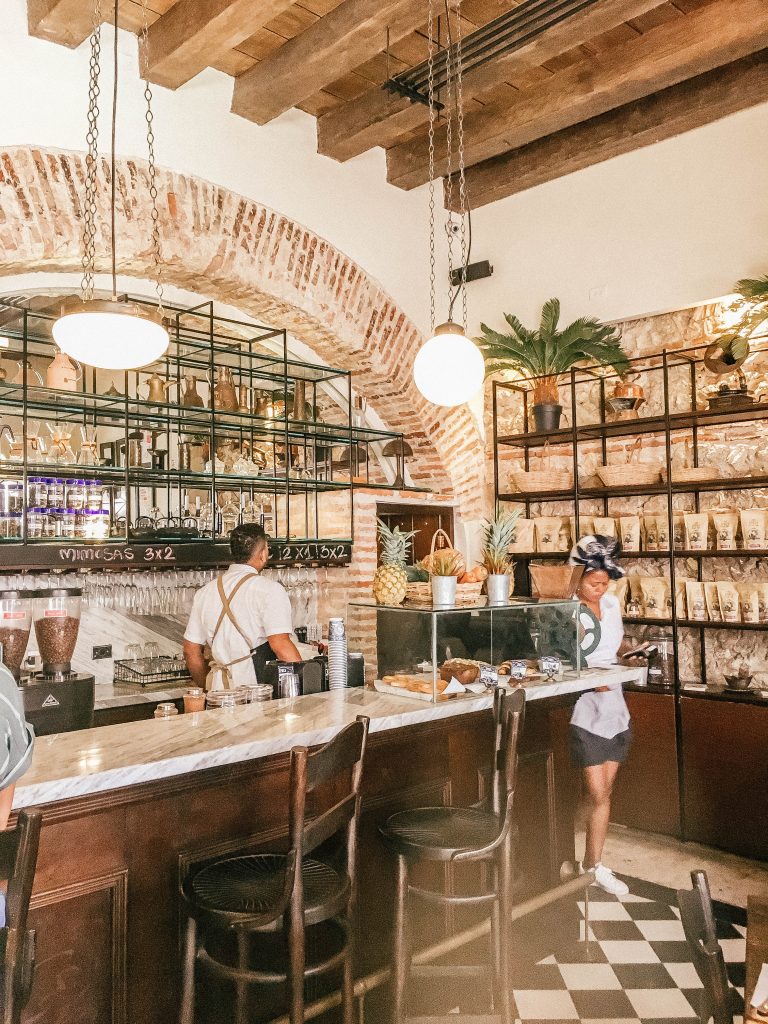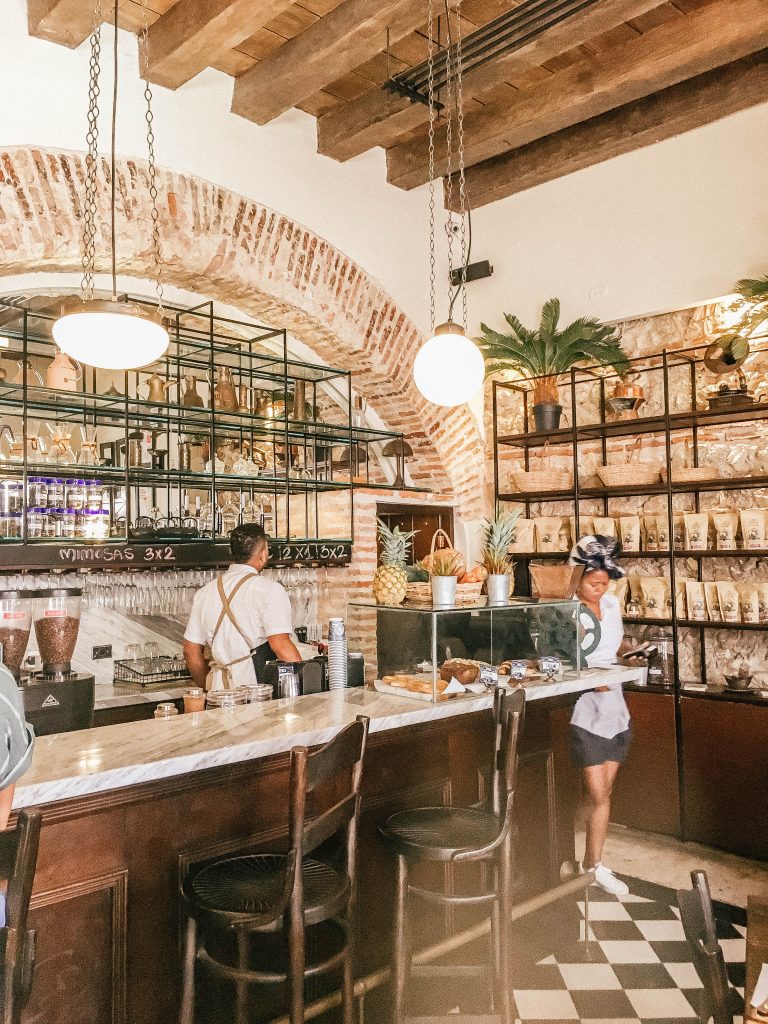 Abaco Libros y Cafe – Abaco is the book and coffee shop of my dreams! Books line the walls, the smell of delicious coffee wafts through the shop. Students from the university nearby can be found here at all hours, but there's always space at the bar for a quick cortado! Fun Fact : The cover picture of this blog post is taken on the street right outside this cafe at about 7:30 am in the morning!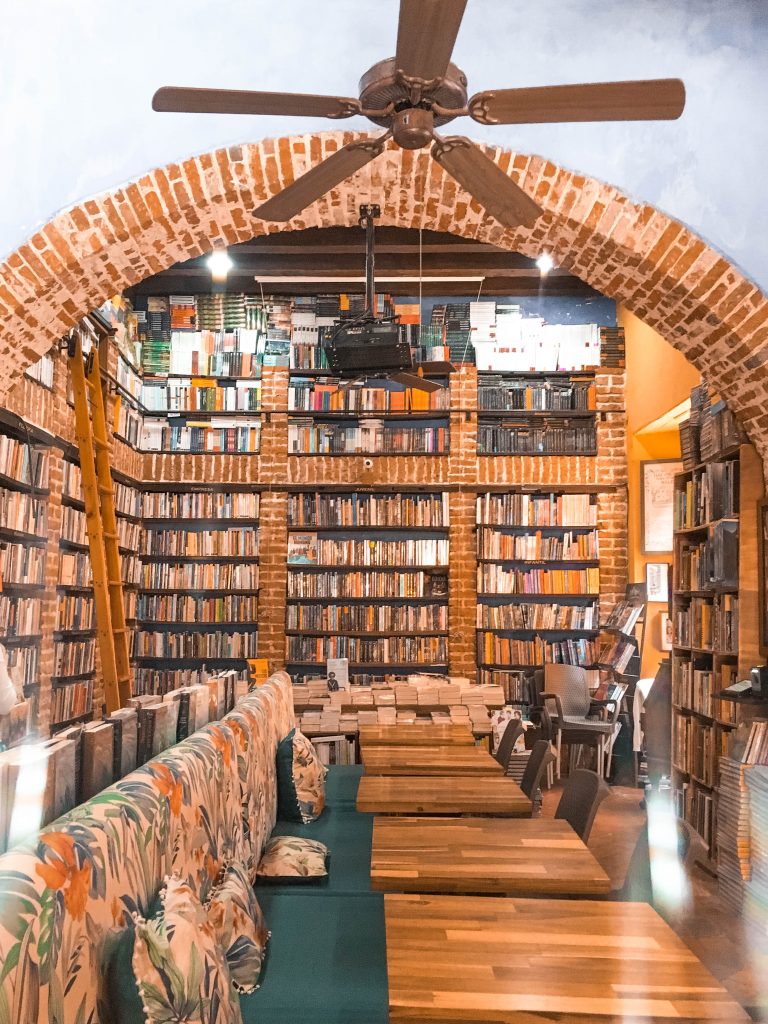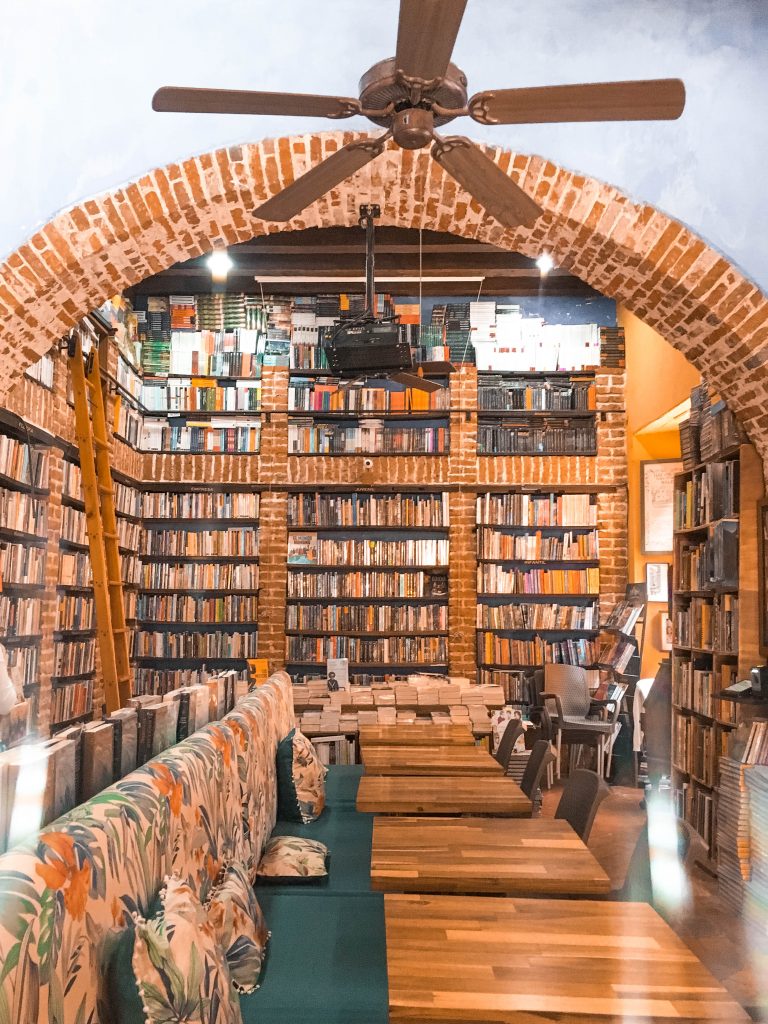 If we had more time, we would have taken a bigger day trip or quick 1 night trip to Tayrona national park. It is a stunning area about 4 hours from Cartagena and has one of the most stunning beaches in the country, unique view points and just a landscape like no other. Next time!
IMPORTANT THINGS TO NOTE ABOUT CARTAGENA
-All airports in Colombia are completely baby friendly! You literally get to hop to the front of the line at customs, security and check in.
-Ubers are "illegal" here but are still super easy to get. You just have to not be flashy with them. They are also SUPER cheap…like $4.00 for a 15-20 minute ride
-Certain places only take Cash so make sure to come with Colombian Pesos!
-There are so many amazing souvenirs to grab while you are there from local artisans so make sure to leave some room in your luggage for that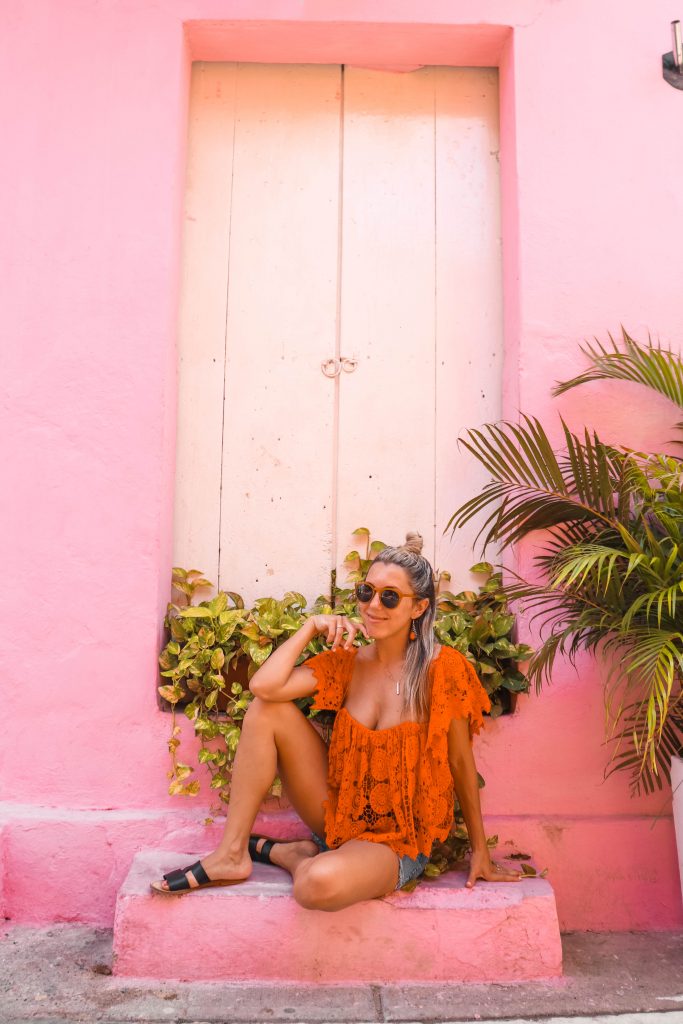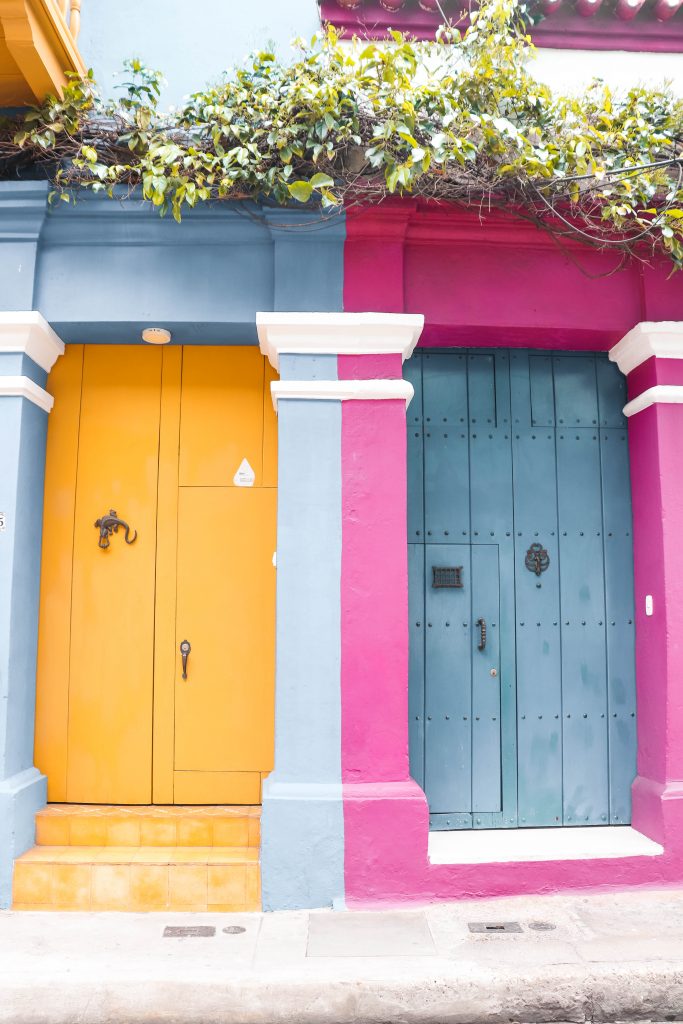 -The language barrier is REAL! I would suggest downloading Google Translator. This was the way we had to ask questions to people a lot of the time. It worked great! What not to do in Cartagena would be to only speak english and act stand off-ish. The people there very much appreciate the effort to speak Spanish
-Tipping is not necessary but appreciated! We always left 10% or so
-Travel shots for Cartagena and Bogota are not necessary. If you are travelling to more remote areas or to Tayrona National Park you would require a Yellow Fever vaccination. The mosquitos, however, were still around and we put on bug spray as we found it a bit annoying. Not sure if it was the time of year we went but I would pack some spray to be safe

PIN THIS POST