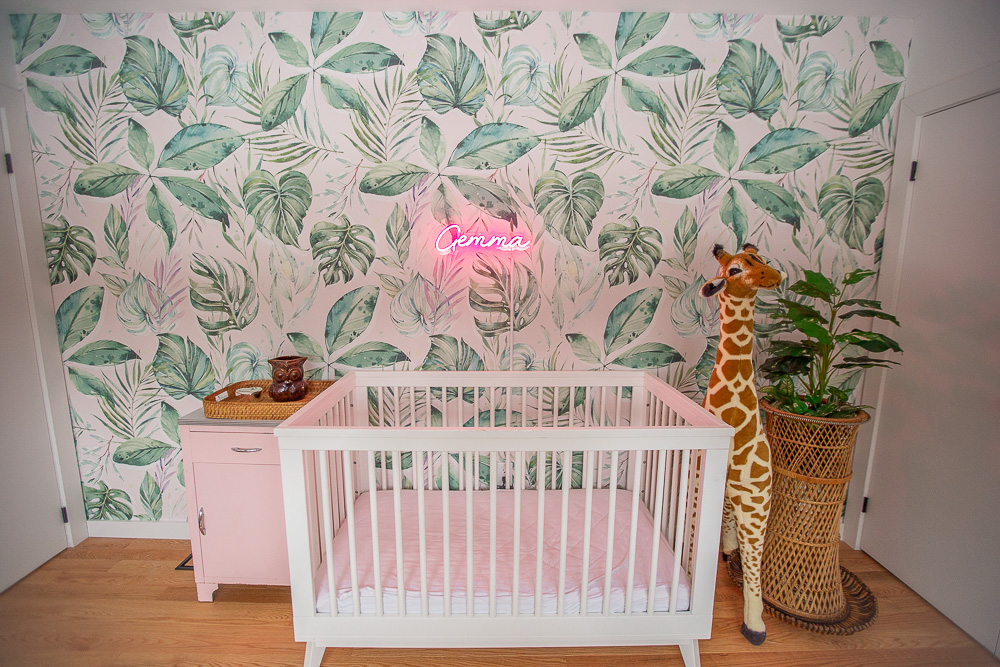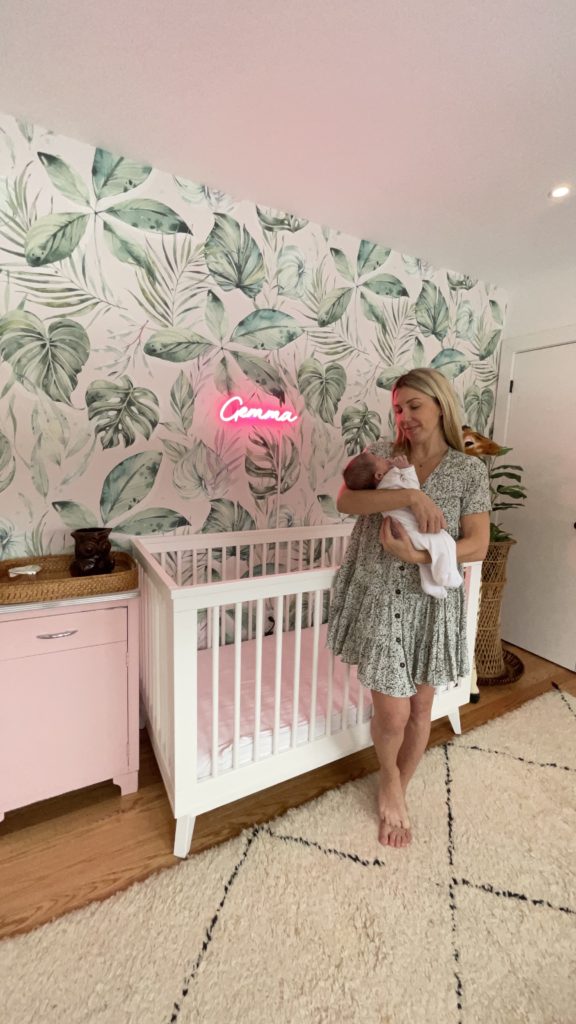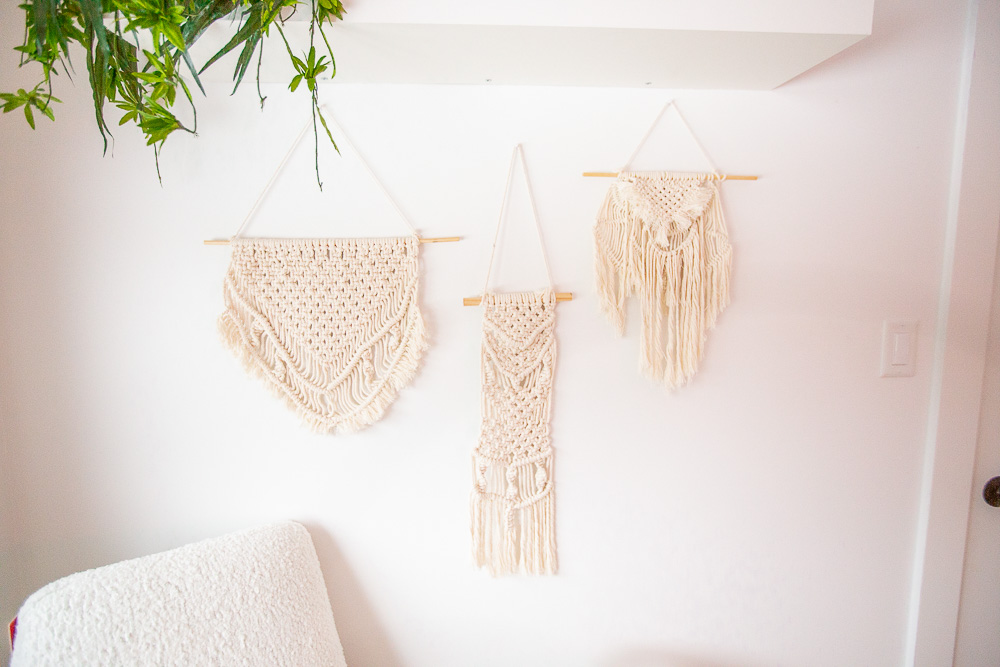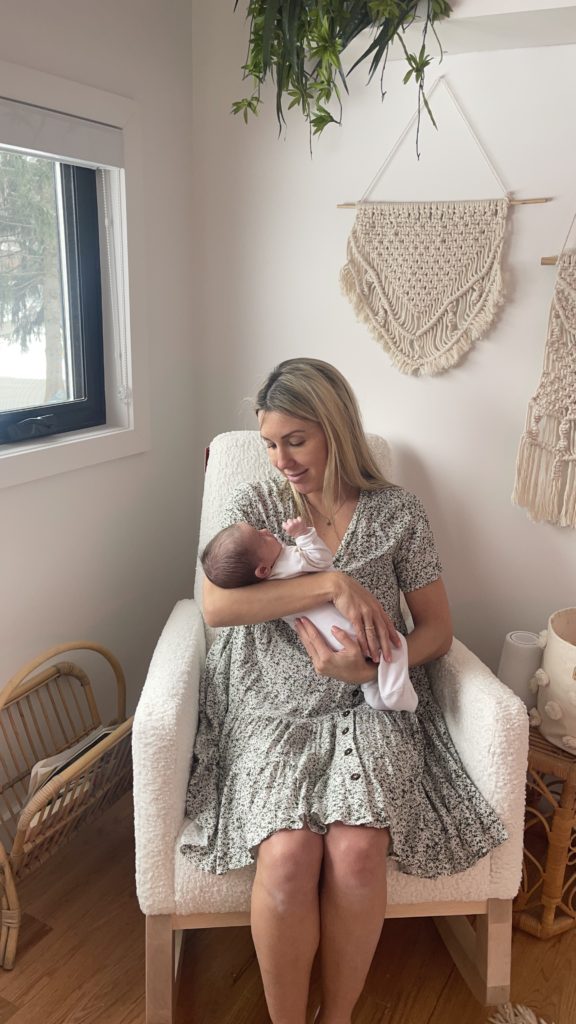 NURSERY ROCKER: Monte
WALLPAPER: Livette's Wallpaper
CRIB: Baby Letto
NEON SIGN: Etsy
GIRAFFE: Melissa and Doug
**Pink Side Tables, Owl, Macrame- all thrifted, Carpet- bought from Morocco**
When thinking about Gemma's nursery style, I knew I wanted to start off the vibe with selecting a wallpaper and building on the pattern we chose. Wallpaper is a touchy subject in our house because if it was up to Aaron he would avoid it at all costs. When we were going through renovations, I wanted to do some accent walls here and there and Aaron shut all my ideas down. I think it may or may not have been the biggest fight we have ever got in LOL. Yes, over wallpaper.
However, when I showed him the options on Livette's, he really came around to it and changed his tune! SCORE! We decided on the Palm Springs tropical print which went with the mid century modern vibe of our house. The best part about the wallpaper is that it IS removable if we decided we wanted to change it up down the line.
From that point, we started to get things that fit in nicely with the print. We had our crib and side tables from Chloe's nursery so we kept those! We ordered another custom neon sign with Gemma's name from Etsy HERE. It arrived super quick and we even got a mock up of two of the font styles we liked. Highly recommend!
The last big order of business was finding a good nursery glider. I didn't understand the importance of having a good glider with Chloe until I was in the thick of feeding her at all hours . While our old one was fine, it was by no means super comfortable. We decided to splurge on a good one that would take us from the newborn feeding days to school days with the girls. A lot of friends recommended Monte because of the quality but also because of the styles they offered. They specialize in baby products- especially gliders, but the aesthetic and look of all their pieces look like something you would want in your home- baby or not! We went with the Sheepskin Joya Rocker and it's safe to say I AM OBSESSED!

Everything came together so nicely and I find her room so incredibly peaceful and cozy. I truly enjoy heading in there to feed her and I know once she eventually transitions to the crib, she will be a happy baby in there with all the tropical vibes! How could she not?
If you have any questions about any of the products I used in here, feel free to reach out to me on Instagram and I would be happy to chat! xo