The Andaz Maui
Is there anything more perfect than sipping on fruity drinks overlooking an infinity pool that meets the ocean  and feeling a warm Hawaiian breeze on you? So far I have not yet discovered anything as relaxing, magical and idyllic than a setting like this. A setting like The Andaz Maui. Recently transformed from an older Renaissance hotel, the Andaz Maui- although part of the Hyatt chain- feels like you are staying at a boutique hotel that has personal touches and charm.
THE GROUNDS
This beautiful property is set on a 15-acre beachfront located in the luxurious Wailea area of Maui. You will find this hotel near other luxury options like Four Seasons, Fairmont, Grand Wailea, and more. We regularly like to scope out other hotels while we travel- eating lunch at them or seeing the pools- and I can confidently say that that the Andaz Maui was more my cup of tea compared to these other ones. It was luxurious without being stuffy, cool without being hipster and had a Hawaiin flare without being cheesy. The minute you get out of your car, you are invited down a large pathway that is surrounded by a plunge pool. This brings you directly to the lobby where a panoramic view of the pools, loungers and ocean awaits you. Everything is decked in beiges and whites with dashes of blue and quite frankly- I felt like I was in an Interior Designer magazine.
THE ROOMS
The hotel is made up of 297 rooms that sprawl over 7 floors. They consist of smaller garden rooms to large 1,5000 square foot premier suites. My mom and I snagged an ocean front room ( my brothers got a garden one- sorry boys!)and although they were different- both were awesome. The balcony doors on each room open almost fully allowing you to get a warm breeze or even letting you feel like you are outside a bit. My favourite part of the hotel room was the showers- by a mile! They were dressed with rainfall shower heads and were actually so long that I could dance in them ( and maybe I did!). The icing on the cake though was the glass shower door that faced the room/balcony. I washed up while watching the sun start to fade down every night. And yes I did this when no one was in the room with me.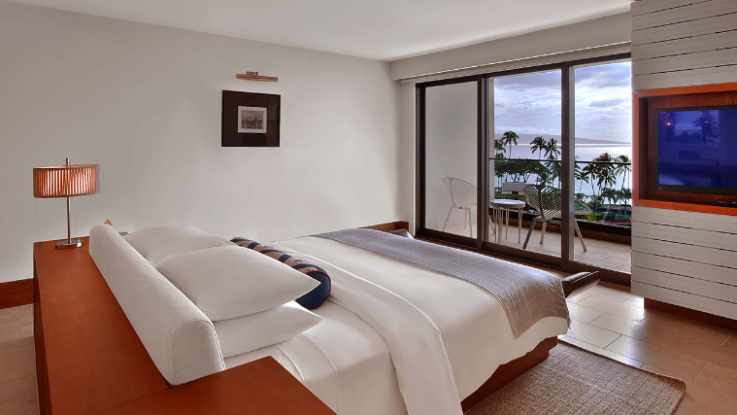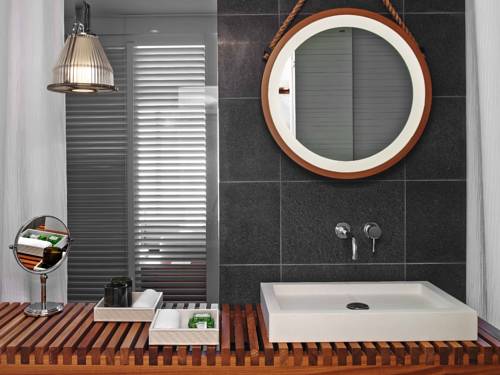 5 things to do while there
# 1- Go Snorkelling. Just outside the hotel on Mokapu Beach- there is a beautiful universe of fish. Snorkel rentals are $10 a day and it is very likely that you can catch a glimpse of a sea turtle. Tip: Watch out for coral patches. I swam into them twice and was bleeding!
#2- Stay put one of the nights at eat at one of the hotels amazing restaurants- Morimoto or Ka'ana Kitchen (90%  of the menu items are locally souc- some of our favourite meals were spent here!
#3- Explore the nearby beaches like Secret Beach or Big Beach. Just a short 5-10 drive by car
#4-Do the Road to Hana. It's hard to break away from the hotel and it's cascading pools but this drive also known as the highway to the heavens is unforgettable
#5- Eat shaved Ice from Ululani's
IMPORTANT TIDBITS
| | | | |
| --- | --- | --- | --- |
| PRICE |  Rooms range from $530 to $1200 |  MINI BAR |  Yes (with free snacks each day) |
|  WIFI |  Yes- Free throughout the entire resort |  YEAR OPENDED |  2013 |
|  POOL/GYM |  Yes- Full Service Gym, Several Pools & Yoga at additional feee |  LOCATION |  Situated in Wailea Beach |
|  CHILDREN |  Yes- Suitable for families and couples |  RESTAURANTS |  5 on site |
BONUS FEATURE: Welcome beverage upon arrival. We had lavender lemonade- YES PLEASE!
Best Way to Book? https://www.hyatt.com/hyatt/reservations/reservation.jsp?xactionid=14dd8c63adf